Bacon jam, yawn.  So last season.  Peaches and bacon?  Getting warmer, but I'm starting to see it everywhere.
Peach and bacon jam?  Disco.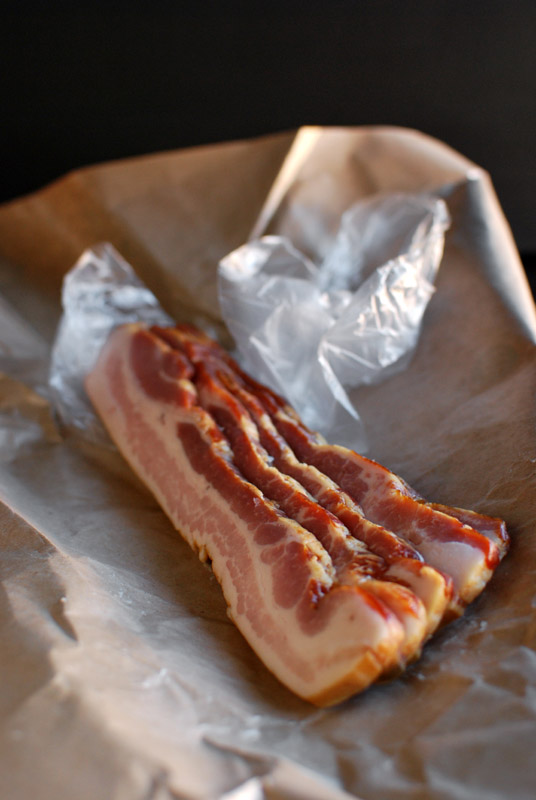 This is a fever-dream of a recipe that came to me during a meditation practice.  No joke.  Kind of annoying, too.  You're sitting there, trying to focus only on breathing, and wham you either have to stop and get a pen and paper, or just let those thoughts accumulate and blow up and take over.  And then you have to go get some bacon.
Can you still find peaches?  Awesome.  Make this at once.
Are peaches gone?  Save this recipe for next year.  In the meantime, substitute figs.  Or apples, pears, grapes, what-have-you.  Dried apricots.  Frozen blueberries.
What do you do with it?  Here's some of my brainstorm:
*  Serve it neat with crusty bread and apples
*  Make canapés with goat cheese, bacon jam, and arugula pesto, in that order
*  Use in a grilled cheese with manchego and hot peppers
*  Spread on crisp toasts and use to garnish a raw fennel and watercress salad with a buttermilk vinaigrette
*  Dot on a pizza with shaved fennel, mozzarella, and arugula

 
It's fairly sweet, so take that into consideration when dreaming up new ways to use it.  It's not quite a chutney, not quite a pâté, not exactly a jam, but somewhere in the middle of all three.  It's awesome.
I wanted a rustic texture, so I chopped everything as small as possible and let it do what it was going to do. The onions and peaches more or less melt into the jam, but the peach skins might be an issue if you don't cut the peaches into very small pieces (and I couldn't be bothered to peel them). Feel free to take the easy way after cooking and whizz everything up in a food processor for a smoother result.
Ingredients
1/2 pound bacon, preferably thick-sliced
1 medium onion, diced
1 pound very ripe peaches, diced
1 teaspoon Serrano chile pepper
1 cup white wine
1/4 cup apple cider vinegar
1/4 cup maple syrup
1 teaspoon whole mustard seeds
1 to 2 thyme sprigs
2 bay leaves
1/4 teaspoon kosher salt
Freshly ground black pepper
2 teaspoons fresh lemon juice
Instructions
1. In a Dutch oven over medium heat, cook the bacon until browned and just barely crisp, 10 to 15 minutes, flipping the bacon as necessary. Pour out all but 2 to 3 tablespoons of the rendered fat. Chop the bacon finely, and set aside.
2. Add the onion to the fat in the Dutch oven, and cook over medium heat until softened, 5 to 10 minutes, stirring occasionally.
3. Add the peaches, chile, wine, vinegar, maple syrup, mustard, thyme, bay leaves, salt, and a few grinds of pepper. Stir to combine.
4. Bring the mixture to a boil, then reduce the heat to maintain a simmer, low to medium-low heat. Stirring occasionally, cook until the mixture has thickened to a jam-like consistency and no longer looks soupy, 30 to 45 minutes. You will need to stir more towards the end of cooking to prevent scorching, lowering the heat as needed.
5. Stir in the bacon and lemon juice, and taste the jam. Correct the seasoning as needed with additional salt, pepper, and/or lemon juice. Let cool, and store in the refrigerator for up to 2 weeks.
https://onehundredeggs.com/peach-bacon-jam/