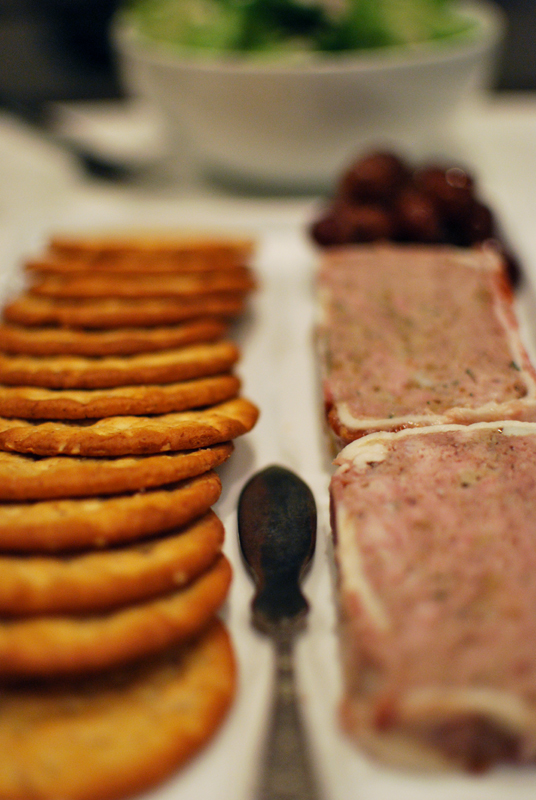 When I started this blog, I fully intended to post two or three times a week.  And, for a while, I was able to keep that schedule up.  Lately, though, I've been far less active here than I'd like, but it's been for a very good reason, and one that I won't bother to let remain unspoken any longer.
I've been starting my own business.
I like to think of it as my first business, because now that I'm working purely for myself, I don't think I'll ever be able to work for someone else ever again.  It's been hard work, frustrating, anxiety-inducing, uncertain, but entirely amazing.  The amount of support, love, and encouragement from my family and friends (and friends of friends!) these last few months has been nothing short of breathtaking.  It actually catches in my chest a little to think about it.
Now, when people ask me what I do, I say that I am a Personal Chef, and I say it with a pride and a happiness I never thought a simple job description could evoke.  I cook for people in their homes, for everyday meals or for parties, and I come home from each job exhausted and in bliss.  Forgive me if I wax fustian, but I feel like the luckiest girl in the world to have such a career.
So instead of blogging, I've been spending my days planning menus, figuring out insurance and business licenses, talking to clients, writing and testing recipes, tracking expenses, hauling pans and groceries up and down three flights of stairs, and trying to understand how on Earth I got so darn fortunate.
In the midst of all this excitement, oddly enough, I've become somewhat obsessed with making pâté.  It's a little strange, since I didn't grow up with pâté, have had no mind-blowing enlightenment after eating any particularly fine pâté, have never had any particular longing for it, and in fact never really thought much about it.
But perhaps it's because I have no real experience with pâté that it's lighting me up now.  Pâté always seemed to me a bit mysterious, a thing expensive, soigné, and difficult to prepare, best left to professionals.  Now that I'm confident enough in my culinary abilities to bill myself as a professional chef, perhaps I decided it was high time I tackled this final frontier.
Whatever the reason for the obsession, I am now the proud owner of two pâté-centric cookbooks, and have a few basic types of pâté now under my belt, specifically ground meat pâté, chicken liver pâté, and a seafood pâté.  The latter two are by far the easiest, requiring only pan-cooking and a quick spin in a food processor before chilling.  But the former, a ground meat pâté, for all its complex ingredient list and intimidating nature, is actually quite simple.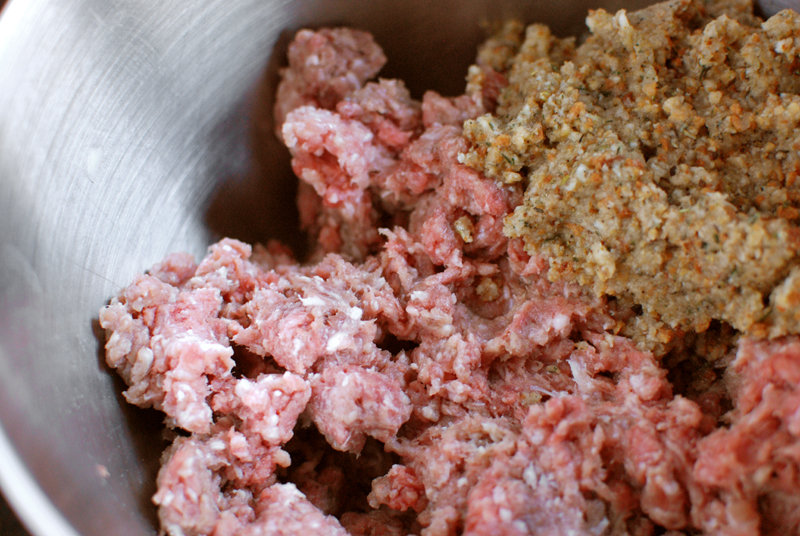 I've heard it said that if you can make meatloaf, you can make pâté.  This is cold comfort to me, who has made meatloaf maybe twice in her life, and certainly never in recent memory.  But after trying pâté, I'd say it's a very apt comparison.  In fact, pâté might be the easier of the two; one must take care with meatloaf, using a light hand to achieve the proper texture.  Pâté, on the other hand, is weighted and compressed after baking; a light hand is wasted here.  That, I can get on board with.
This particular pâté is a rustic style known as pâté de campagne, or "country-style pâté".  And, as Chef Anthony Bourdain so eloquently puts it, that means "even your country-ass can make it."  It's not fussy or complicated by any means, but serve a platter of this with some crackers or baguette slices, and you'll look like Chef Bourdain's equal.
Just barely smoky from the bacon wrapped around the outside, the filling gains depth from onion and reduced brandy, and brightness from a judicious sprinkling of herbs.  The texture is firm enough to slice, but soft enough to coax into spreading evenly over a piece of good bread.  It's just as fantastic with a glass of champagne as it is with a cold beer, or your favorite red or dry rosé.  I like it with pickles of any sort, and a bit of good mustard, but that's entirely up to you.
I feel pâté is an appropriate match for the news I'm sharing with you.  Both making pâté and starting your own business seem moderately terrifying on the surface, but are certainly manageable with kind encouragement and taking things one small step at a time.  Both carry a deceptive air of haute exclusivity, insinuating that mere mortals need not apply — unless you're willing to take that first bold action in pursuit.
And certainly pâté is appropriate here, because it's a food invariably reserved for celebrations, parties, galas, bashes of all ilk.  One never sits down to pâté alone, and this recipe makes far more than could be eaten by even two or three people.  It speaks of generosity, and joy, and riches to be shared.  Pâté is a food of exuberance, and there's no other word to describe how I feel about it all right now.
Bon appétit.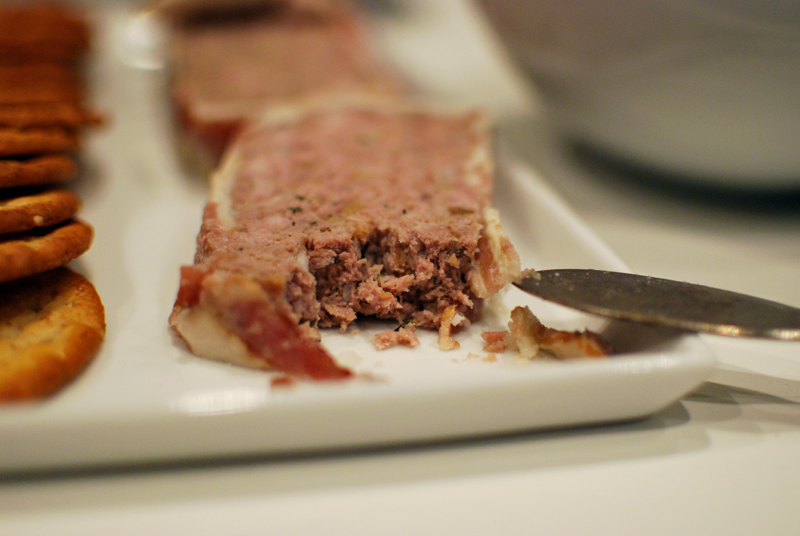 Country-Style Pâté (Pâté de Campagne)
Adapted from The Cuisinart Food Processor Pâté Cookbook, by Carmel Berman Reingold
Makes two 7 x 2 x 3 inch loaves
This recipe uses a traditional and delicious mixture of ground veal, beef, and pork, but feel free to use whatever meats you like, as long as the total weight equals 2 1/4 pounds.  As tempting as it is, do not use lean ground beef (or lean anything) here; it will make for a dry and insipid pâté.  Plan to make this a day before serving to allow it enough time to compress and chill.
Some pâté recipes direct you to blanch the bacon before using it to line the pan.  I tried this recipe with both blanched and un-blanched bacon and found no discernible difference in flavor.  The difficulty in lining a loaf pan with curling blanched bacon, however, leads me to recommend skipping that step any time you run across it.
1/2 cup brandy
4 cloves garlic
1/2 medium onion
1/2 cup unseasoned bread crumbs
2 teaspoons kosher salt
1 teaspoon freshly ground black pepper
1 teaspoon dried thyme
1 teaspoon herbes de Provence
12 ounces ground pork
12 ounces ground veal
12 ounces ground beef (at least 85% fat)
1 large egg, lightly beaten
2 tablespoons cream
10 strips of bacon, to line the pans
6 bay leaves
1.  Preheat oven to 350º F.  In a small saucepan, bring the brandy to a boil.  Reduce to 1/4 cup, about 3 minutes.  Remove from the heat and let cool to room temperature.  Meanwhile, line two 7 x 2 x 3 inch loaf pans crosswise with 5 strips of bacon each, letting the ends of the bacon drape over the sides.  Set aside.
2.  In a food processor, chop the garlic, onion, bread crumbs, salt, pepper, thyme, and herbes de Provence until smooth.  (If you don't have a food processor, chop as finely as possible.)  Transfer to a large bowl.
3.  To the onion mixture, add the pork, veal, beef, egg, cream, and reduced brandy.  Mix together thoroughly with hands until well and evenly combined.
4.  Divide the meat mixture evenly between the two prepared pans, pressing it into the corners of the pans.  Top each one with 3 bay leaves, and fold the ends of the bacon strips over the top.  Cover tightly with aluminum foil.
5.  Place the two pans in a high-sided roasting pan or baking dish large enough to hold both.  Pour warm water in the roasting pan until it comes about halfway up the sides of the loaf pans.  Transfer to the oven, and bake at 350º F for 90 minutes.  If the water evaporates during baking, add extra as needed to maintain water level.
6.  Remove the pans from the roasting dish.  Place a flat surface (such as another loaf pan) on top of each pâté, and weight with something heavy (such as an unopened can or two of food from the pantry, or bottles of water).  Allow pâté to cool for a while before refrigerating overnight, leaving weights in place.  To serve, unmold, wipe away any accumulated aspic or fat from the surface of the pâté, and slice crosswise.  Wrap any remaining pâté tightly with plastic wrap and aluminum foil, and refrigerate for up to 5 days.  (Pâté may be wrapped and frozen, but the texture will suffer.)