For the most part, I cook and eat a vegetarian diet.  Not that I'm a vegetarian; far from it.  Can you really have a pot of lentils without a little bacon, or red beans without a smoked ham hock?  My point exactly.  In fact, I think I could actually pick up a whole lamb, gamboling about in a pasture, and just take a bite out of the little guy.  Mmm, delicious lamb.  It is a great weakness of mine.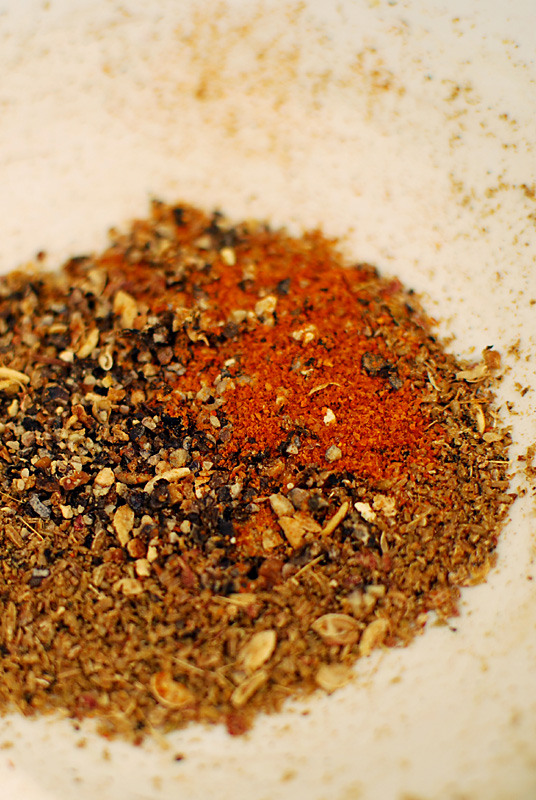 Love of lamb notwithstanding, meat is a relatively rare ingredient in my kitchen, and is most often used as an ingredient rather than a main dish, for convenience as well as health.  So when I posed the recent question, "What would you like for dinner?", I expected the usual reply: "Oh, whatever you like will be fine," which would then free me to concoct some delightful mélange of whatever vegetables struck my fancy at the store.  But to my surprise, the request came back: "Meat.  Maybe skirt steak."
Huh.
Um, okay.  Meat.  Meat it is.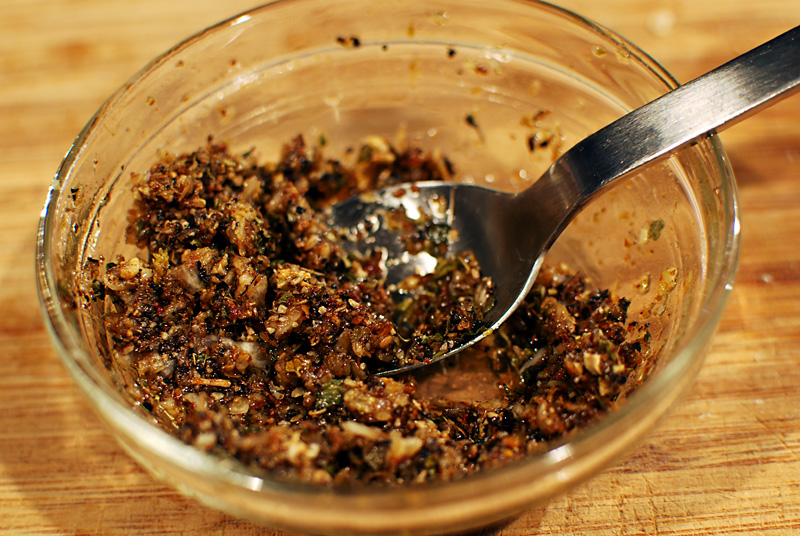 When I eat meat, I want it to be the real deal, especially as meat tends to be a "special occasion" food in my kitchen.  A bowl of less-than crisp vegetables I can deal with; but I simply cannot abide dry, tough, overcooked, or poorly-prepared meat.  And ideally, I'd like the meat to act much like a shaving of truffles or fine Parmigiano-Reggiano would; that is, a small but hugely-flavorful and indispensable part of the meal, without which the dinner would be greatly diminished.
And so, with the promise of a skirt steak to be procured on the way home, I decided that the ideal way to showcase this particular meat was in taco format.  As much as I love vegetables, for me, tacos simply require some sort of meat (or fish).  A roasted or grilled vegetable taco just isn't the same, and I firmly believe that beans are too squishy for this application.  Those belong on the side, thank you.
Skirt steak lends itself beautifully to the nature of tacos, as it is best when seared quickly and sliced thinly into ribbons of tender and rare meat, ideal for layering in a tortilla with other ingredients.  It is also quite flavorful, which means that a little will go a long way, especially when coated with a generous amount of pepper and spices, as I've done here.
Tacos are one of those fascinating creatures that are far more than the sum of their parts.  Corn tortillas are rather bland eaten alone; but pair one with a heavily-spiced meat too bold to eat on its own, and a smattering of fresh vegetables, and you'll find sweetness, richness, vibrance, and complexity in each bite.  Make tortillas yourself, and it's even better.  Pre-made tortillas, both corn and flour, tend to be horribly dry and sawdusty; homemade ones take a little effort, it's true, but the results don't compare in the slightest.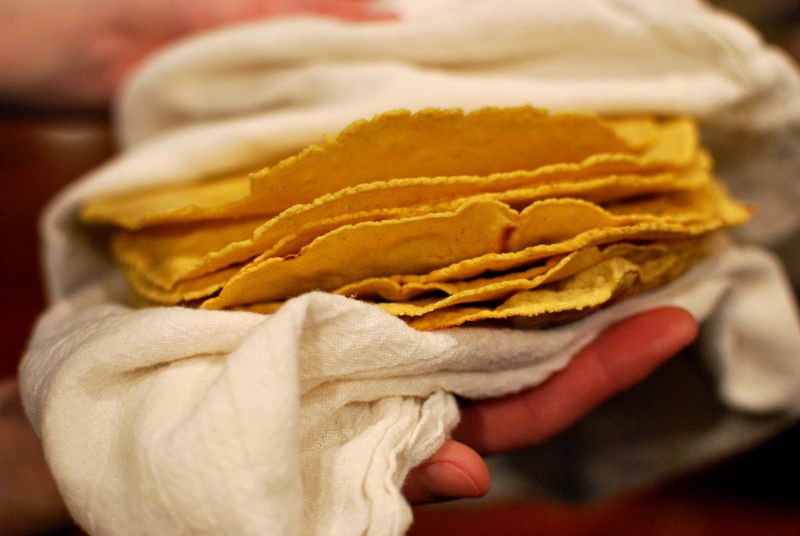 Of course I had to make tortillas.  If I was going to go to all the trouble of preparing meat, I wasn't about to skimp on so crucial and simple an ingredient as a tortilla.  Besides, after last year's project, I feel a bit wrong buying a bread that I know is so easy to make.
All said and done, these skirt steak tacos satisfied the both of us; meat was served, as requested, but I got my fill of vegetables, too.  As an added bonus, with reasonable portioning, the two of us ate our fill of tacos for two meals, with just enough meat and vegetables left over for some steak fried rice.  But, now, I'm getting ahead of myself…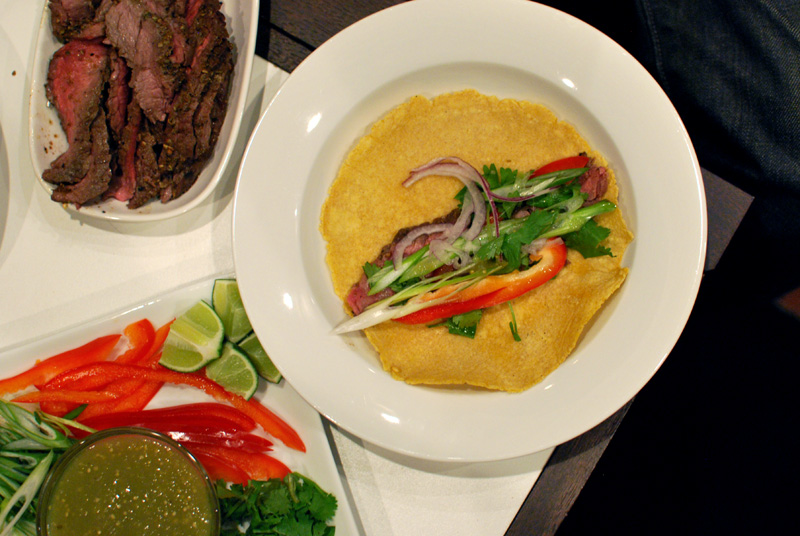 Skirt Steak Tacos
Serves 4
I've given suggestions of toppings to put with these tacos, but you should feel free to mix it up however you like.  Avocado, however, is highly recommended.
For the steak:
4 cloves garlic
1/4 teaspoon kosher salt
1 1/2 teaspoons whole cumin seed
1 teaspoon Szechuan peppercorns
1 teaspoon whole black peppercorns
1/2 teaspoon dried oregano
1/4 teaspoon cayenne pepper
1 tablespoon olive oil
1 pound skirt steak (more or less)
For serving:
Sliced red onion
Sliced green onion
Sliced bell pepper
Sliced avocado
Cilantro leaves, roughly chopped or torn
Lime wedges
Salsa verde (tomatillo salsa, store-bought)
Corn tortillas (recipe below)
Napa cabbage slaw (recipe below)
1.  Roughly chop the garlic.  Sprinkle the salt over the top, and crush into a paste by dragging the flat side of a knife over it.
2.  In a dry pan over medium heat, toast the cumin, Szechuan peppercorns, and black peppercorns until fragrant, 2 to 3 minutes.  Transfer to a mortar or spice grinder, and crush to desired coarseness.  Combine in a small bowl with the garlic paste, oregano, cayenne, and olive oil.
3.  Rub the spice paste over the skirt steak, and let stand loosely covered at room temperature for 30 minutes.  Meanwhile, preheat the broiler to high, and prepare the remaining ingredients for serving.
4.  Broil the steak 4 to 5 inches from the heat, about 2 minutes per side for rare, depending on thickness (mine was on the thin side).  Remove from heat, tent loosely with aluminum foil, and let rest at least 10 full minutes before cutting.  Slice across the grain with a sharp knife into as thin slices as possible.  Serve with tortillas and other ingredients.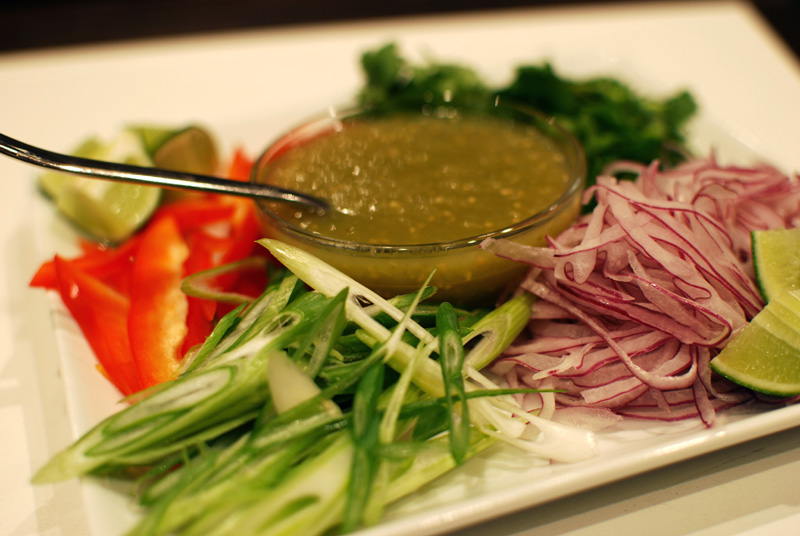 Corn Tortillas
Makes 16
The masa harina (nixtamalized corn flour) needed for tortillas can be found at Latino markets or specialty grocery stores.  The package should be labeled as for tortillas or tamales.  Regular cornmeal is not a substitute.  This dough tends to dry out easily; if this happens, simply knead a little water back into the dough.  Over-kneading is not a concern here.
8 1/2 ounces (about 1 3/4 cups) masa harina (not regular cornmeal)
1 cup plus 2 tablespoons warm water
1/4 teaspoon salt
1.  Mix the masa harina and water together in a bowl until a rough dough forms.  Knead either in the bowl or on a work surface until smooth and soft.  You may need to add additional water if the dough is crumbly, or additional masa if the dough is sticky.  Return to the bowl, and cover tightly with plastic wrap.  Let rest for about 30 minutes.
2.  Divide the dough into 16 equal pieces.  Roll each piece into a ball, keeping the unused pieces tightly covered.  Heat a heavy pan over medium heat.
3.  Cut a gallon-sized plastic zip-top bag down two of the sides, leaving only one side attached.  Place one ball of dough between the pieces of plastic, and press with a flat surface (such as a cutting board, another pan, or a flat-bottomed plate) until flattened out.  With a rolling pin, roll until the dough is as thin as desired, or the disc is 5 or 6 inches across.  (If you happen to have a tortilla press, you can certainly use that instead of the plastic bag.)
4.  Peel the plastic from the dough.  Lay the rolled-out dough in the heated pan.  Cook for about 1 minute, then flip over.  Cook the other side for about 1 minute more.  The tortilla may or may not brown in spots, and should puff up slightly.  Adjust the heat as needed if the tortilla is cooking too quickly or too slowly.
5.  Transfer the cooked tortilla to a clean kitchen towel (not terry cloth), and cover while cooking the remaining tortillas.  When cooked, stack each tortilla on top of the others, and cover with the towel to keep warm.  Serve warm, or wrap and freeze.  Tortillas will reheat beautifully in a warm oven, wrapped in aluminum foil; or in a microwave, wrapped in wax paper.
Napa Cabbage Slaw
Makes about 4 servings
If you'd like to make this ahead of time, for serving within a day or so, toss the chopped cabbage with 1 tablespoon salt.  Let sit in a colander to drain for 1 to 2 hours.  Rinse, and squeeze dry; proceed as directed with the recipe.  This salting procedure will draw moisture out of the cabbage, eliminating the watery pool that often forms at the bottom of a bowl of slaw, and will help keep your cabbage crunchy.
1 small head Napa cabbage (about 1 1/2 pounds)
3 tablespoons diced red bell pepper
2 tablespoons plain yogurt
2 tablespoons mayonnaise
1 tablespoon brown rice vinegar
Dash soy sauce
Dash fish sauce
1/2 teaspoon celery seed
Salt and black pepper, to taste
1.  Chop the Napa cabbage by slicing the whole head lengthwise several times, not cutting through the stem end that holds it all together.  Cut crossways, chopping the cabbage as finely as desired.  Dice the bell pepper.  Set aside.
2.  In a large bowl, whisk together the yogurt, mayonnaise, vinegar, soy sauce, fish sauce, and celery seed.  Add the cabbage and bell pepper, tossing to combine.  Salt and pepper to taste.  Serve immediately.