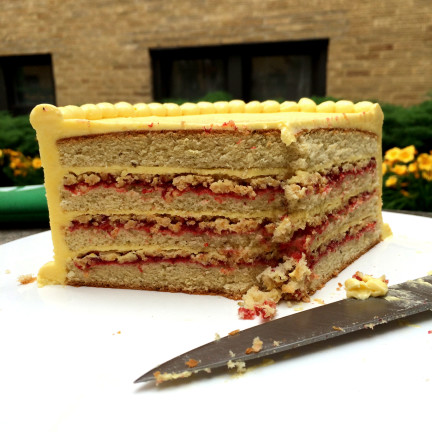 Who makes the best cakes?  Momofuku Milk Bar makes the best cakes.  I am not being paid or otherwise compensated to say this.  It's just the damn truth.
Here's the logic: the best food texture is, obviously, crunchy.  Obviously.
What makes a good salad better?  Crunchy croutons (or crunchy bits of bacon).
Want your mac and cheese to go to 11?  Put a parmesan-breadcrumb topping on it.  Crunchy.
Best fried eggs ever?  Fry them on some panko.  You have unlocked achievement: crunchy.
What do you put on yogurt?  Granola.  Because crunchy.
What is lacking in 99.999% of cakes?  You daaamn right: crunchy.
I'm not a bakery connoisseur, but as far as I know, Christina Tosi is the only baker out there putting substantial crunchy in her cakes.  I'm talking serious crunch here.  Buckets of crunch.  Toasted nuts do not count, they are weak.  Other than the occasional dacquoise, which involves layers of dried meringue (and who makes those?), I'm not really aware of any.  Am I missing anything?
Crunchy layers will take a good cake to a friggin' amazing cake.  Since I got my grubby hands on the Milk Bar cookbook, I haven't made a layer cake without some sort of crunchy "crumb" layer.  You can never go back.
This year for my birthday, in imitation of Tosi, I made myself a Brown Butter & Lime Cake, with Strawberry Jam, Cornflake Crunch, and Corn Buttercream.
And hoo boy.
Hooooooo boy.
This cake… this cake was special.  It did not last long.
This is my new favorite cake trick: flavored buttercream.  And it's stupid easy!  Figure out what flavor you want.  Buy some freeze dried whatever-that-flavor-is.  Me, I used corn.  Grind some to a fine powder in a spice/coffee grinder, and add it to your favorite buttercream.  Wham!  Corn Buttercream.
You're welcome.
Brown Butter & Lime Cake, with Strawberry Jam, Cornflake Crunch, and Corn Buttercream
All right, let's do this thing.
The cake was Rose Levy Beranbaum's French Génoise. I made the Rich Variant, doubled the recipe to make 2 cakes, and rubbed the zest of 1 lime into the sugar until it looked like wet sand and smelled incredible. In the syrup, I used Bourbon.
For the strawberry jam, I sliced up a shy quart of farmers market strawberries, put 'em in a pan with a sprinkling of sugar (maybe a couple of tablespoons), and a hefty squeeze of lemon. I measured nothing. It cooked on medium-low until thick and jammy, which took it at least 30 minutes, probably more. And buddy, it was intense.
The cornflake crunch was based on Chef Tosi's Corn Crumbs, but I swapped cornflakes for the indicated Cap'n Crunch.  It didn't really work as expected.  It needed waaay more white chocolate at the end to make it come together.  It did the job, though.
The buttercream was based on the same recipe as this one, sans rum. I made only a half recipe this time, and it was the perfect amount for a 10" four-layer cake. I added 60 grams of finely ground freeze-dried corn to the finished buttercream.
Ingredients
(links to recipes in the headnotes)
Brown Butter and Lime Cake
Bourbon Syrup
Strawberry Jam
Cornflake Crunch
Corn Buttercream
Instructions
1. Slice the cakes in half horizontally, and trim any domed tops until things are nice and flat. Place the bottom of one cake on a cake plate or serving platter. (Reserve the other bottom for the top of the cake.) Slide four strips of wax paper under each side of the cake to protect the platter from over-frosting.
2. Brush the cake with the Bourbon Syrup until well-moistened.
3. Spread one third of the Strawberry Jam in a thin layer all the way to the edge.
4. Crumble an even layer of Cornflake Crunch over the jam, and press until mostly even.
5. Spread a dollop of Corn Buttercream evenly over the top of the Crunch layer, as evenly as possible.
6. Place another layer of cake on top of the frosting, and gently press into place.
7. Repeat the layering process. Brush the cut side of the last cake layer with syrup before stacking it syrup-side-down onto the cake.
8. Place a very large dollop of frosting on the top of the cake. Smooth it across the top and down the sides of the cake in a thin, even layer. Don't worry about crumbs at this point, just make it look even. This is called a "crumb coat". Use additional frosting as needed, but make this coat a thin one. Don't get crumbs in the bowl of remaining frosting.
9. Once the crumb coat is finished, chill the cake and any unused frosting for at least 1 hour.
10. When the crumb coat is firm and well chilled, repeat the frosting procedure with the remaining frosting. No crumbs should be showing.
11. Decorate however you want to, with piped frosting, leftover Cornflake Crunch, or whatever.
12. Chill the cake at least 1 hour, or until frosting is firm and well chilled. Now remove the wax paper from under the cake. Admire how clean your platter looks.
13. Serve at a party with candles and friends to sing "Happy Birthday". Champagne, Bourbon, you know the drill.
https://onehundredeggs.com/i-believe-this-might-just-be-my-masterpiece-birthday-cake-2014/