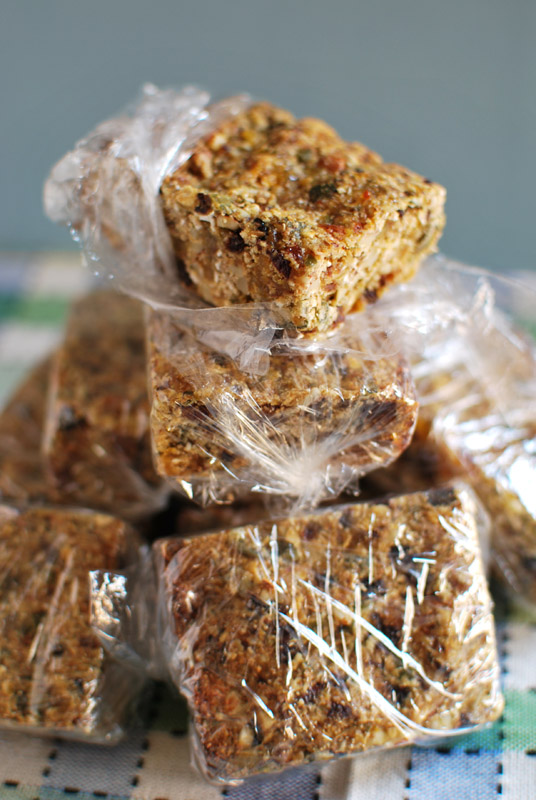 There's something incredibly appealing about the whole idea of an energy bar: it's a discrete unit of food, carefully packaged in its own colorful wrapper, just the right size for a snack or, with a piece of fruit, breakfast or a light lunch.  It's like a little food present, just for you.
There are also, of course, more so-called "energy bars" on the market than you can shake a stick at.  On the more virtuous side, an energy bar is an easy way to get some whole grains and fruits (in dried form) into the diet.  But on the other end of the spectrum, you'll find the line between "energy bar" and "candy bar" very fine indeed.  Determining which category any given energy bar falls into can be rather tricky, if not downright impossible.
Even if your chosen bar contains nothing more offensive than soy protein isolate (also known as soy protein powder), the long list of ingredients can be a little off-putting.  My all-time favorite energy bars boast an ingredient list of as little as two items (seriously!), and both are real food; but I rarely buy them, because at $1.50 a pop, those suckers can add up fast.
So for the last couple of years, I have been making my own energy bars.  I started after I realized with slight horror that my boyfriend had been breakfasting on an instant powder drink.  In my book, anything powdered cannot be called breakfast, so I convinced him to start packing a banana and a homemade energy bar.  (It didn't take much convincing.)
With batches of homemade energy bars around, I soon adopted a new afternoon snack.  But, as I tend towards hypoglycemia, I had to be wary of recipes with more than a slight amount of added sugar.  (This problem becomes more apparent for me with energy bars, as they tend to replace meals for me, rather than come at the end of one, as a cookie might.)  One sugary recipe sent me into a confused daze for half a day, during which I was utterly useless.
My most often made recipe is Alton Brown's protein bars, mostly because I made them once, found them to be good, and decided that I shouldn't try to fix what wasn't broke.  But as good as they are, even those can be a bit boring after two years; so I recently decided to branch out a bit and try some new recipes.
This recipe, from Food Network's Ellie Krieger, appealed to me initially because of the ingredient list.  The only sweetener, apart from a plethora of dried fruit, is from a scant amount of maple syrup.  The remainder of the bulk is made from whole grains and nuts, and can easily be made into a gluten-free version.  There's nothing strange in there, just a pile of healthy and real food.
Upon closer inspection, the method appealed to me almost more than the ingredient list: it's primarily made in the food processor.  I understand that this might be a deal-breaker for those of you who don't have one; but for those of you who do, you'll be hard-pressed to find an easier energy bar recipe.  It's just blend, mix, pan, bake.  Slice.  Savor.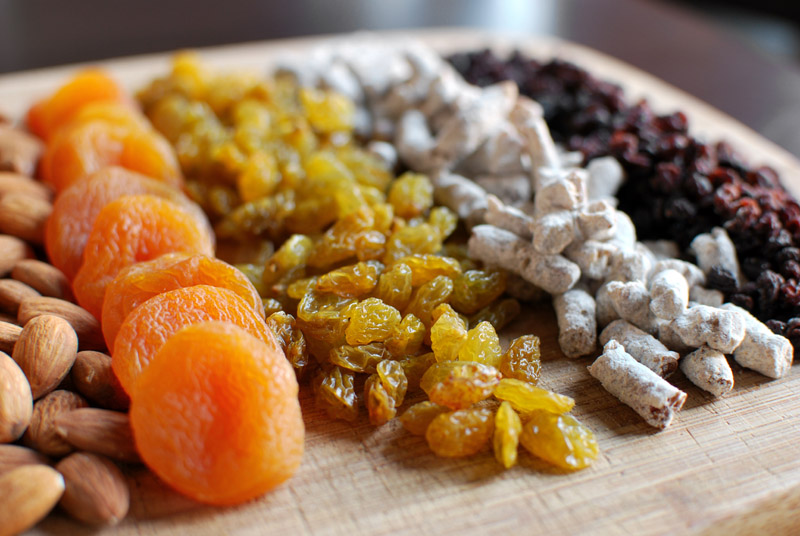 But the thing that's cementing this recipe's inclusion in my permanent file is the end result.  These bars taste like the healthiest cookie you've ever eaten.  They are firm-textured, nutty, loaded with dried fruit, and have a pleasantly grainy chew.  Surprisingly filling, one of these will give you the sustained sort of energy you wish all energy bars would.  And so pretty!  The variety of fruits and nuts make for a lovely mosaic look, each bite speckled through with orange apricots, crimson currants, and green pepitas.
Best of all, there was no blood sugar spike and crash for me with this recipe.  The sugar level looks rather high in the nutritional data, but it's mostly natural fruit sugar, which isn't nearly as bad as refined sugars.  However, the next time I make these – and there will be a next time – I think I'll use some protein powder to offset the sugar level a bit.
My only regret is that I waited so long to break out of my energy bar rut.  I'm not giving up Alton's recipe; but I tell you what, if there are other recipes like this one in the world, I'm going to have to start making more energy bars.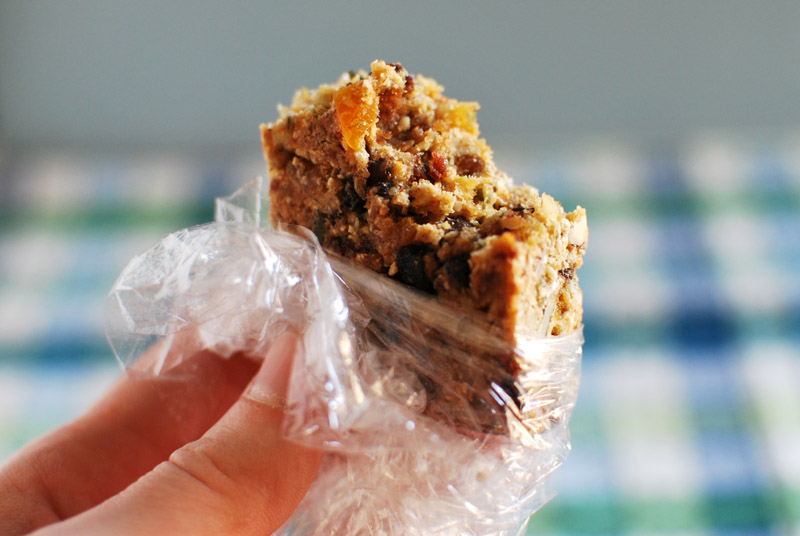 Energy Bars
Adapted from Ellie Krieger
Makes 12
Try to find dried fruits that don't have sugar added; the fruit is sweet enough on its own, and the extra sugar will only add unnecessary calories with no nutritional benefit.  For a gluten-free version, substitute the rye flour for any gluten-free flour (such as quinoa, buckwheat, or amaranth), swap the wheat germ for ground flaxseed, and be sure to use gluten-free oats.
3 1/2 ounces (about 1 cup) rolled oats (either quick or old-fashioned)
3 ounces (about 2/3 cup) dried apricots, roughly chopped
2 1/2 ounces (about 1/2 cup) raw almonds (preferably whole)
2 1/2 ounces (about 1/2 cup) golden raisins
2 ounces (about 1/2 cup) raw pumpkin seeds (pepitas)
2 ounces (about 2/3 cup) dried dates, pre-chopped or whole pitted
2 ounces (about 1/2 cup) dried currants
2 ounces (about 1/2 cup) wheat germ (toasted or raw)
1 1/2 ounces (about 1/2 cup) dry nonfat milk
1 ounce (about 1/4 cup) whole-grain rye flour
1/2 teaspoon kosher salt
1/2 teaspoon cinnamon
2 ounces (about 1/3 cup) maple syrup
2 large eggs
2 tablespoons water, as needed
1.  Preheat the oven to 350º F.  Lightly oil an 8 inch square pan, line with parchment paper, and lightly oil the parchment.
2.  In a large bowl, loosely mix together the first 7 ingredients (oats through currants).  Process (in batches, if necessary) in a food processor until the mixture is finely chopped.
3.  Meanwhile, in the large bowl, whisk together the wheat germ, dry milk, rye flour, salt, and cinnamon.  Add the chopped oat and fruit mixture, and mix until evenly blended.
4.  In a bowl, whisk together the maple syrup and eggs.  Add to the dry ingredients, and stir until all dry ingredients are moistened (mixture will be very stiff).  Add the water by tablespoons as needed to fully moisten.
5.  Transfer the mixture to the prepared baking dish.  Using a nonstick spatula or moistened hands, press the mixture firmly and evenly into the pan.  Bake at 350º F for about 25 minutes, or until lightly browned on the edges and just set in the middle.  Let cool before slicing into 12 bars.  Bars can be individually wrapped, and frozen or refrigerated.
Nutrition (per bar):
220 calories
7 g fat (1 g saturated)
36 mg cholesterol
133 g sodium
34 g carbohydrate
4 g dietary fiber
20 g sugar
8 g protein
Note:
1.  For a higher-protein bar, you can substitute the powdered milk for an equal amount of soy protein powder (1/2 cup, or 2 ounces).  This increases the protein to 11 g, increases the dietary fiber to 5 g, and reduces the sugar to 18 g; all other nutritional data remains virtually unchanged.  Soy protein powder is readily found at specialty stores such as Whole Foods.