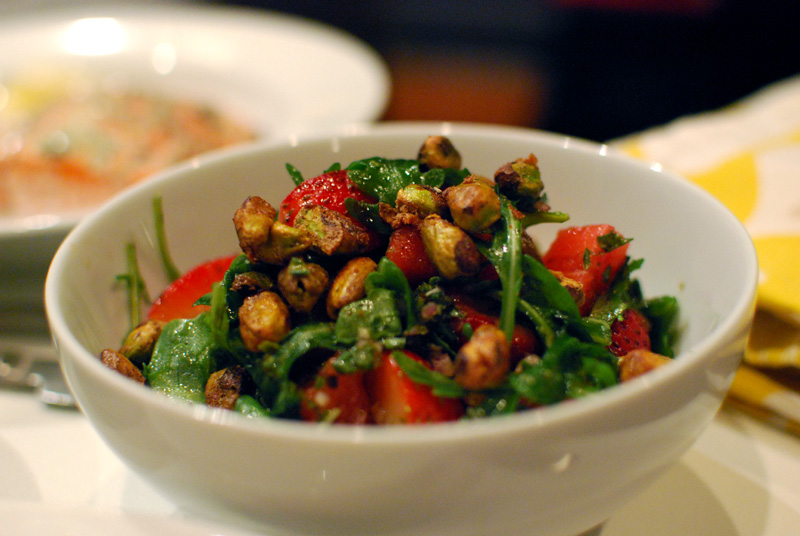 Recently, a dinner party client requested a strawberry salad for the meal I was cooking for him.  And I don't know the last time you searched for "strawberry salad", but 99.99% of the recipes out there involve two things:
1. Spinach
2. Poppy seeds
Not that there's a thing in the world wrong with a good strawberry-spinach-poppy seed salad.  It's a lovely little thing, simple, tasty, and pretty, which is why it's ubiquitous.
But my clients don't pay me to make exactly what the next guy is serving.  My clients hire me because they want something bespoke, something more thoughtful.  And I thought I could do better.
So I brainstormed.  At the top of the page, I wrote "NO GODDAMN SPINACH OR POPPY SEEDS", just in case I needed a reminder.  I laid out some flavors: watermelon, arugula, pistachios, lime, balsamic vinegar, mint, shallot, cardamom, vanilla.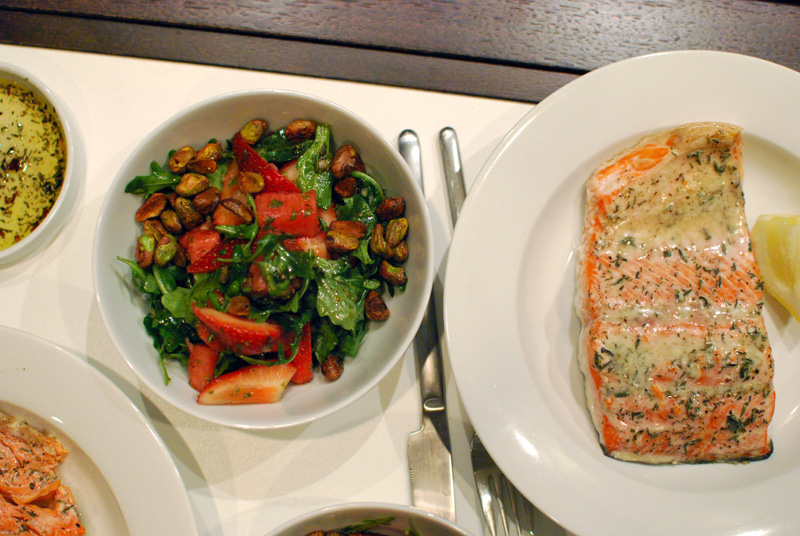 Peppery arugula made the base of the salad, while chopped watermelon and strawberries marinated in a bath of lime, herbs, shallot, olive oil, a splash of vanilla, and this incredible Strawberry White Balsamic Vinegar that I discovered from Our Dearly Departed Gourmet Magazine.  If you try nothing else from this recipe, make that.  You could practically drink it.
(Note to self: develop cocktail recipe using Strawberry White Balsamic Vinegar.)
(Edit: Done.)
The pistachios got candied with some egg white, sugar, and a heavy dose of cardamom.  They might seem like a fussy afterthought, but they go a long way towards tying everything together.  Besides, crunchy bits are requisite on moderately-fussy salads like this.  (And they're a lovely little snack to boot, if you happen to make extra.)
These pictures are from the test run I did many weeks ago, and I can just about smell it through the screen.  This is one super fragrant salad, y'all.
We paired it with a punchy rosé, and oh my goodness if you make this salad, you really ought to have a bottle of rosé on hand.  It was one of those situations where one legitimately could not tell if the wine was making the food better, or the food was making the wine better.  There was a lovely roasted salmon too, but it became incidental.
My client, by the way, was thrilled.  And so was I.  I think you will be too.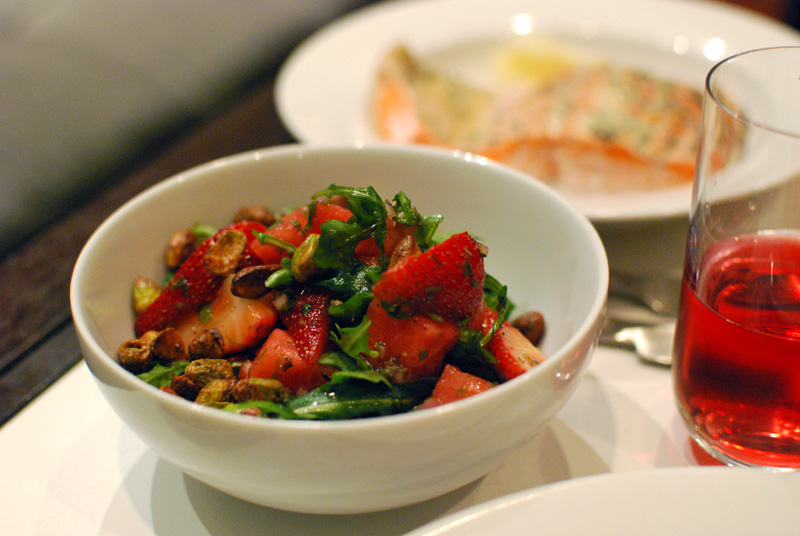 Strawberry, Watermelon, & Arugula Salad with Cardamom-Candied Pistachios
If you choose to make the Strawberry Vinegar (which you absolutely should; recipe linked below), plan a little in advance, as it requires at least 1 hour to make. You can make it well in advance, and it's wildly versatile, so you have very little excuse.
If you don't have time for that, though, I specify white balsamic vinegar, only because regular balsamic vinegar will muddy the appearance a little. If that doesn't bother you, by all means use regular balsamic vinegar.
This strikes me as an ideal picnic salad, or contribution to a potluck dinner. While the strawberries and watermelon marinate in the dressing, that gives you ample time to get to, you know, wherever you're going. Once there, serve them with the arugula and the pistachios. Wham. You look like Martha Stewart.
Ingredients
For the Cardamom-Candied Pistachios:

1 egg white
1 tablespoon water
2 tablespoons white granulated sugar
2 tablespoons light brown sugar
3/4 teaspoon ground cardamom
1/2 teaspoon kosher salt
1/4 teaspoon ground pepper
2 cups raw, shelled pistachios

For the Dressing:

2 tablespoons Strawberry Vinegar, or white balsamic vinegar
1 small shallot, minced
2 tablespoons fresh mint, minced
2 tablespoons fresh basil, minced
Zest and juice of 1 lime
1/4 teaspoon vanilla extract
1/4 teaspoon ground cardamom
Salt and freshly ground black pepper
Extra virgin olive oil, as needed

For the Salad:

1 pint strawberries, hulled and quartered
1 to 2 cups diced seedless watermelon
3 to 5 ounces baby arugula, or as needed
Instructions
To Make the Cardamom-Candied Pistachios:
1. Preheat oven to 300° F. Line a rimmed baking sheet with parchment paper.
2. In a bowl, whisk the egg white with the water until foamy. Whisk in the sugars, cardamom, salt, and pepper until combined.
3. Add the pistachios and mix until coated.
4. LIft the pistachios out of the bowl, letting any excess liquid remain in the bowl, and spread in an even layer on the prepared pan. Do not crowd the nuts (use a second pan if necessary).
5. Bake, stirring every 10 minutes, until the nuts look dry, 20 to 30 minutes. Cool to room temperature, stirring occasionally to prevent them from sticking and clumping together. Store in an airtight container at room temperature.
To Make the Dressing:
1. In a large bowl, combine the Strawberry Vinegar (or white balsamic), shallot, mint, basil, lime zest and juice, vanilla, and cardamom. Add a three-fingered pinch of salt and a few grinds of black pepper.
2. Slowly whisk in 1/4 cup olive oil (it's okay if it doesn't emulsify). Taste. If the dressing seems too tart, add additional olive oil one tablespoon at a time until it tastes more balanced. When it tastes good to you, proceed with the recipe.
To Finish the Salad:
1. Toss the quartered strawberries and diced watermelon with the dressing in the bowl. Let stand for at least 10 minutes at room temperature, or up to 2 hours in the refrigerator.
2. When ready to serve, add arugula and toss to coat with the dressing. Divide into bowls or plates, top with Cardamom-Candied Pistachios, and serve.
https://onehundredeggs.com/strawberry-watermelon-arugula-salad-with-cardamom-candied-pistachios/