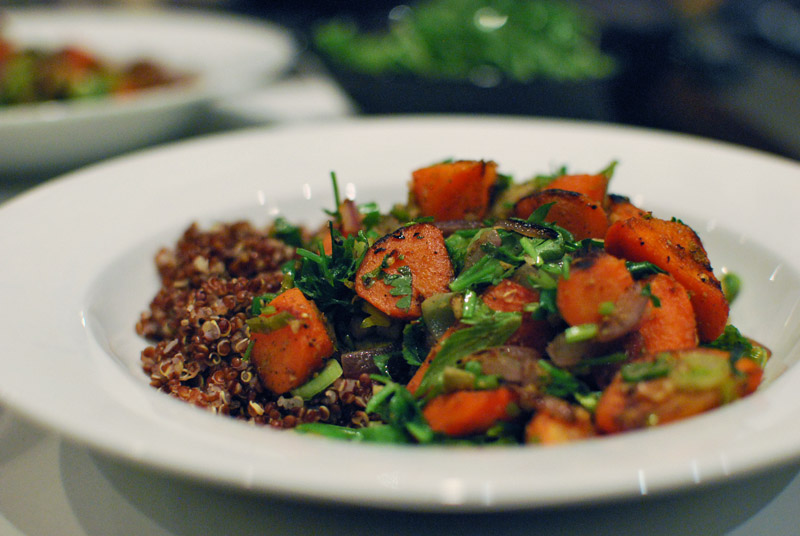 I'll be honest.  I don't love cooked carrots.  They're too often mushy and have that somehow sweet blandness that screams "overcooked".
But I've found that a quick toss in a hot sauté pan does something to carrots that I really enjoy.  They stay al dente in the middle, but soften enough so you're not eating great chunks of raw roots.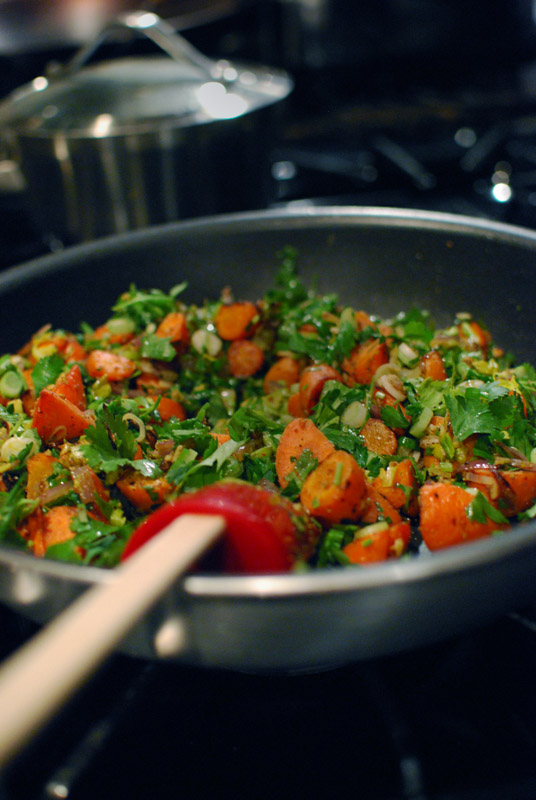 Add some vaguely North African flavors to the mix, and it's a meal I can go to town on.  It's all red onion, ginger, dukkah, cilantro, and lime, tossed together à la Ottolenghi, and served on red quinoa.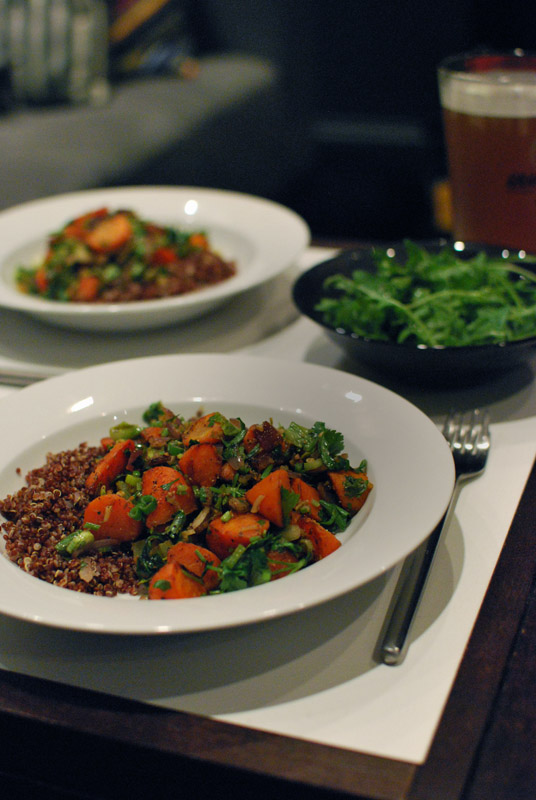 Super healthy, super fast, super flavorful.  Exactly the way I want to eat.
Dukkah-Spiced Carrot Sauté with Red Quinoa
If you don't have (or can't be bothered to make) dukkah, you can substitute 2 to 3 teaspoons Garam Masala, or even curry powder. Use less, because dukkah contains nuts which mitigates the spices. Woe betide you if you use 3 tablespoons curry powder in this.
The way I cut the carrots sounds more complicated than it is. But here goes: cut the carrot on a 45° angle. Roll the carrot over a little (maybe a quarter or half a turn). Cut again on a 45° angle. You should end up with a vaguely trapezoidal shape. Continue cutting the carrot, and rolling it, until you have a pile of irregularly-shaped bits of carrot, some bigger, some smaller. They will not cook entirely evenly. This is kind of the point.
Ingredients
1 pound carrots, preferably small
2 tablespoons olive oil
1 small red onion, chopped
2 to 3 stalks celery, preferably from the heart and with leaves
1-inch piece of ginger, peeled and minced (or grated)
2 to 3 tablespoons dukkah (such as this recipe )
3 scallions, chopped
1/2 bunch cilantro, roughly chopped (about 1/3 cup)
Fresh lime juice (optional)
Cooked red quinoa, or other grain of choice, for serving
Instructions
1. Peel the carrots. Using angled knife strokes, cut them into irregular pieces. Prepare the remaining vegetables.
2. Heat the olive oil in a sauté pan over medium-high heat. Add the carrots, and toss to coat with the oil. Season with a sprinkle of salt and black pepper, and let cook until beginning to soften and the edges just start to brown, about 3 minutes.
3. Toss in the onion and celery. Cook until just beginning to soften, about 2 to 3 minutes.
4. Add the ginger, dukkah, and white parts of the scallions. Stir to combine, and cook until fragrant, about 1 minute more. Remove from heat.
5. Stir in the cilantro and green scallion tops. Taste, and correct seasoning with salt, pepper, and maybe a squeeze of lime juice if you've got it.
6. Serve over red quinoa, or any other lovely grain.
https://onehundredeggs.com/dukkah-spiced-carrot-saute-with-red-quinoa/