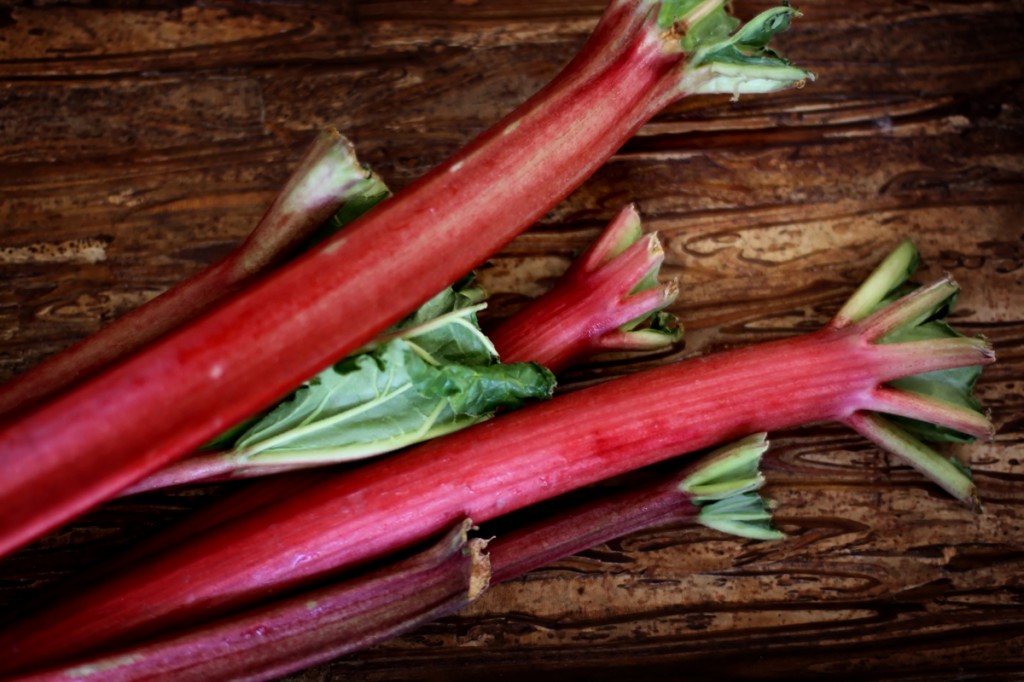 About a month ago, I was invited by my dear friend Taryn and her friend Cybelle to participate in a photo shoot at Taryn's home here in Chicago.  Taryn, a stylist, and Cybelle, a photographer, were looking to round out their already-impressive portfolios with food-centered work, and they needed some food to style and shoot.  That's where I came in.
The theme was "Savory and Sweet", featuring one food prepared two ways (one savory, one sweet).  We agreed on three distinct foods, for a total of six dishes; and other than that, I had free rein to do as I pleased.
Excellent.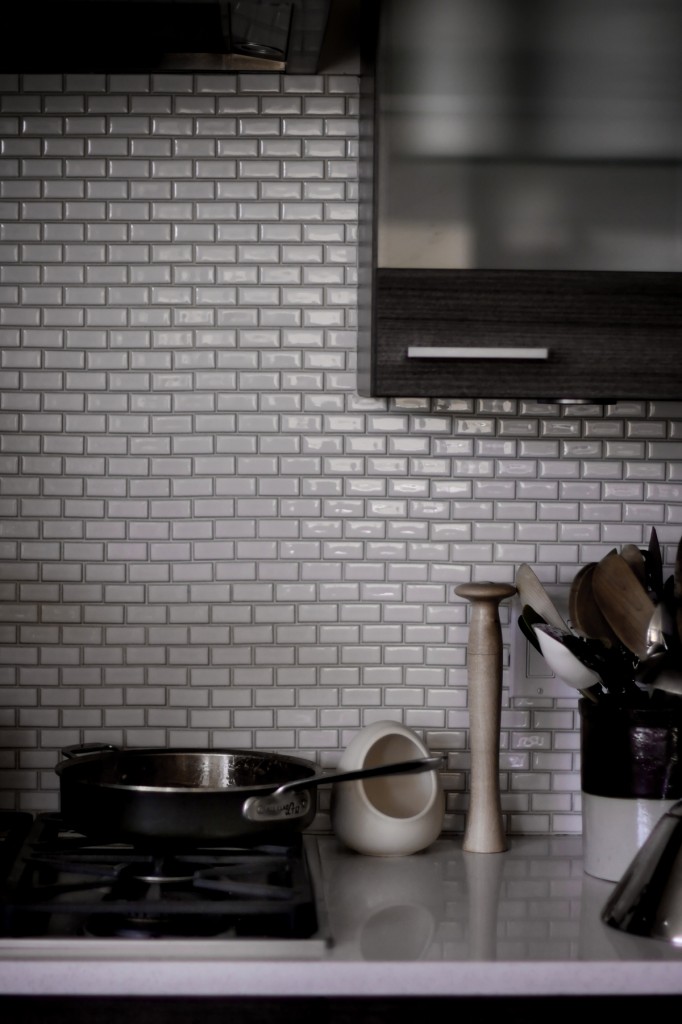 This will be a three-part series of posts, the first today, the second on Wednesday, and the third on Friday.  Taryn and Cybelle will also be featuring the photo shoot on their respective blogs, Sage And Style and Shoot Happens.  I'm so thrilled to be a part of this collaboration, and am quite honored to be invited to join such a talented and delightful couple of ladies.  I had an absolute blast spending the day with them, me in the kitchen, while Cybelle flitted around, snapping shot after shot from every angle, and Taryn made sure each errant crumb was ready for his close-up with her staggering library of props.
And so, I bring you Savory and Sweet: Rhubarb.  First up is an intoxicating Rhubarb Chutney, a savory condiment with layer after layer of flavor and heat; it's a sophisticated, Indian-inspired match for any sort of grilled food you might be preparing on this Memorial Day, especially chicken or pork.  I've had to make another batch for my own personal stash.  For a special treat, serve guests a platter of thinly-sliced and peppery salami, a soft goat's milk cheese, and this chutney, with crisp crackers alongside.  Heaven.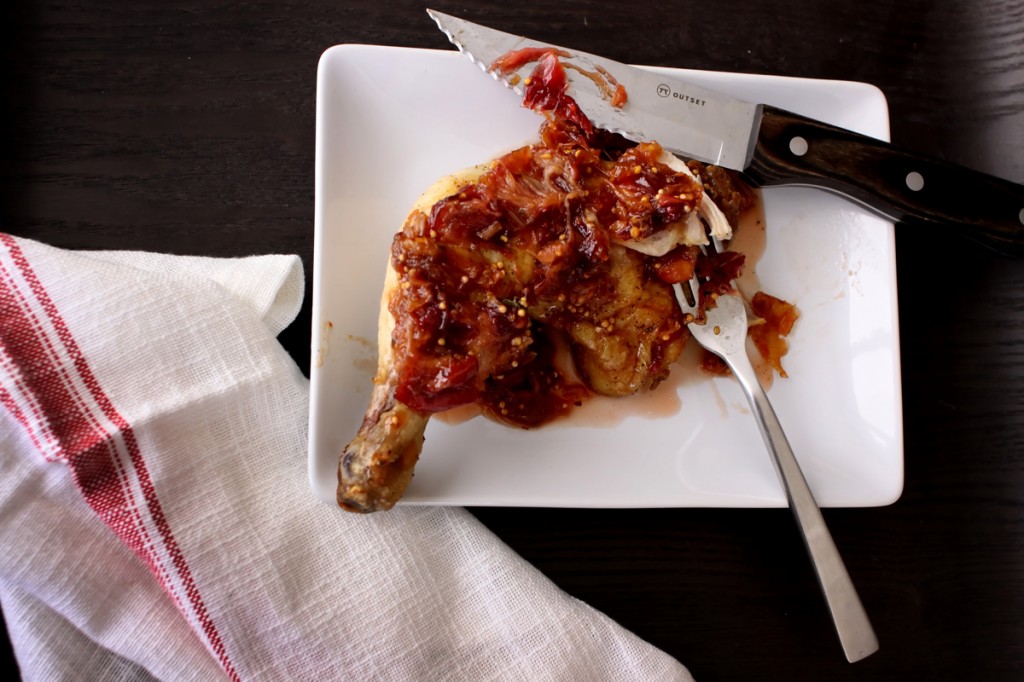 The sweet counterpart is a Rhubarb-Orange Jam, which comes together in a flash, but tastes like you slaved all day over a hot stove for it.  The woodsy and slightly minted hint of rosemary makes things interesting; on a thick slice of lavishly-buttered rustic bread, it was one of the best things I tried all day.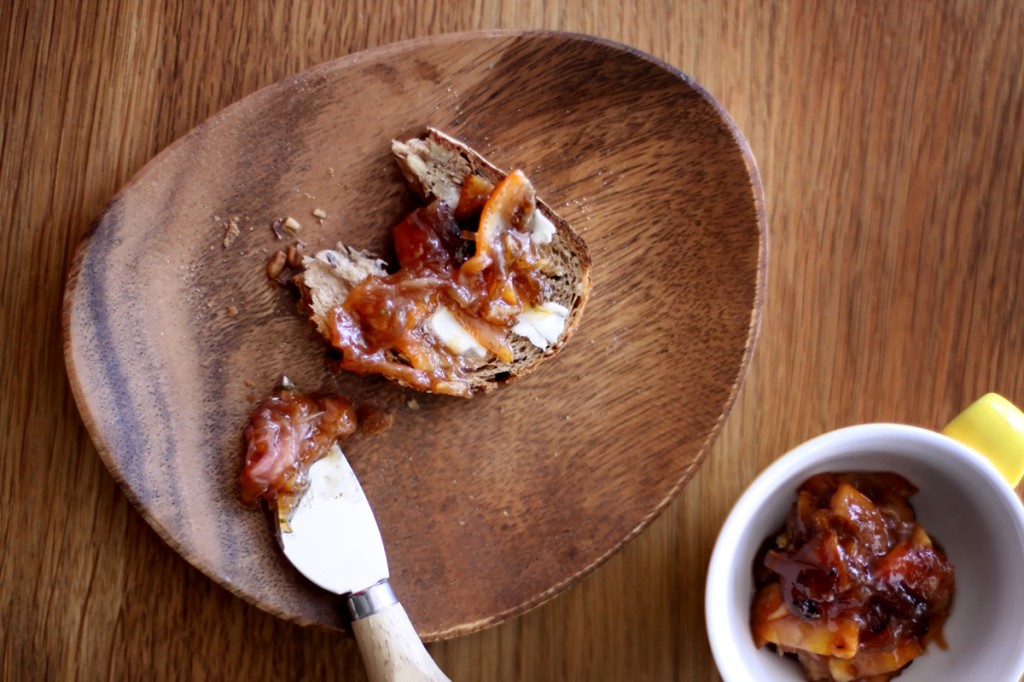 I'm going to let the pictures mostly speak for themselves, though you will find the recipes below.  I hope you enjoy it as much as I did, and be sure to catch parts two and three later this week!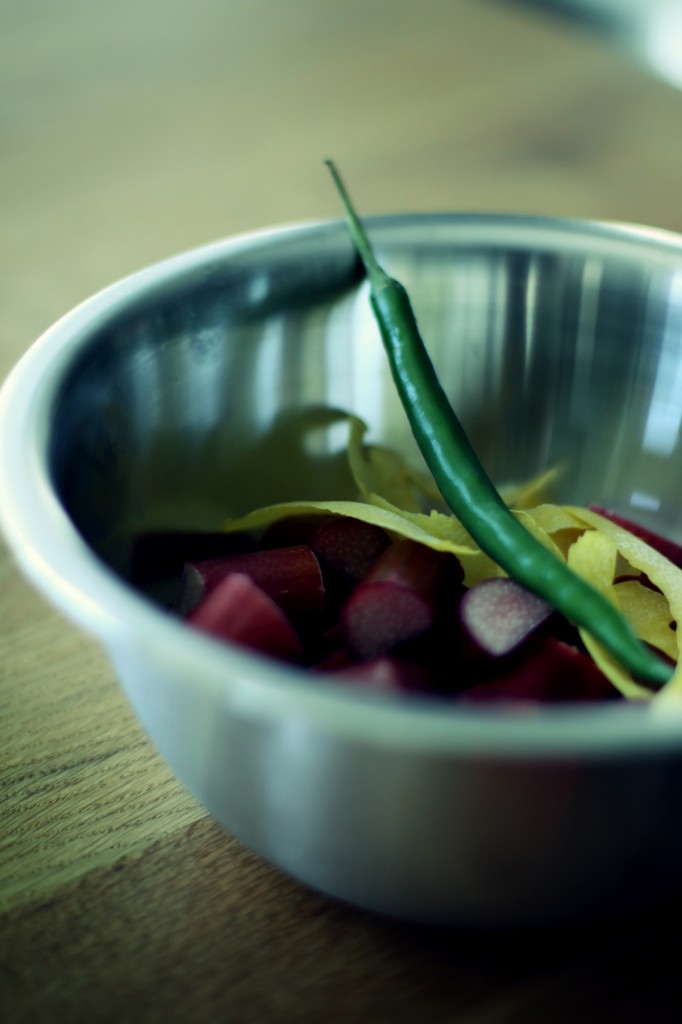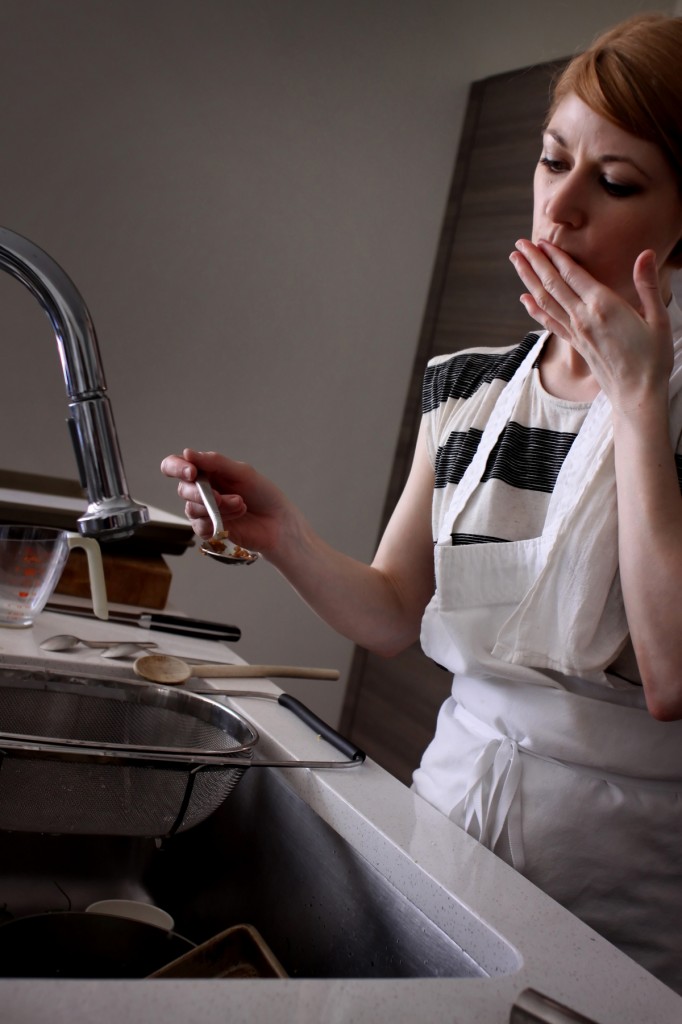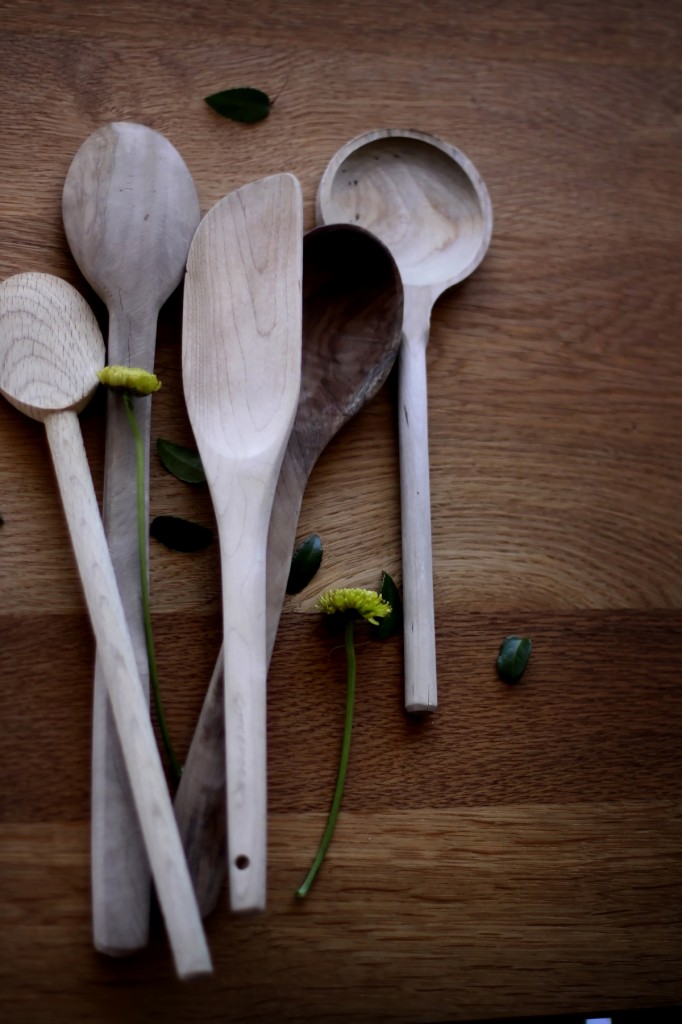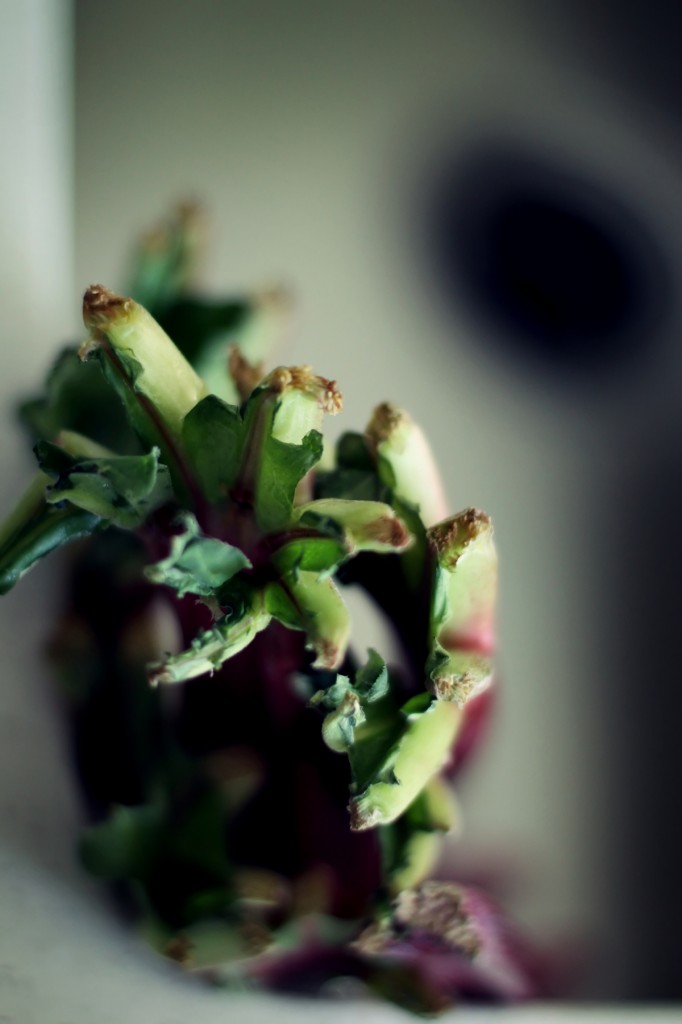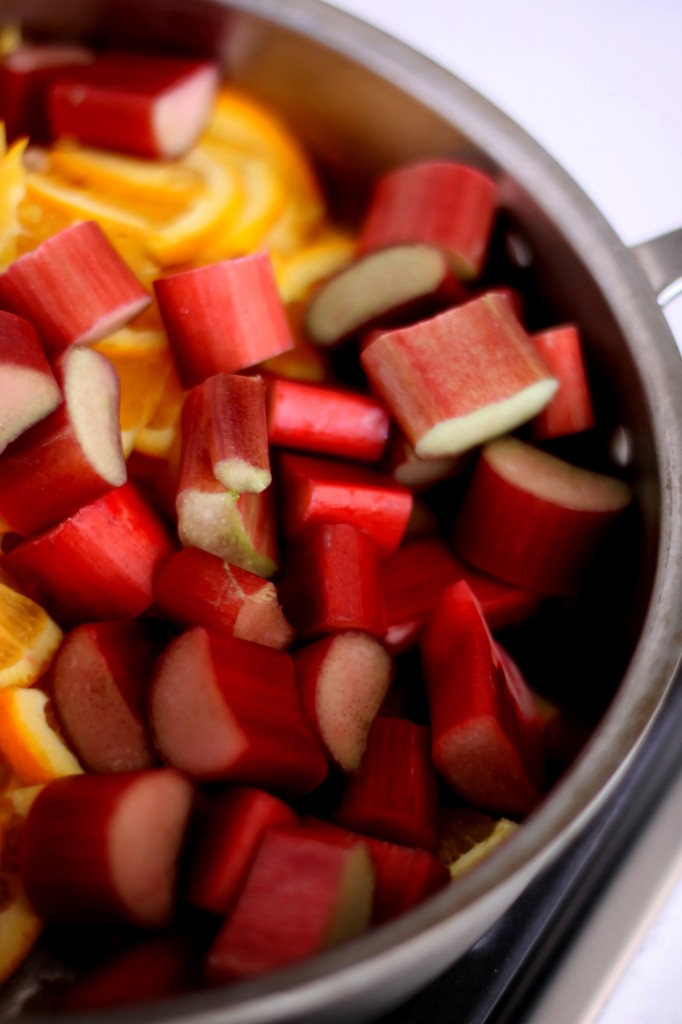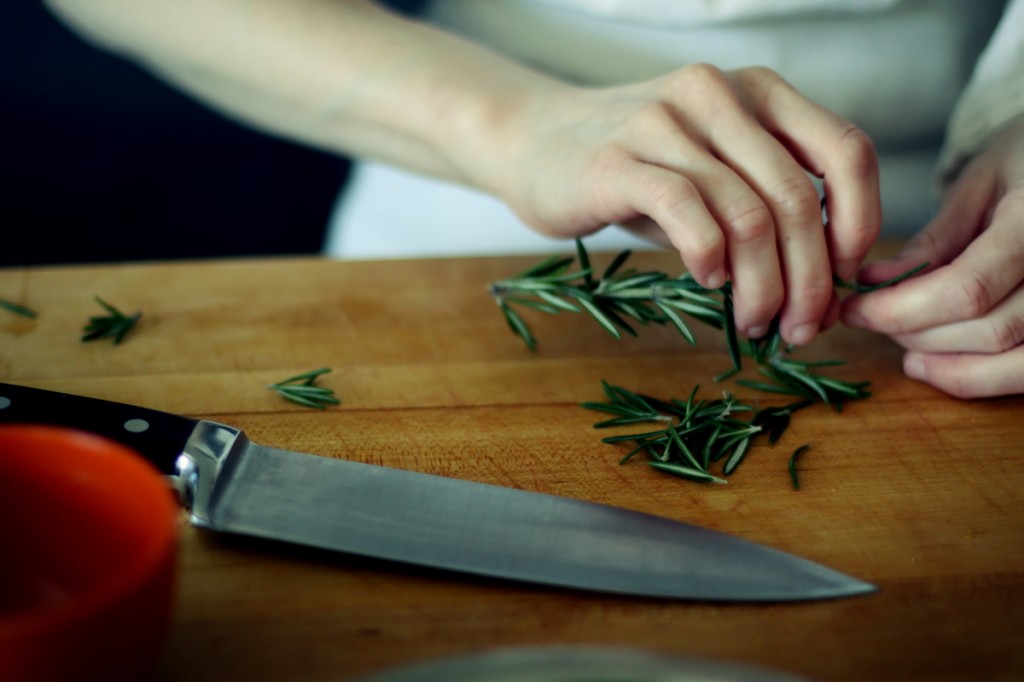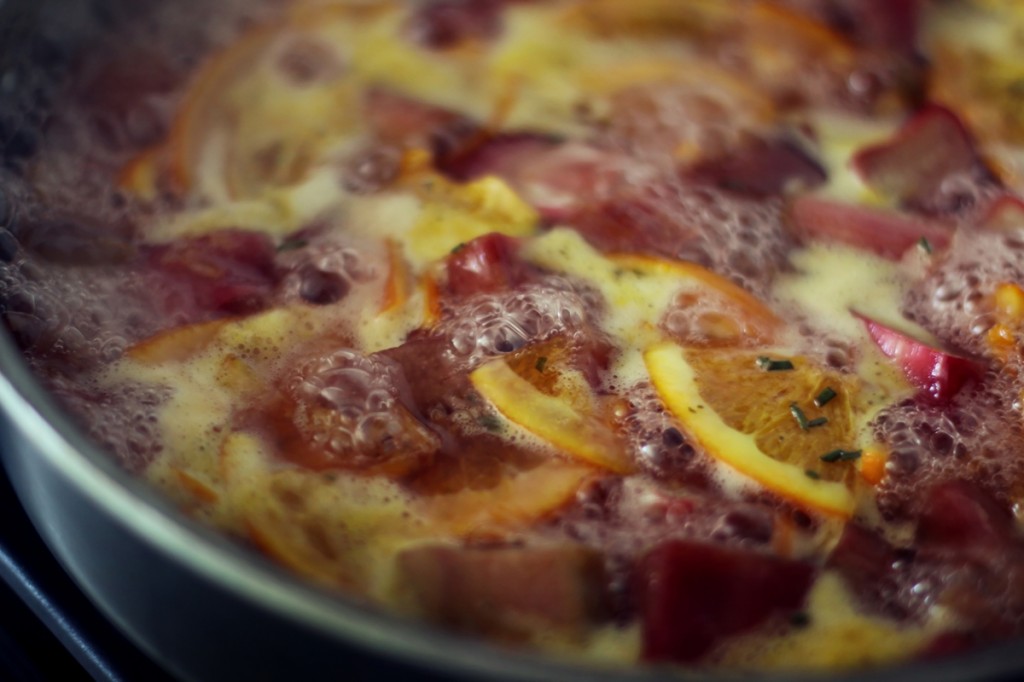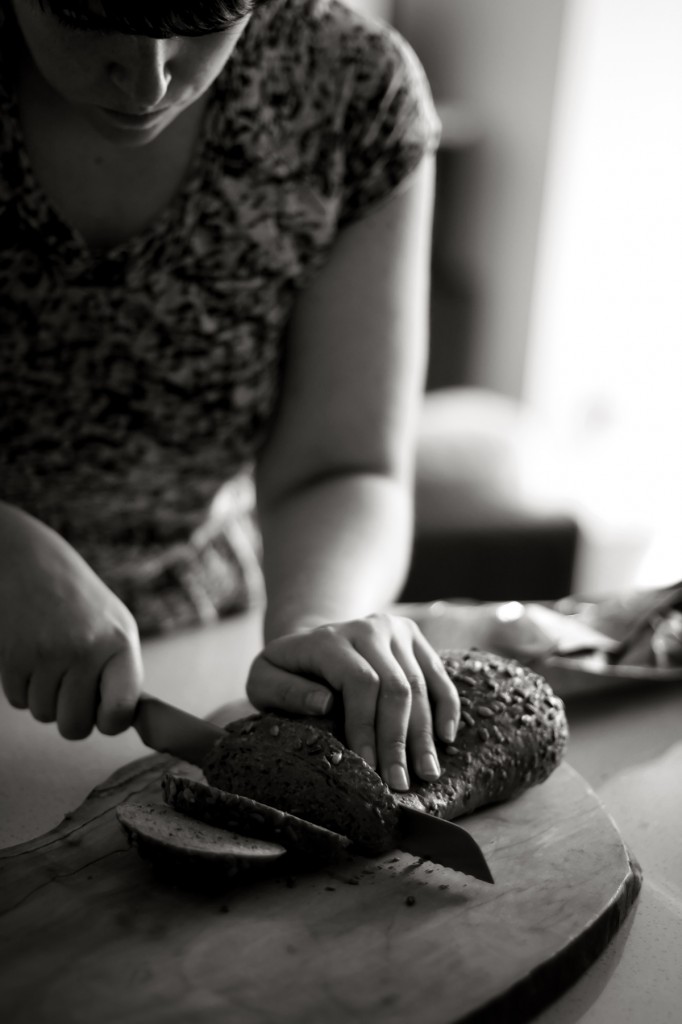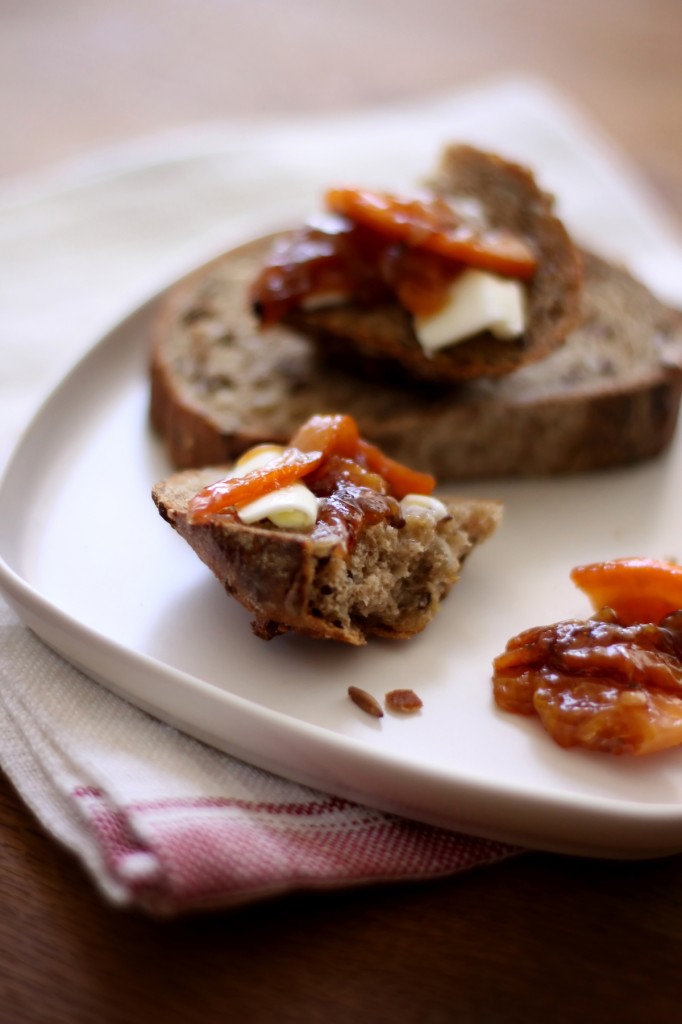 Rhubarb Chutney
Makes about 2 cups
This spicy-sweet chutney is a perfect match for chicken or pork, though it would be just as good on a rare hamburger or with grilled sausages.  The layers of heat from the chili, the red pepper, and the black pepper are nothing short of seductive.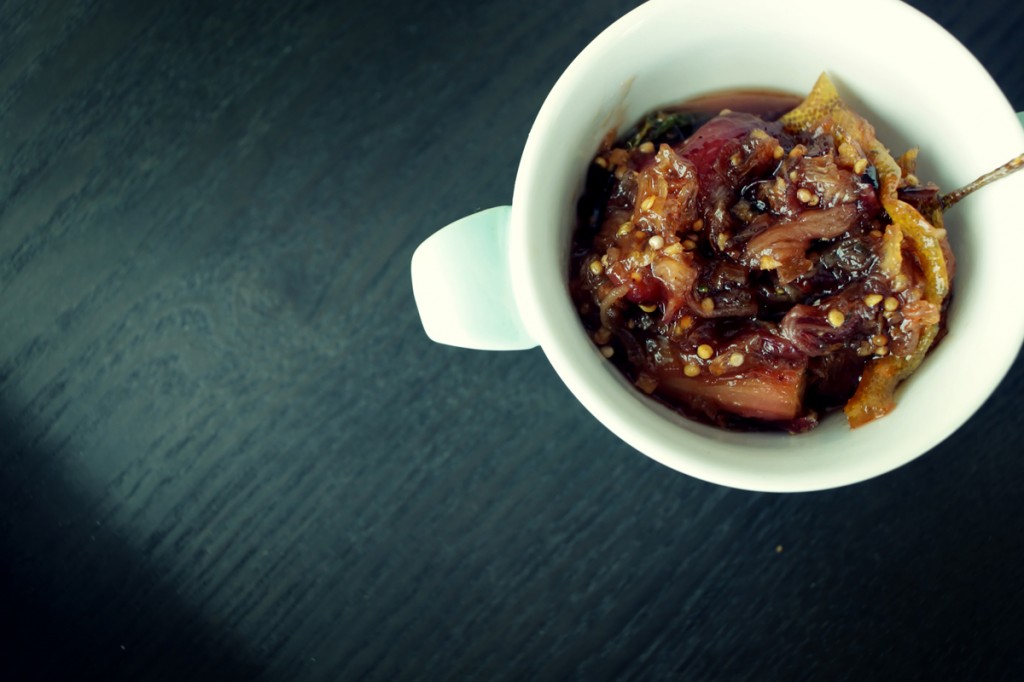 1 scant cup granulated sugar
1 tablespoon water
1/2 cup tarragon vinegar, plus additional as needed
1 small white onion, diced
2 cloves garlic, minced
2 tablespoons fresh ginger, minced or grated
1 small green chili pepper (such as finger or jalapeño), minced
1 1/2 pounds rhubarb, chopped into 1 inch pieces
Peel of 1 lemon, cut off in long strips, and roughly chopped
1 bay leaf
2 sprigs thyme
1 tablespoon mustard seed
3/4 teaspoon crushed red pepper flakes, or to taste
1/2 teaspoon freshly ground black pepper
1/8 teaspoon ground cloves
1/8 teaspoon ground allspice
1 three-fingered pinch salt
1.  In a light-colored medium pan, heat the sugar and water together over medium-high heat, stirring only until all sugar is dissolved.  Do not stir after this, or the sugar may crystallize and turn into a mess of irreparable lumps.  Let caramelize until light amber in color, tilting the pan and gently swirling to help caramelize evenly if needed.  The caramel will burn in an instant, so don't turn your back, but it should take around 3 to 5 minutes.
2.  Very slowly and carefully, add the tarragon vinegar, a little at a time.  The sugar will sputter furiously, so be careful.  The caramel will harden at first, but will soften and dissolve shortly.
3.  Add the onion, stir, and cook until softened and translucent, about 3 minutes.  Stir in the garlic, ginger, and chili pepper, and cook for 1 minute.
4.  Add the rhubarb and remaining ingredients.  Stir, and reduce heat to medium or medium low, or to a brisk simmer.  The chutney will begin to look dry, but will become more liquid as the rhubarb releases its moisture.  Cook until rhubarb falls apart, about 15 minutes.  Thin with additional tarragon vinegar if necessary; chutney should be quite thick, but not too sticky and jammy.  Remove bay leaf and thyme stems before serving.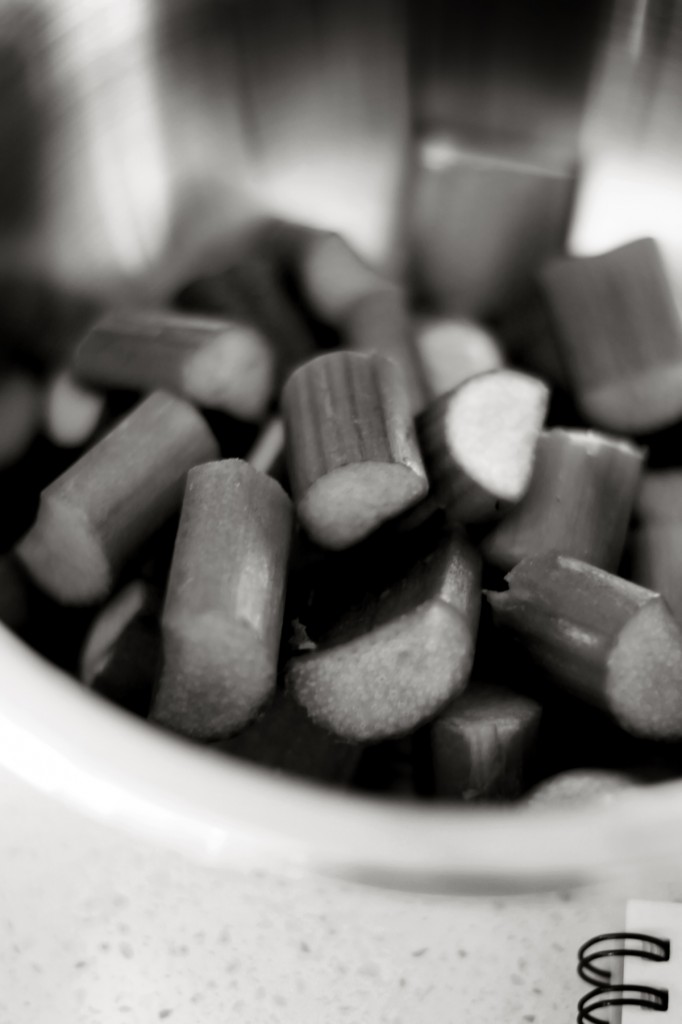 Rhubarb-Orange Jam
Makes 2 to 3 cups
Don't be scared of using the whole orange peel, pith and all, in this rustic jam.  It lends a welcome complexity to the bitter notes brought also by the rhubarb and the lemon juice.  This jam turns out quite rustic and chunky; if you prefer your jam more smooth, chop the ingredients more finely.
2 navel oranges
1 pound rhubarb, cut into 1 inch pieces
1/3 cup brandy
Juice from 1 lemon (2 to 3 tablespoons)
2 cups granulated sugar
1 heaped tablespoon fresh rosemary, chopped finely
1.  Quarter the oranges lengthwise.  Slice the quarters crossways into very thin slices, discarding any seeds that may appear.
2.  In a large pan, combine orange slices with all remaining ingredients.  Bring to a brisk simmer over medium-high heat, then reduce heat to medium-low.  Stirring often to prevent scorching, simmer until rhubarb breaks down and mixture thickens, 15 to 20 minutes.  Cool before serving.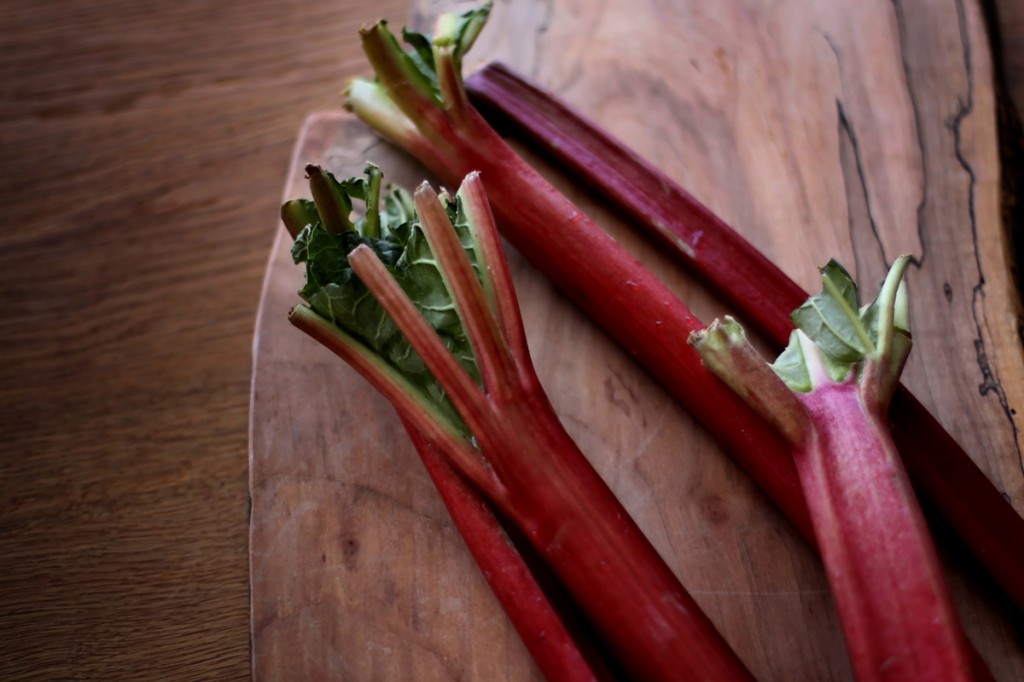 All photos by Cybelle Codish.  All styling by Taryn Bickley.