Well.  That was certainly a trip.
I'm back home, after eleven days in New Orleans.  It's not a very long time on paper, but time can be quite subjective, especially when returning to one's hometown after a long absence.
The first weekend was spent attending the International Food Blogger Conference, or, affectionately, IFBC NOLA, at the Hotel Monteleone.  I met about a million wonderful, kind, talented people, people I wish lived close to me so that we could become better friends in real life.  I learned loads about ways to improve my blog, my photography, my writing, and, yes, my life online and off.
I hope you don't mind if I bore you with details about the food, rather than rehashing the nitty-gritty educational part of the conference.  I think that might be what you're here to see anyway.
The organizers of IFBC managed to get fourteen local restaurants to showcase samples of their menus for us, at receptions on both Friday and Saturday.  And, like any good food blogger, I shot first and ate later.
The good people at Wines of Navarra provided a couple of bottles of wine for us to taste on Friday night.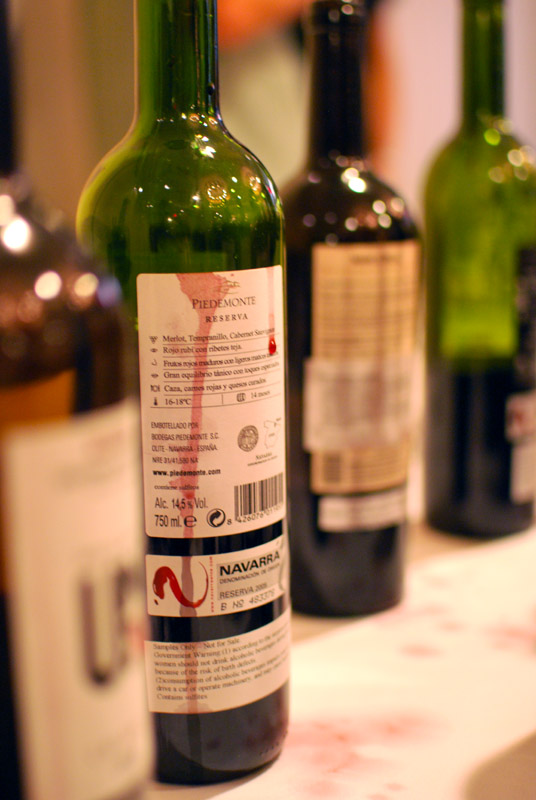 Accompanying the wine, Muriel's restaurant provided us with their signature shrimp and goat cheese crêpes, a gorgonzola tart with berries and pecans, and proscuitto-wrapped asparagus.
Following the wine tasting, I embarrassed myself a little when I saw Chef Susan Spicer standing basically alone (alone!) next to a full table of canapés: one of smoked salmon mousse, and the other of duck prosciutto with a pickled cherry.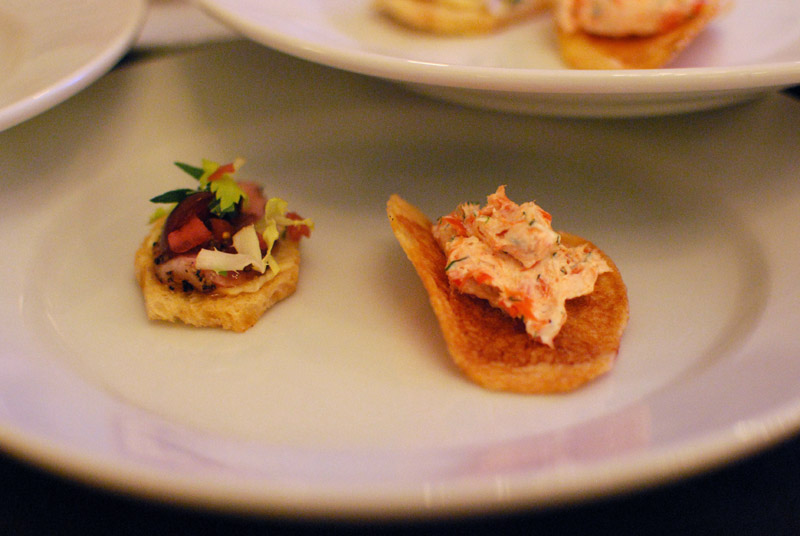 I made sure she knew my mom is her biggest fan, especially of her sweetbreads.  (My mother cannot eat a sweetbread without appending, "…but Susan Spicer still makes the best in the world.")  I promptly took a picture with her on my phone, texted it to my mom, and forgot to mention to Chef that I have garnered much accolade using recipes from her cookbook for clients of my own.
This shot of the duck prosciutto features the assistance of Andrew Scrivani, who set up the lighting.  No effort or expense was spared in the preparation of this shot; all three votives on the table were used.
Eating my way around the room, I enjoyed the following:
Kurobuta pork cheeks with tomato jam and black eyed pea purée, from La Petite Grocery.  The pork was just out of the fryer, crisp and hot, the interior full-flavored and rich.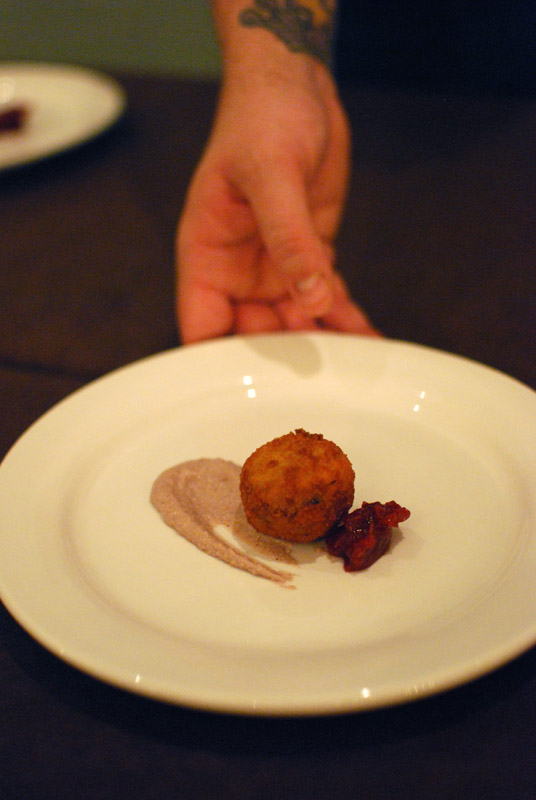 Spicy tuna tartare with avocado and microgreens, from Ste. Marie, a new restaurant that I'm going to have to try properly the next time I'm in town.  I appreciate it when something described as "spicy" is legitimately spicy; this tuna certainly was.  They also served an excellent pappardelle with rabbit ragu that I neglected to photograph.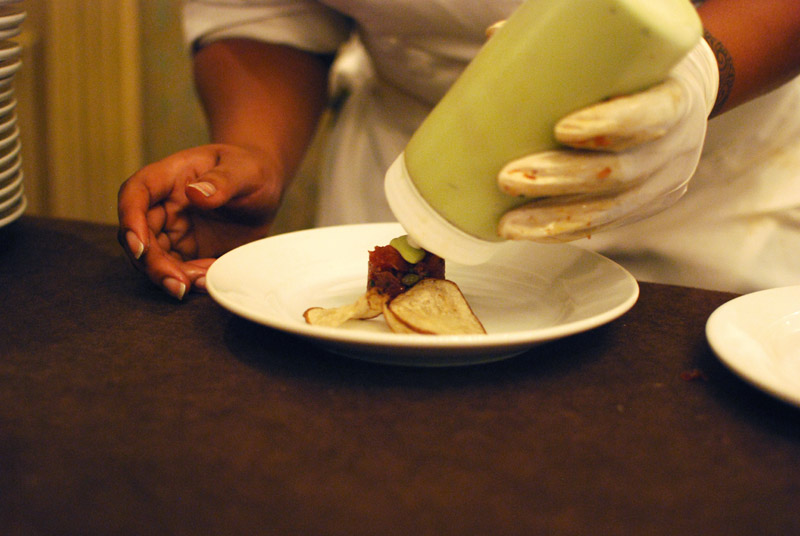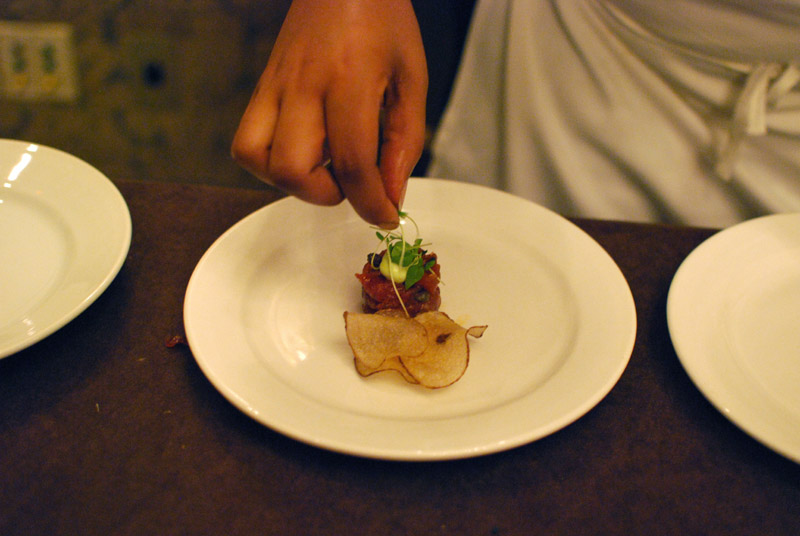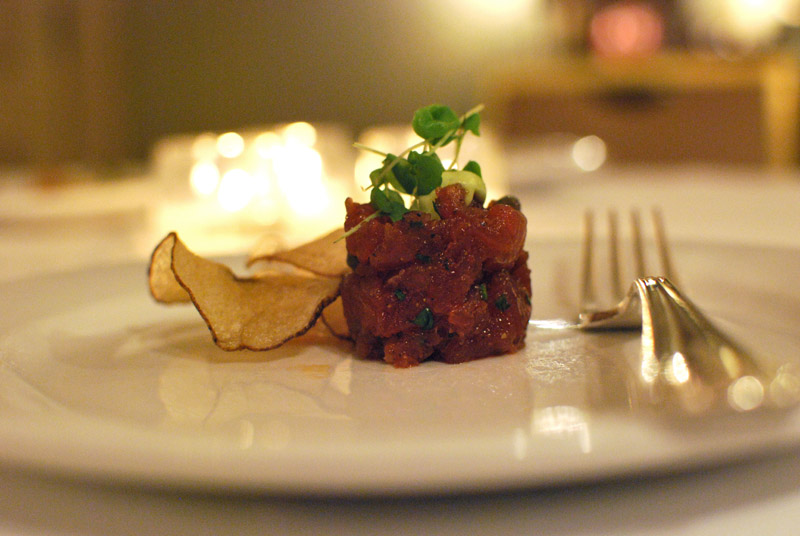 And then, I left to go to dinner with my parents.
Because, you know, there wasn't enough food.
Friday morning came maybe a little too bright and early, and morning sessions were followed by a lunch reception.  The first thing to catch my eye were the oysters.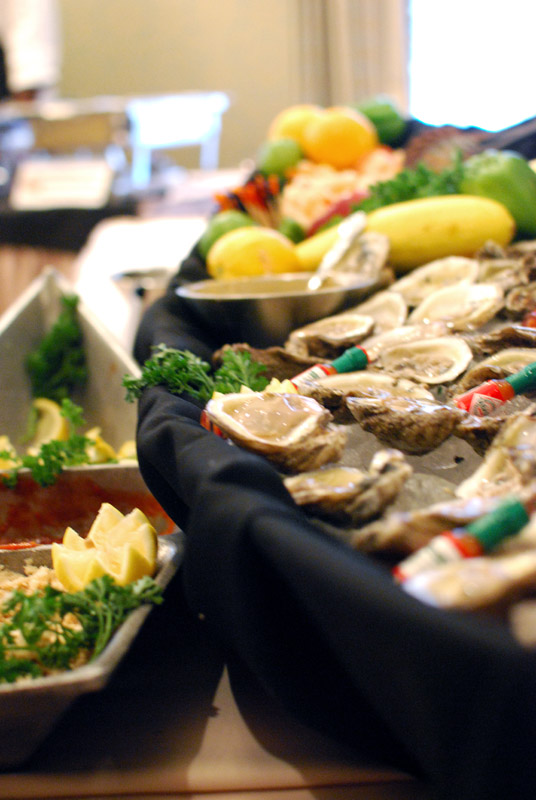 A boat full of Gulf shrimp and Gulf oysters, glistening and briny, shucked by the good people at Royal House.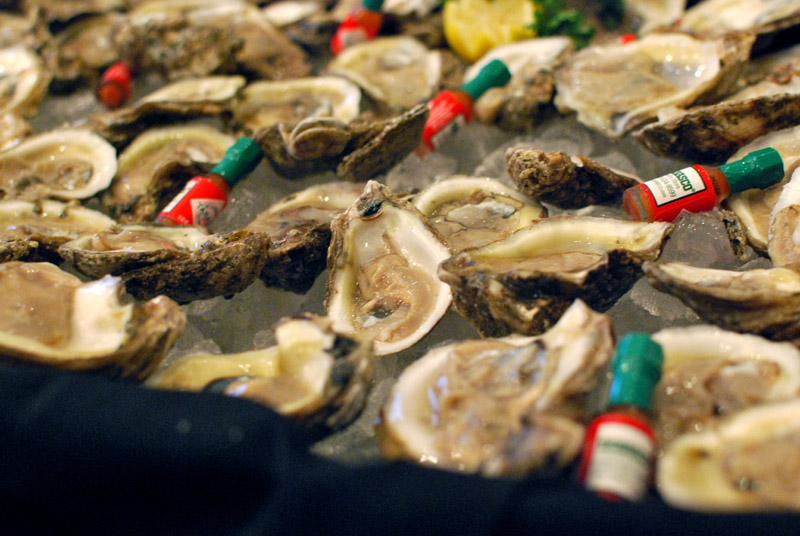 I prefer to not exercise restraint around oysters, particularly Gulf oysters, when I have been without them for a long time.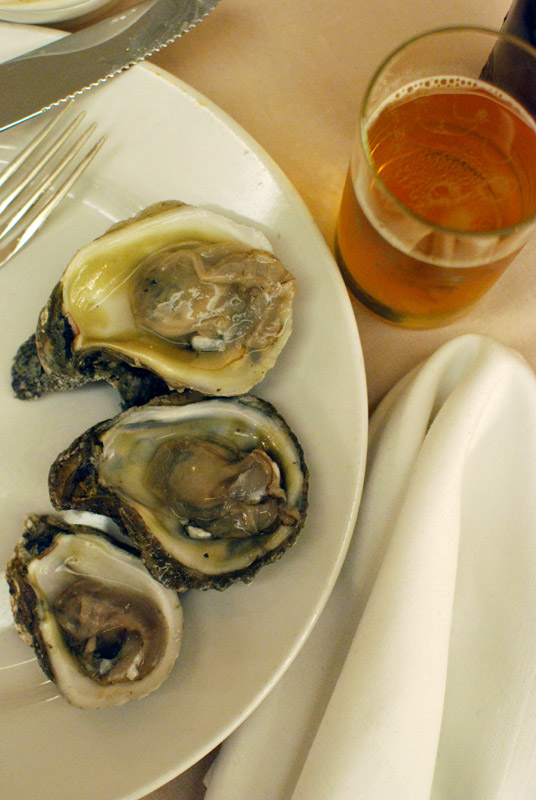 I wanted to put that little boat on wheels and drag it around with me for the rest of my trip.  Later that day, the inimitable and delightful Poppy Tooker urged us, in a talk about sustainability: "Eat it to save it."  Well, last week, I saved the hell out of some oysters.
There were po-boys, too, in fried oyster and shrimp, on proper Leidenheimer po-boy bread.  Sandwich shops of the nation, take note: without this bread, it is never a po-boy.  No substitutes for this bread are acceptable.  And "dressed" means only mayonnaise (preferably Blue Plate), lettuce (shredded iceberg), and tomato (Creole, ideally).  Pickles are occasionally allowed, but you'd better know what you're doing.
This was alligator and andouille gumbo, from the classic Parkway Bakery.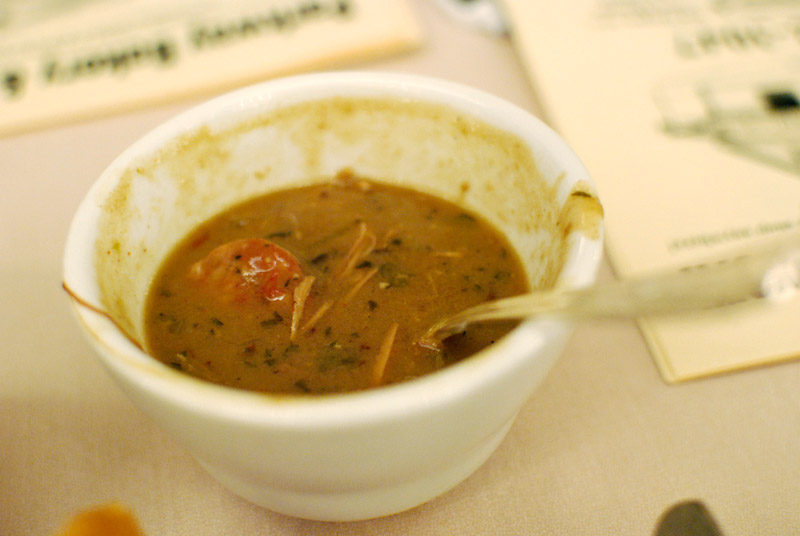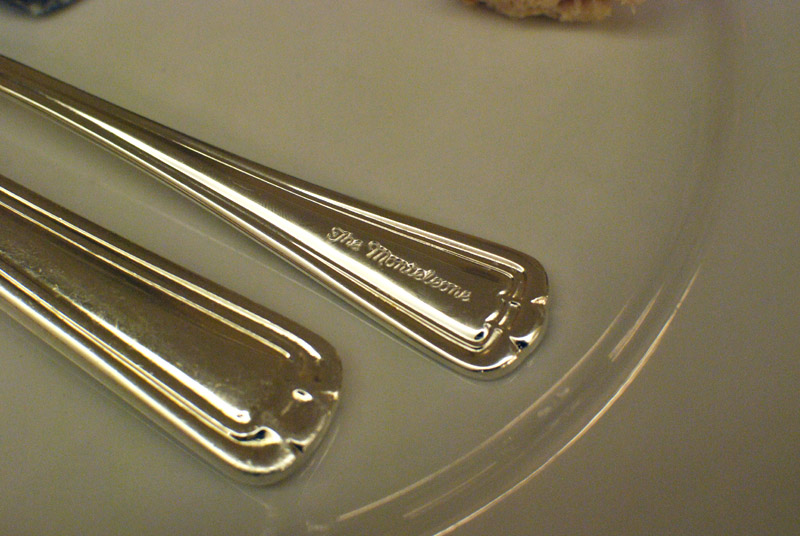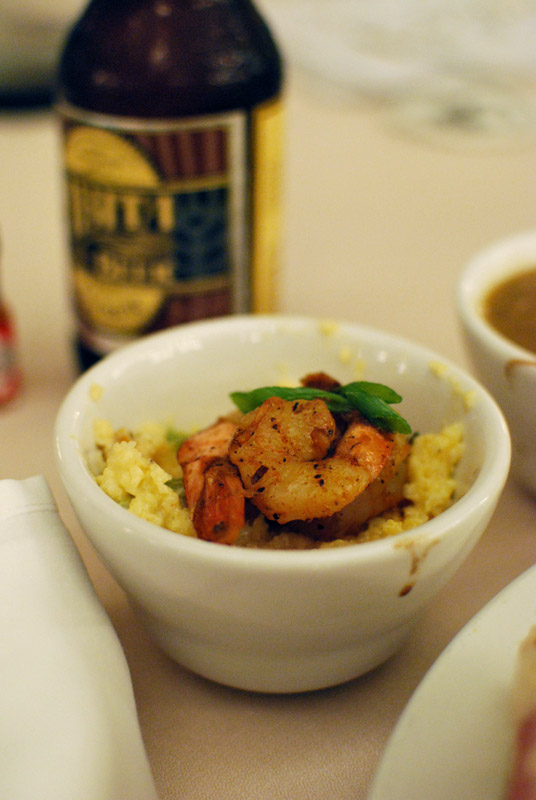 The fine gentlemen from Abita Beer made sure our glasses never ran dry, with pours of their flagship Amber, and SOS, a nicely bitter and refreshing pilsner that generates 75 cents per bottle for the restoration of the Gulf coast following last year's BP oil spill.  And if you've never visited the brewery itself, I highly recommend it.  You're handed a go-cup when you walk in, and are promptly shown where the open taps are.  Oh, yes.
Later that afternoon, I sampled what I'm still shocked was my first ever Ramos Gin Fizz, from the famous Carousel Bar downstairs.  It was… frothy.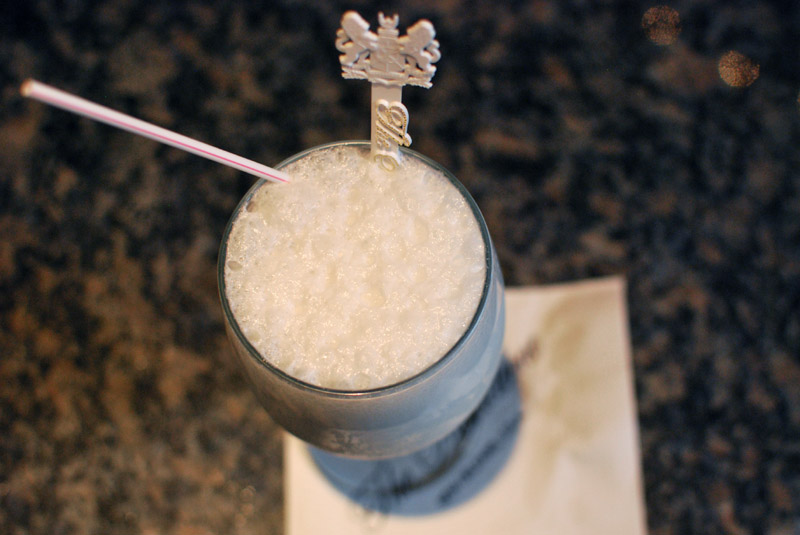 I switched back to Abita Amber after, half wishing I had ordered the more lusty Sazerac instead of the fizz.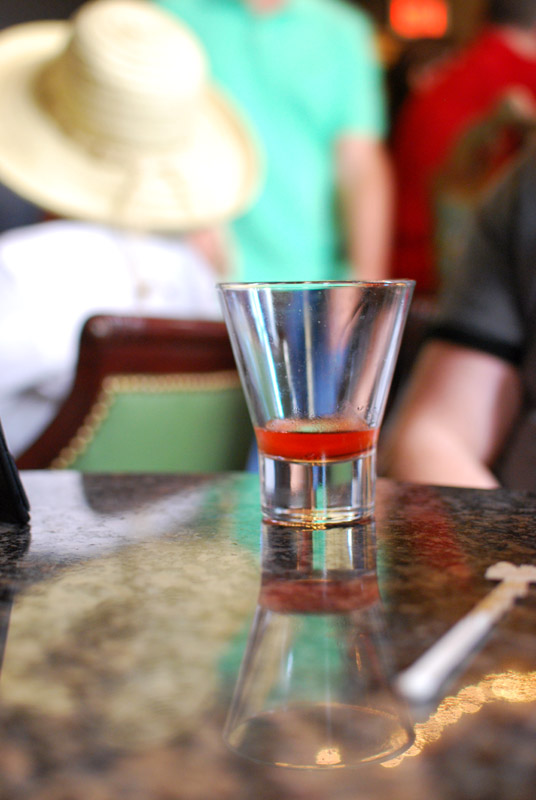 That night, the Monteleone prepared us an extravagant wine pairing dinner, with ingredients one doesn't usually see in menus for over a hundred people.
The first course: crabmeat ravigote, on cucumber gelée, topped with shrimp and rémoulade sauce, paired with a vintage Spanish cava.  The crab was sweet and wonderfully lumpy, and the gelée was full-flavored, though perhaps it had a bit too much gelatin.  Crab and champagne are a natural pair, no exception here.
The entrée: beef tournedo (tenderloin), topped with foie gras and black truffle, served with endive and beets, paired with a red blend from Italy.  It was a lily guilded thrice.  I don't really understand stacking up three luxury items, when the textures don't necessarily go well together, even though it's a classic dish.  All the ingredients were delicious, but the beets were my favorite part of this plate.
The dessert: white chocolate crème brûlée, with berries and pulled sugar garnish, paired with an incredible Muscat from Australia.  The crème brûlée was set in a sort of tart crust, not something you typically see, but it was really lovely.  Unfortunately, the pretty pulled sugar was a sticky reminder why those garnishes do not work well in areas of high humidity.  Muscat is my favorite dessert wine; this one was complex, and caramel-thick in the best possible way.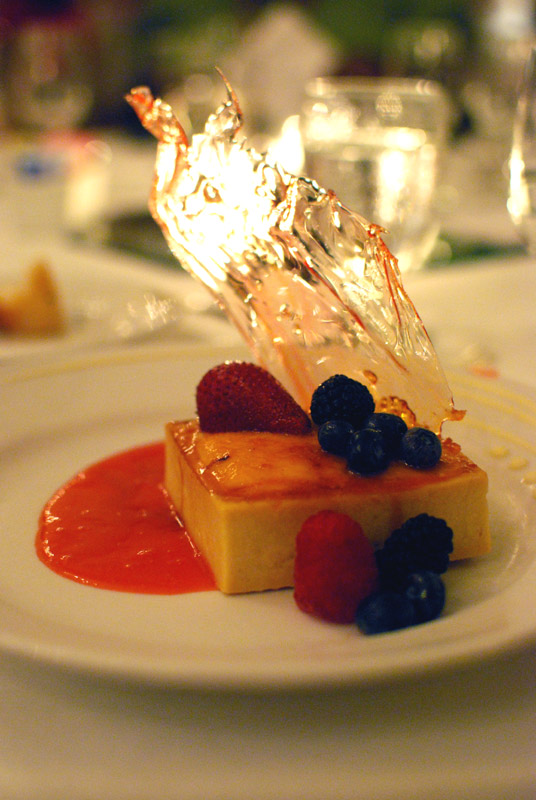 Oh, and after all this wonderful food?  Chef John Besh delivered the keynote speech of the weekend.  I adore his restaurants, and cannot commend the man enough for his ambassadorship in promoting New Orleans and Louisiana.  I have a professional crush on this guy.
The remaining sessions on Sunday went by too fast, and IFBC NOLA was over.
And then, the rest of my trip back home began.  More on that later.  Stay tuned!