This is the best kind of salad.
It's one that requires no stove, oven, microwave, or any other sort of heating device.  It doesn't require any special equipment or power tools.  All you need is a can opener, a knife, a cutting board, and a big ol' mixing bowl.  I guess most people would want a spoon, but in a pinch you can just use your hands to mix.
It's a very zen thing, making this salad.  It comes together as fast as you choose to chop.  There's no worry about over-cooking or under-cooking.  No pressure at all.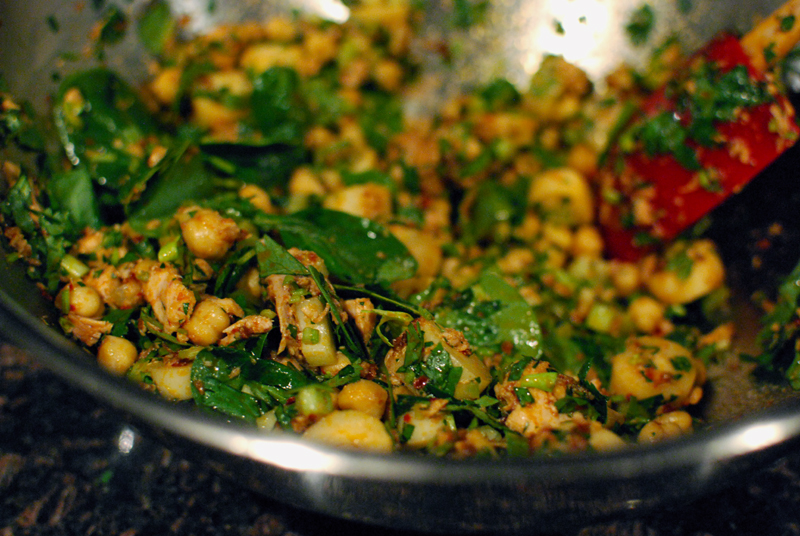 A main feature of this salad is the harissa.  You can tell because it is the first word in the title.  I know, I just know someone out there is wondering what can be used instead of harissa because who on god's green earth has harissa sitting around and where can you get it and what is it even.
If you can't find harissa (or can't be bothered, and girl I feel you), remember that it is red and spicy.  Use something else red and spicy and understand that it won't be the same but this is not always bad.
Taste your harissa.  If it tastes good, congratulations!  You're well on your way to a delicious salad.  If it tastes musty or weird or off, you might want to consider a different brand next time.  Or try cutting it with sriracha, which fixes any number of ills.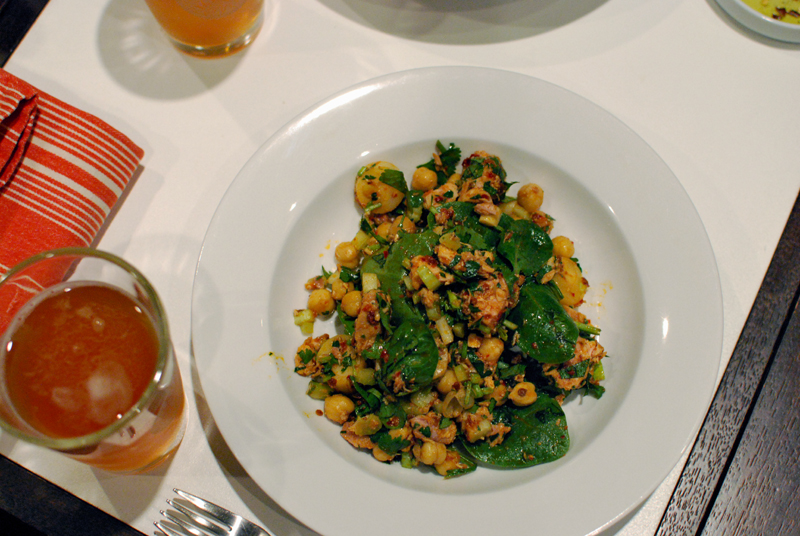 Harissa Tuna & Chickpea Salad
We all know how to smash garlic into a paste with a chef's knife, yes? A microplane will do the job just as well, and in about a tenth of the time. Just mind your fingertips.
This dish will keep for several days in the refrigerator, and might be better the second day.
Ingredients
1 clove garlic, grated finely or smashed into a paste
4 tablespoons harissa, or less if you're a wuss
2 tablespoons sherry vinegar
2 tablespoons extra virgin olive oil
3 stalks celery, diced
1 can chickpeas, drained and rinsed
1 can hearts of palm, drained and chopped roughly
2 cans tuna (about 10 ounces total), drained
1/3 cup cilantro, chopped roughly
1/3 cup parsley, chopped roughly
Fresh salad greens (optional; I used spinach)
Salt and pepper, to taste
Instructions
1. In a large bowl, stir or whisk together the garlic, harissa, sherry vinegar, and olive oil.
2. Add the remaining ingredients, along with a generous pinch of salt, and toss together.
3. Taste, and correct seasoning if necessary with salt, pepper, harissa, sherry vinegar, and olive oil.
https://onehundredeggs.com/harissa-tuna-chickpea-salad/