Here in Chicago, the granddaddy of all farmer's markets is the Green City Market, the only market to stay open all year round.  If you're interested in local, sustainable, organic, farm-direct food (and we certainly all are, am I right?  Every meal, right?), you're bound to end up shopping at Green City for most of your food.
Their rigorous standards for their vendors guarantee that everything is as it appears, that you actually are buying those apples or tomatoes from the nice lady or man who grew them, not from a re-seller.  And in the depths of Winter, when every other farmer's market has shut down, Green City remains not as a deplorable sole option with a captive market, but as glamorous and worthy a destination as it is any other time of year.
Green City Market recently ran a photo essay contest, in which they invited food and photography junkies to shop at the market on a particular date, cook the food at home, and share the photos of the whole experience.  I decided to participate on a whim, mostly because any excuse to practice and improve my photography skills is probably good for me.
You can see the photos I entered, along with all the other entries, on this site they've set up.  If you like, you can rate each entry by clicking on the stars at the top of each one.  And remember, thumbnails rarely do justice, so click on each photo to see it full-size.
As there was a limit to the number of pictures one could submit, I had to whittle down the over 100 photos I took that day, so I'm posting some extras here.  And as a special bonus to all my lovely, lucky readers, below you'll find the recipe I created to showcase the bounty I brought home from the market.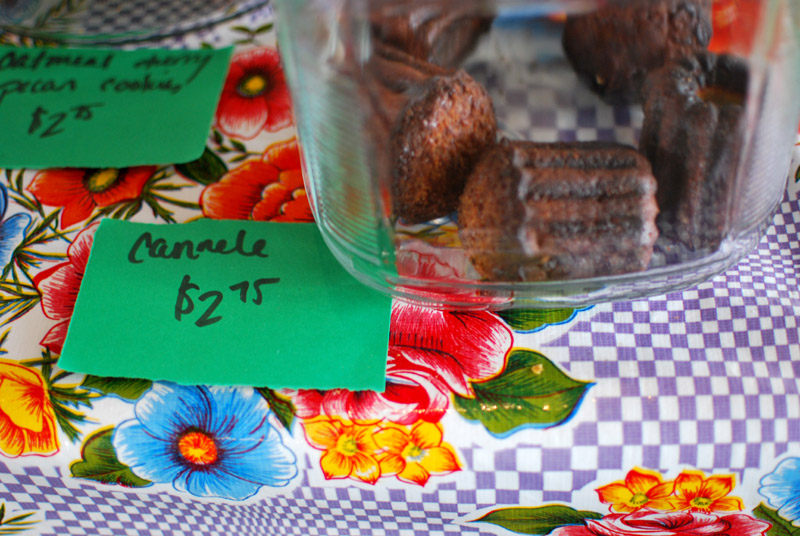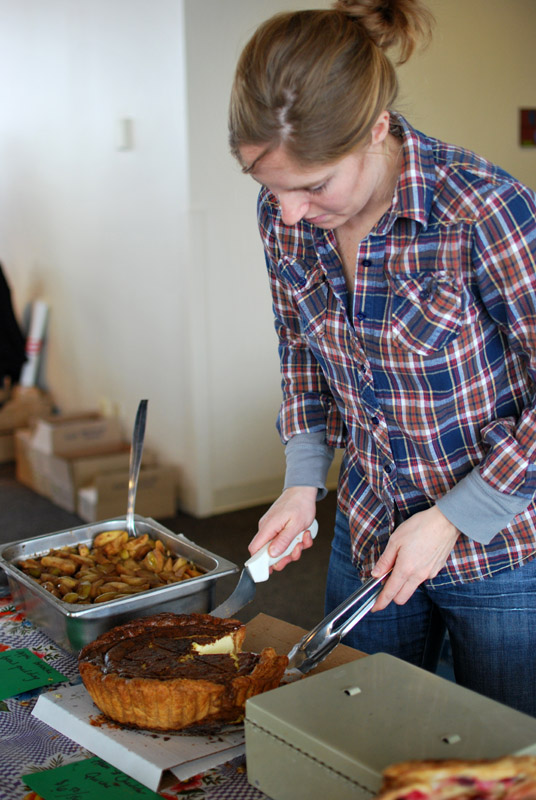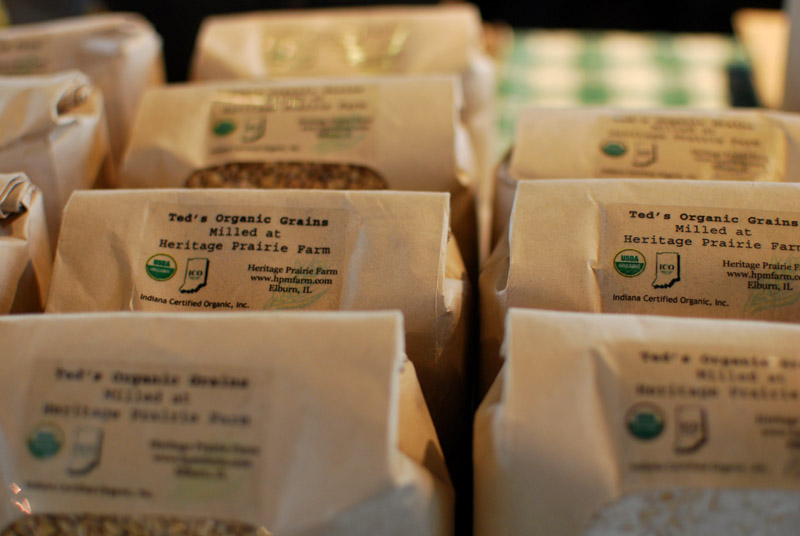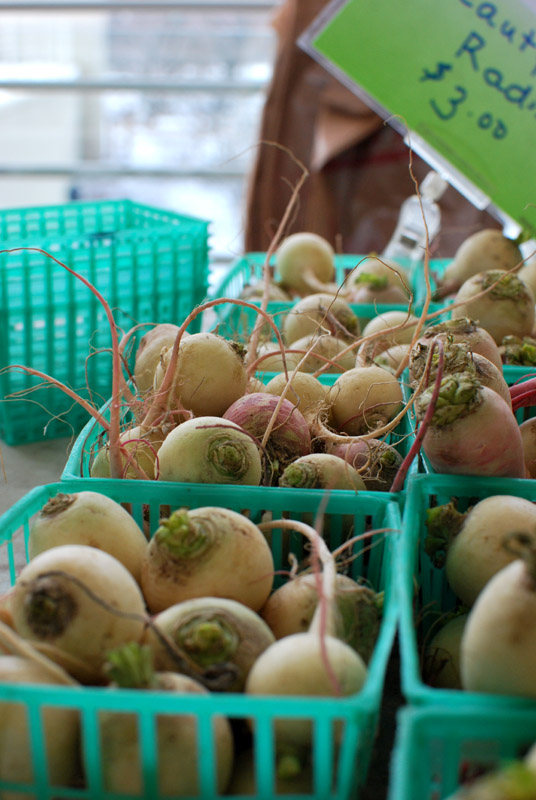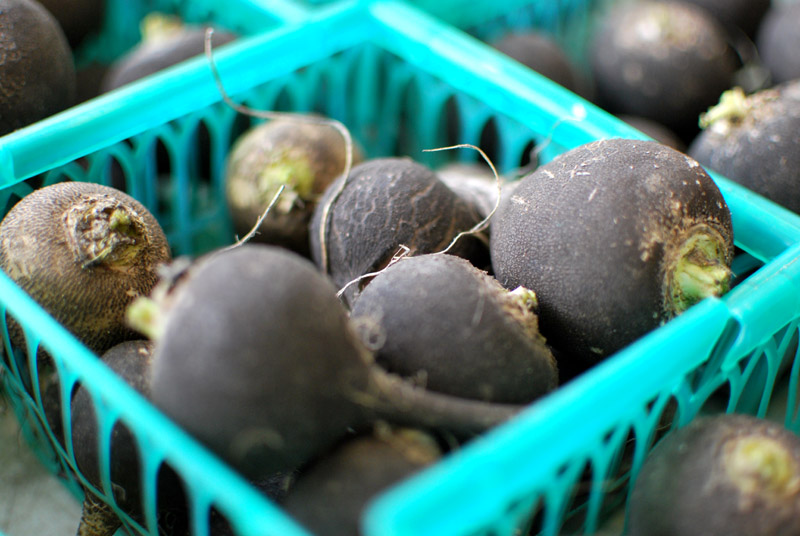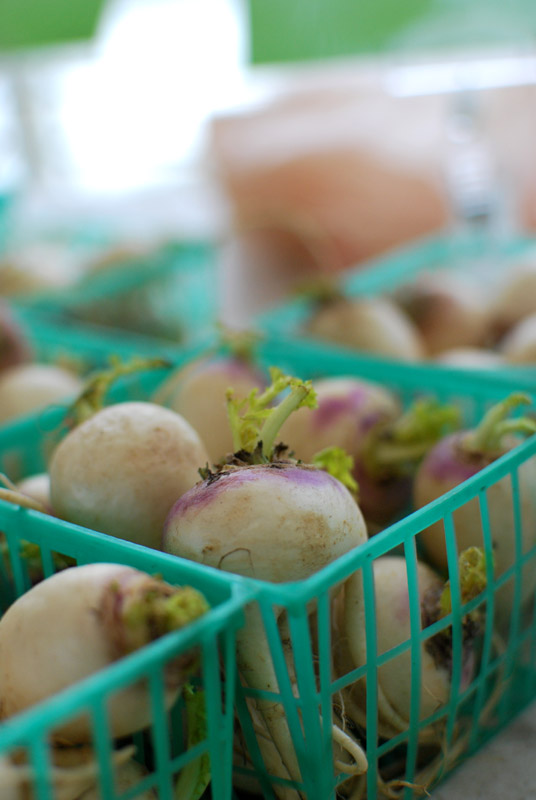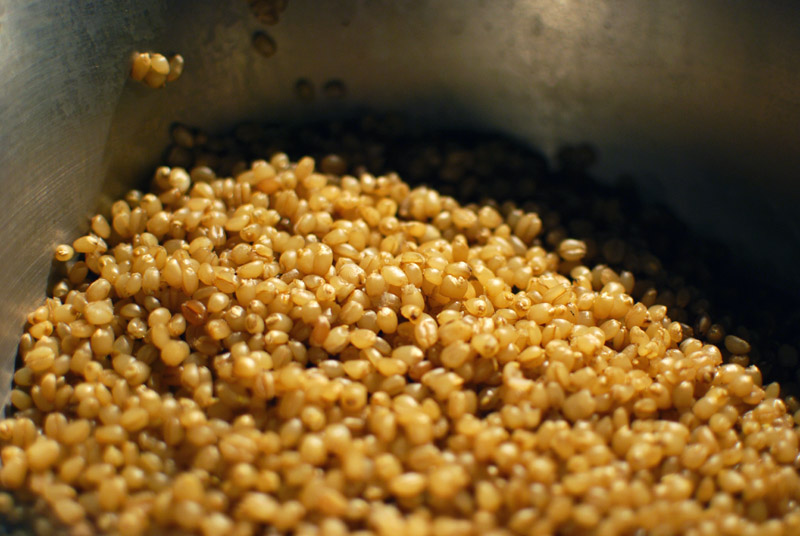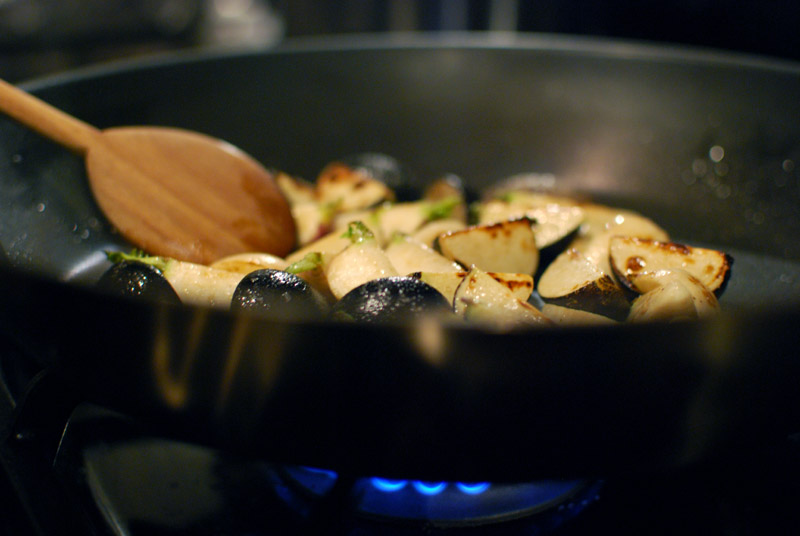 Don't forget to check out the rest of the pictures from this contest!
Wheat Berries with Radishes and Pecans
Serves 4 to 6
This recipe has a lot of different steps, true, but they are all accomplished in the time it takes the wheat berries to cook.  Even better, you only use two pans: one for the wheat berries, one for every other step (with no washing-up required in between).  The flavors here are Spanish-inspired, with smoked paprika, thyme, Sherry, and anchovy; the chewy wheat berries soak them all up with gusto. This dish would be great any time of year, warm in the Winter, and cold in the Summer.  We ate this as a main dish, but it would also be a special side dish for any simply-prepared meat or poultry.
For wheat berries:
6 cups chicken stock or water
2 cups wheat berries, rinsed and drained
1 teaspoon salt
3 anchovy fillets packed in oil, drained
1/4 cup olive oil
1 tablespoon fresh thyme
1 tablespoon Sherry vinegar
1 tablespoon fresh lemon juice (zest it first!)
1/4 cup (packed) chopped parsley
3 scallions, chopped
Salt and black pepper, to taste
For anchovy-toasted pecans:
3 anchovy fillets packed in oil, drained
1 tablespoon butter
1 cup raw pecans, chopped roughly
Salt, to taste
For smoked paprika breadcrumbs:
1 scant tablespoon butter
1/2 cup panko
1/4 teaspoon smoked paprika
Zest from 1 lemon
Salt, to taste
For sautéed radishes:
2 to 3 teaspoons butter
1 bunch radishes (about 1 pound), cut into quarters
Salt and black pepper, to taste
Optional finish: fried or soft-boiled eggs
1.  Bring the chicken stock or water to a boil in a saucepan over high heat.  Add the wheat berries and salt, and return to a boil.  Reduce the heat to low and simmer, covered, until wheat berries are tender.  Depending on the type of wheat berry, this may take anywhere from 45 to 90 minutes; taste occasionally to determine doneness.  Add additional liquid if the pot begins to dry out before the wheat berries are cooked.  When fully cooked, drain wheat berries of any remaining liquid if necessary.
2.  Meanwhile,  heat a skillet over medium-low heat.  Add the anchovy fillets and cook, stirring, until broken up, just a minute or two.  Scrape into a large, non-reactive bowl, and whisk in olive oil.  Let cool briefly.  Add thyme and set aside.  Don't bother washing the skillet.
3.  While wheat berries finish cooking, make the remaining accompaniments.  To make the toasted pecans, heat the same skillet over medium heat.  Add the anchovy fillets and cook, stirring, until broken up.  Add the butter, and let melt.  Toss the pecans in, and stir often until fragrant and toasted, about 5 minutes.  Sprinkle with a little salt.  Remove to a plate to cool.  Wipe the skillet out with a paper towel if necessary to remove any dark or burnt bits that may remain, but don't bother washing it.
4.  Heat the same skillet over medium-high heat.  Add the butter, and melt.  Add the panko, and toss until evenly coated with butter.  Cook just until beginning to turn golden brown.  Remove from heat, and stir in the paprika, lemon zest, and a pinch of salt.   Transfer to a bowl.  Don't bother washing the skillet.
5.  Heat the same skillet over medium-high heat.  Add the butter, and melt.  Add the radishes and sauté until cooked to desired doneness, 2 to 3 minutes for al dente, slightly spicy radishes, or up to 8 to 10 minutes for softer, less peppery ones.  Remove from the heat and set aside.
6.  To finish, add the Sherry vinegar, lemon juice, parsley, and scallions to the flavored olive oil in the large bowl.  When the wheat berries are fully cooked, drain if necessary.  Add to the bowl while still warm, and toss with the dressing.  Let stand 5 minutes or so to absorb some of the dressing.  This is a good time to fry or soft-boil an egg (follow these directions, but let stand only 4 minutes) if you'd like one; a runny egg yolk is highly recommended here.  (If you're frying an egg, there's no reason you can't use the same skillet again.  Bonus.)
7.  Toss the wheat berries with the toasted pecans and sautéed radishes.  Serve each portion topped with an egg (if using) and a heavy-handed sprinkling of paprika breadcrumbs on top.  Leftovers keep quite well in a refrigerator for up to a week, and are even better the second and third day.