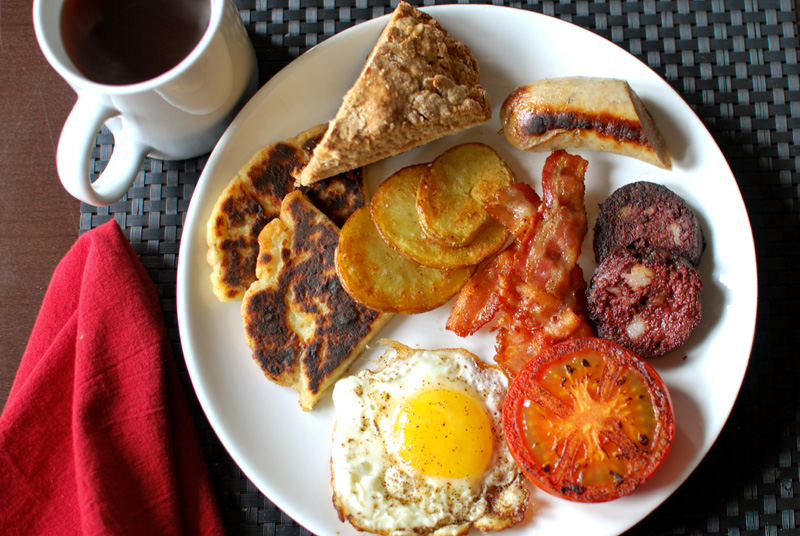 When I was in design school, I was lucky enough to spend a semester studying in and traveling around Ireland.  Eleven of us traipsed the whole of the isle, from Dublin to Sligo, from Cork to Belfast, and many places in between.  Each town of course had its own unique charms: Ballyvaughn, which had no bank, but three pubs; the blur of Dublin on a Sunday morning over the singular hue and smell of the Liffey; the omnipresent security towers and cameras in Derry (or Londonderry, depending on whose side you're on), eyeless and unsettling.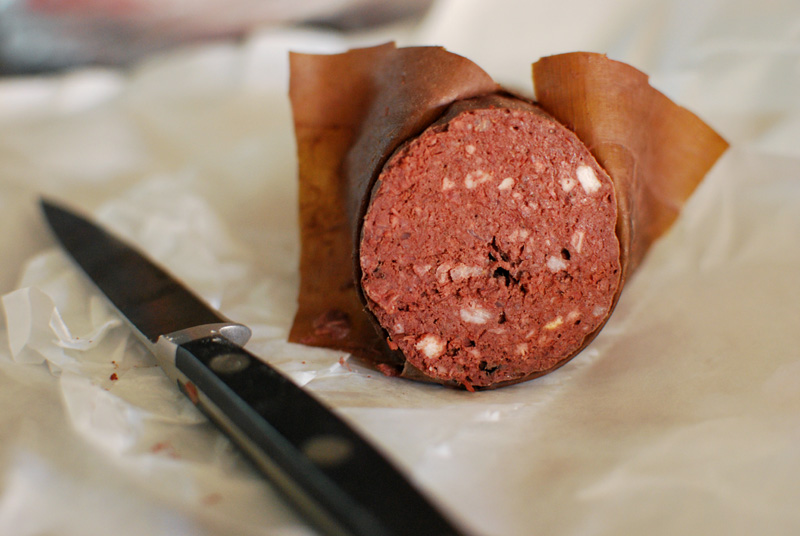 But throughout the whole country, there were two constants: the drizzle that rarely let up (and just as rarely grew any harsher), and the breakfasts.  In every pub, in every bed and breakfast, the breakfasts were unflaggingly similar.  Each morning brought eggs (usually fried), sausage, bacon, soda bread, potato farls, potatoes in at least one other form, and often a tomato, all washed down with tea, never coffee.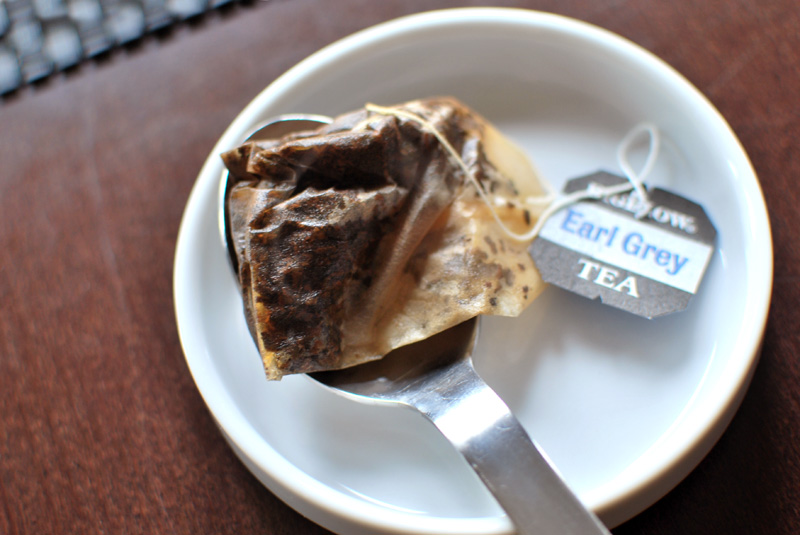 It didn't take long for us Americans to realize that this was the traditional Full Irish Breakfast; and for college students from Alabama, where liquor stores are closed on Sunday by law, it was the ideal antidote to evenings spent thoroughly investigating Ireland's pub culture.  We investigated the heck out of it.
Now, I know that as it's St. Patrick's Day, I'm supposed to talk about Guinness, or corned beef and cabbage, or beef and Guinness stew, or chocolate and Guinness everything, or (God help us) green eggs and ham.  But those sorts of dishes never seemed particularly fitting to me.  Certainly, the Irish drink their share of Guinness, but lager takes the lion's share of sales in the nation.  And while beef and Guinness stew is indeed a pub staple, so is the more British fish and chips.
But when I remember Irish food, I recall those hearty, meat-laden, oh-I-could-never-eat-all-this (but then you do) plates; those to me seem a far more suitable tribute.  And if you, like me, live in a city that loves to celebrate St. Patrick's Day so much that they dye the friggin' river green, then you'll appreciate the chance to wash away the previous night's celebration in such a traditional manner.
Irish Fry-Up
This menu is intended for American tables, so please forgive me for not getting into the subtleties between streaky bacon and proper rashers, and the correct sort of tea to have.  Besides, it's just breakfast.
Soda bread (recipe below)
Potato bread (recipe below)
Roasted potato chips (recipe below)
Bacon, crisped
Sausage, links or patties, browned
Blood sausage (a.k.a. black pudding), browned
Eggs, fried or scrambled
Tomato, halved and griddled
Breakfast tea of choice
The key to this meal is timing, and there is no specific method for cooking each individual item, as it depends on what exactly you've purchased.  The items are listed above in the order they should be cooked in; this video will provide more specific advice for timing.  The bacon is cooked first here, so that you may use the delicious rendered fat to cook the remaining ingredients, if desired.  There's nothing like eggs fried in bacon fat.
Soda Bread
Adapted from Ballinalacken Castle Country House & Restaurant
Makes one 9 inch loaf
This version is slightly dense, but pleasantly so, with a moderate sweetness and a crunchy crust.
6 3/4 ounces (1 1/2 cups) unbleached all-purpose flour
6 3/4 ounces (1 1/2 cups) whole wheat flour
1/4 cup packed brown sugar
3/4 teaspoon baking soda
1/2 teaspoon salt
3 tablespoons cold unsalted butter, cut into very small pieces
1 cup cold buttermilk, well shaken
1.  Preheat the oven to 425º F.  Line a baking sheet with parchment paper, or lightly grease it.
2.  In a large bowl, whisk together the flours, sugar, baking soda, and salt.  Add the cold butter, and toss to coat it.  Using fingertips or a pastry cutter, quickly cut the butter into the flour, until only small lumps remain.  Do not over-handle, as the butter should not be allowed to warm up.
3.  Add the buttermilk, and fold together gently and quickly, until a rough dough forms.  Turn out onto a work surface and lightly knead until the dough comes together, no more than 10 turns.  Transfer the dough to the prepared baking sheet, and shape into a rough circle about 9 inches in diameter.  Cut a shallow "X" shape in the top.  Do not cut all the way through the dough.
4.  Bake at 425º F for 35 to 40 minutes, or until golden brown and cooked through.  Transfer to a wire rack to cool before slicing.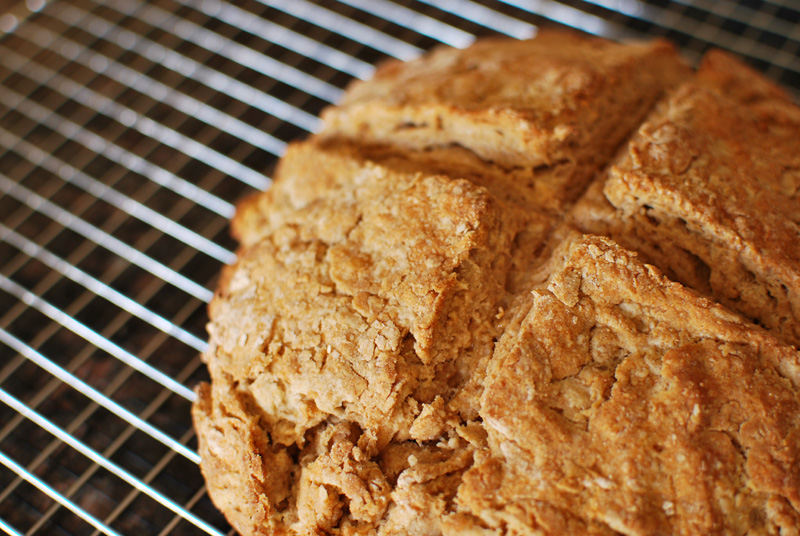 Potato Bread
Adapted from Wikibooks
Makes three 6 or 7 inch breads
This filling and delicious bread originated as a way to stretch expensive wheat flour, while using the plentifully abundant potato.  Each bread is divided into quarters, or farls, with a crunchy exterior, soft interior, and a load of buttery flavor.  For the mashed potato that goes into the dough, I've left the skin on, as I don't see the point in throwing away nutrients, though it's more traditional to remove the skin.  Removing the skin will also produce a more pristine-looking farl, but I like the rustic look of the occasional peel peeking out the side.  If making ahead, these can be kept warm in a 200º F oven until ready to serve, though they are just as good at room temperature.
1 large Idaho potato (about 12 ounces)
3 tablespoons unsalted butter, plus extra for greasing the pan if desired
2 tablespoons cream, or milk
3/4 teaspoon salt
3 ounces (2/3 cup) unbleached all-purpose flour, plus extra for dusting
1.  Bring a pot of water to a boil.  Meanwhile, chop the potato into pieces approximately 1 to 2 inches in size.  Add to the water, and boil the potato for 18 to 20 minutes, or until very soft when pierced with a knife, and almost falling apart.
2.  Drain the potato.  In a medium bowl, mash until no large chunks remain.  Cut the butter into pieces, and add into the warm potato.  Add the cream and salt, and stir until combined.  Let cool briefly.
3. Incorporate the flour, a little at a time, into the potato mixture until a pliant dough forms.  You may need less or more than the whole 3 ounces.  Take care to not overwork the dough.  Turn out onto a lightly-floured surface, and knead briefly until smooth.
4.  Divide the dough into 3 equal pieces, and shape into round discs.  Dusting with just enough flour to prevent sticking, roll each out to a 6 or 7 inch round.  Press a shallow "X" shape into the top of each disc, taking care to not cut all the way through the dough.
5.  Heat a flat pan or griddle over medium to medium-high heat.  Add a small knob of butter (about 1 teaspoon), if desired.  Add one round of dough, and cook on each side until well-browned in spots, 3 to 5 minutes.  Remove to a plate, and repeat cooking with remaining dough.  Serve warm, or at room temperature.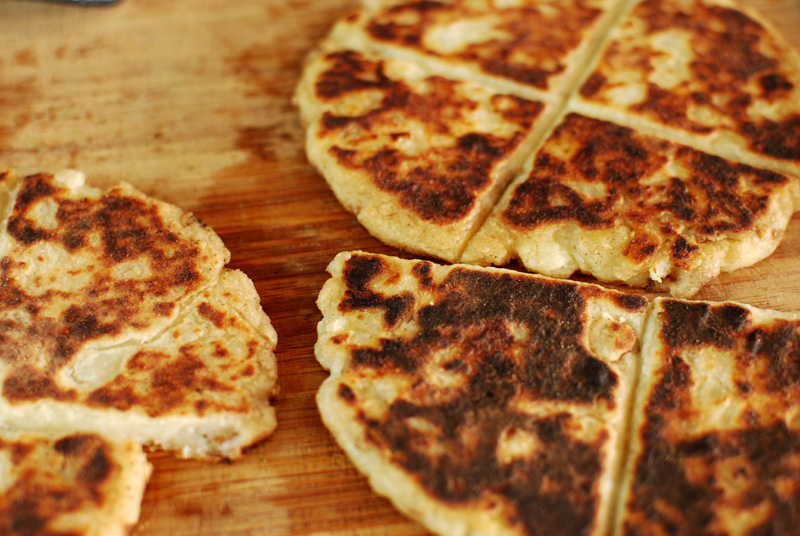 Roasted Potato Chips
This method produces the most French-fry-like oven potatoes I know of.  The interior is airy and soft, and the exterior is crisp and golden.  Only use waxy potatoes, such as Yukon Gold or red potatoes; baking potatoes will not produce the desired result.
Yellow or red potato, cut crossways into 1/2 inch slices
Olive oil
Salt
Black pepper
1.  Preheat the oven to 425º F.
2.  Bring a pot of water to a boil.  Add the potato slices, and boil for 7 to 8 minutes.  Drain carefully.  The potatoes will be slightly soft, but not fully cooked.
3.  Gently toss the potatoes with enough olive oil to coat.  Sprinkle liberally with salt and pepper.  Spread in a single layer on a baking sheet, and transfer to the oven.
4.  Roast for about 10 minutes, then flip each potato slice over.  Roast for an additional 8 to 12 minutes, or until golden brown.  Remove and let cool slightly until ready to serve.