Every New Year's Day, like a good Southern girl, I cook up a large batch of luck and money.  That is, I fix a huge pot of black-eyed peas (for luck), with a side of cabbage (for money).  I invite everyone and prepare enough to feed an army of hangovers.  And every year, hardly anyone manages to drag themselves through the cold to our remote neighborhood, except for a brave few stragglers.
Sigh.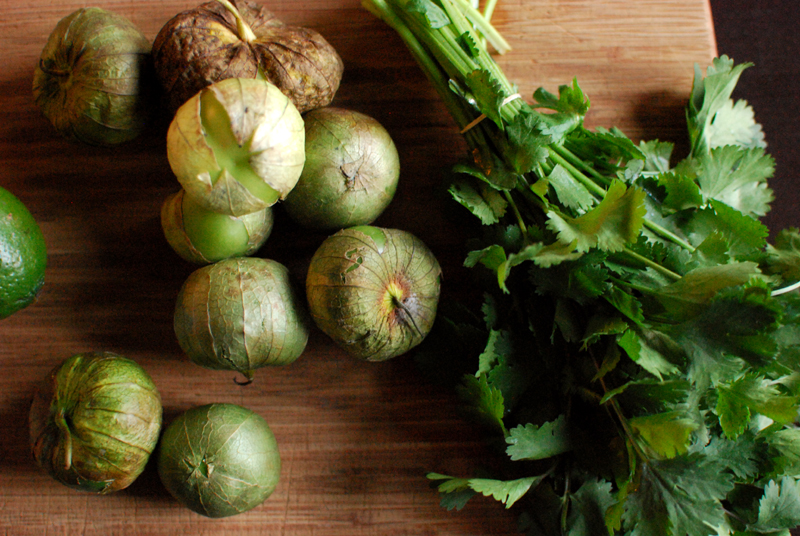 This, in turn, means that every year, I have enough leftover black-eyed peas to last until practically next year.  This year was no exception.  And delicious and fortuitous though they may be, after eating them for six days straight, they start to wear a little thin.  Or, more correctly, if I had to choke down one more black-eyed pea, luck or no luck, I might scream.
With a packed-full freezer prohibiting long-term storage of the remaining glut (what on Earth is even in there?), the only option was to get creative.  Since we had been drowning our plates of leftovers in jalapeño-based green Tabasco sauce, and because I'm obsessed lately with poblano peppers, I settled on pea-filled chiles rellenos.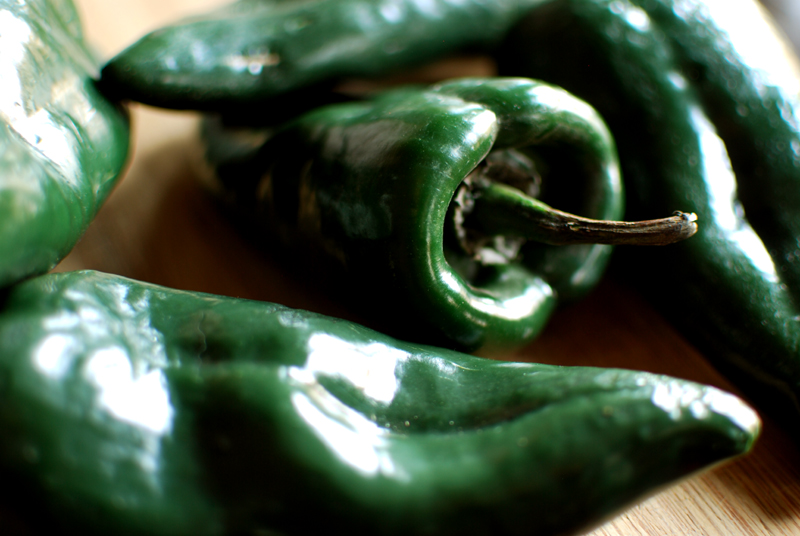 It's traditional to fry the filled chiles in an airy, whipped egg white batter; but as January is the most ascetic month, an unadorned and healthier baked version was more in order.
I'm not a proponent of unnecessary gadgets in the kitchen, but there's one particular item that I never get to use enough.  I know it's not in everyone's arsenal, but I couldn't resist pulling it out to char the peppers.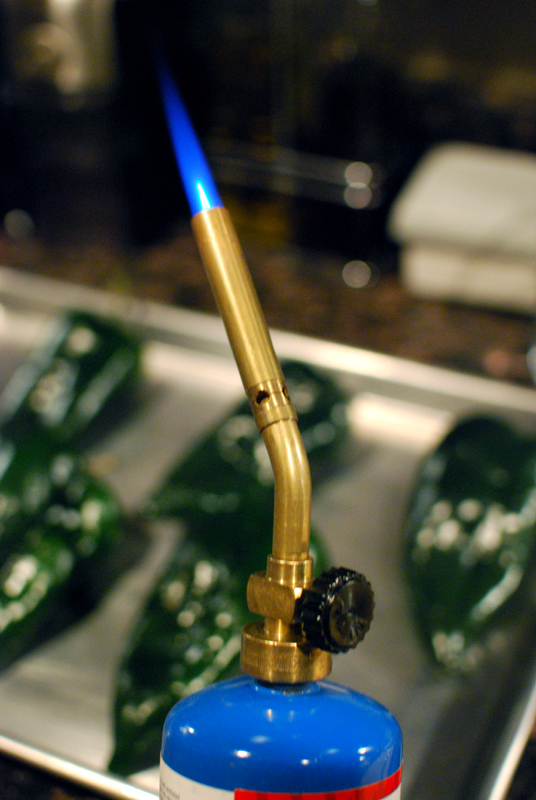 The rationale was that the propane torch would char the skin more evenly than the broiler (which it did), it would leave the flesh itself less cooked and therefore holding its shape better (which it also did), and be entirely delightful to use (which it always is).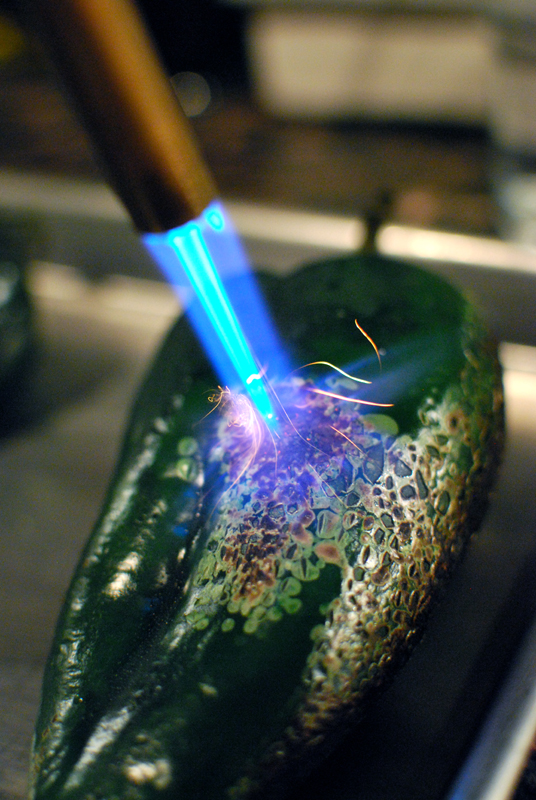 Unfortunately, it didn't really work as well as intended.  The small, though agile, flame handily blackened the skin, but made it fairly difficult to peel off, even with the aid of paper towels (I dared not try rinsing it off with water, for fear of losing flavor in the process).  And yes, the flesh remained firm and resilient, but it never really achieved that seductive sweetness of a softer and more thoroughly-cooked roasted pepper.  Next time, skip the power tools and go with the tried and true method of using a broiler.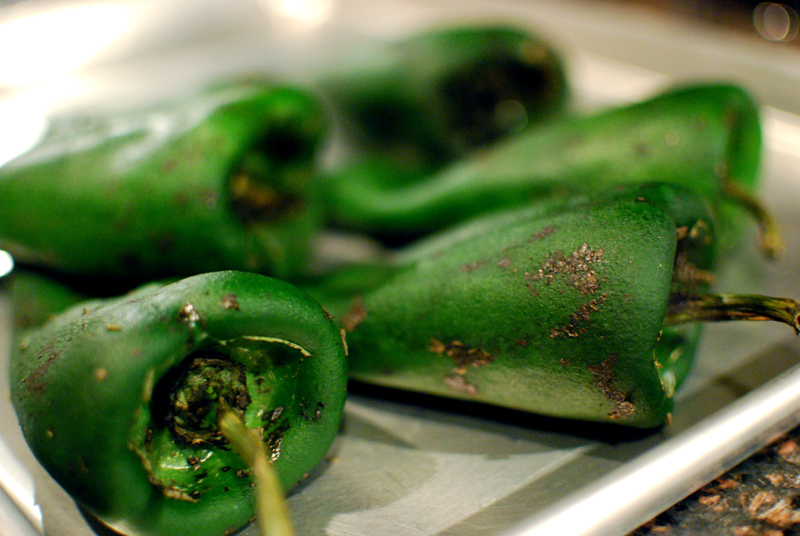 The filling was a blend of the aforementioned black-eyed peas and an equal measure of crumbled queso fresco, to add richness.  Any soft, mild, melting cheese is appropriate here, and practically requisite; I don't think I've had a chile relleno yet that didn't include a significant amount of cheese melting seductively under the spicy green cloak of poblano.
For a sauce, I wanted a sharp acidity to counteract the relative sweetness of the roasted poblanos and the creamy peas; tomatillos were a natural fit.  Suppressing a natural urge to char the paper-clad darlings, I blended up a vibrant raw salsa, brightened with celery, onion, cilantro, and lime.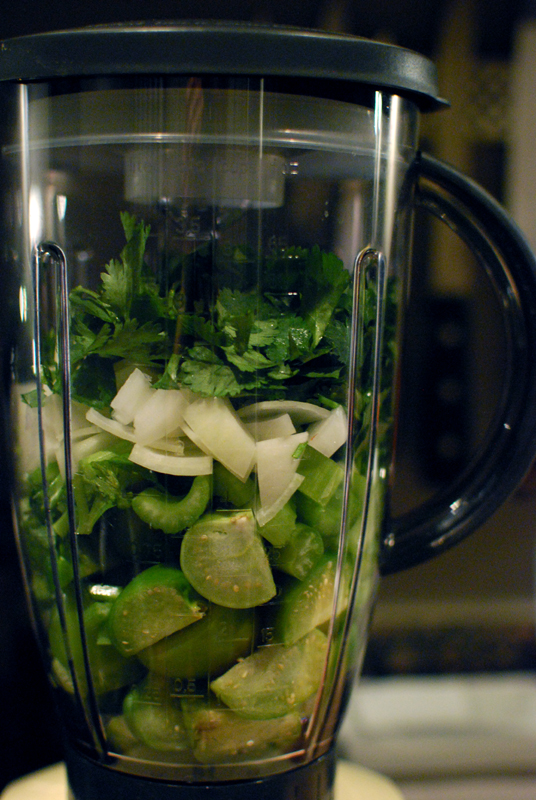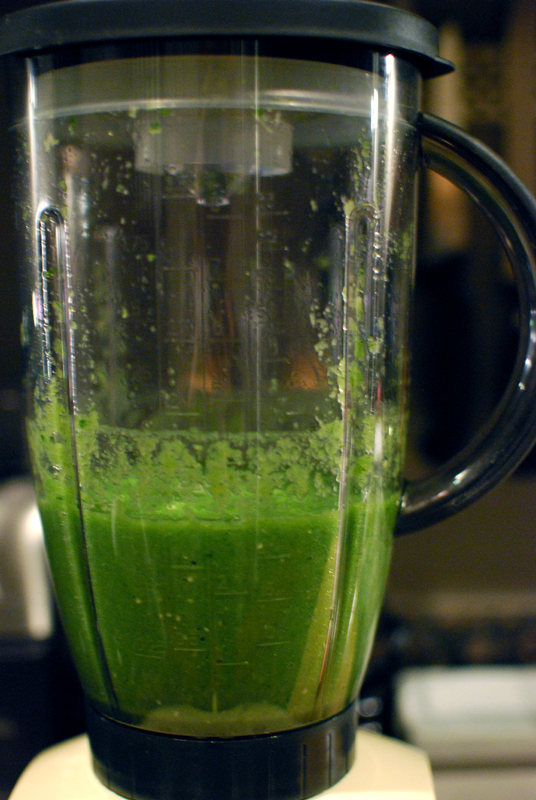 A batch of polenta cooked in chicken stock anchored the whole dish, and provided a bed to soak up any errant juices.  I simply had to include corn, since I'm a sucker for cornbread with any kind of peas or beans, not to mention how beautifully cornmeal and green peppers play together.
The final dish was exactly what I needed: spicy, bright, creamy, even a bit glamorous.  After the previous six nights of dowdy dinners, those chiles rellenos looked like Dolores del Río.  Most appealing of all, of course, I didn't have to endure any more ghastly plates of plain black-eyed peas.
Lucky me?  I should say so.  Now I just need that lucrative cabbage to kick in….
Black-Eyed Pea Chiles Rellenos with Raw Tomatillo Salsa
Makes 6
Do be careful with the poblano peppers, and consider wearing rubber gloves to deal with them, something I usually obstinately refuse to don.  They aren't quite as spicy as a Serrano or jalapeño, but after seeding six of them, they can still leave plenty of capsaicin in your fingertips.  I discovered this after replacing a fallen-out contact lens the next morning, a painfully tearful lesson.  Someday, I may learn.
The tomatillo salsa has an unusual but optional ingredient: cocktail bitters.  In some sauces, I find that bitters help round out the flavors, just as they do in cocktails.  Magic!  If you don't have any, they can certainly be left out; in that case, the longer you can let the salsa sit, the better.  It'll be much better the next day anyway.
For the raw tomatillo salsa:
12 ounces tomatillos (about 8 to 10), paper removed, and rinsed
1 small white onion (1/2 large onion)
3 ribs celery
1 large clove garlic
1/2 to 1 cup cilantro, packed
Juice of 1/2 lime (about 1 tablespoon), or to taste
3 dashes Peychaud's bitters (optional)
Salt and black pepper, to taste
For the chiles:
6 poblano peppers
2 cups leftover cooked black-eyed peas (or canned), drained of as much liquid as possible
2 cups crumbled queso fresco (or queso chihuahua, jack, mozzarella, or any other mild and soft cheese), about 8 ounces
Salt and black pepper, as needed
For the polenta:
4 cups chicken stock (or water)
1 teaspoon salt
1 cup polenta or coarse cornmeal (preferably stone-ground)
1 bay leaf
1.  To make the tomatillo salsa, cut the tomatillos into quarters, and roughly chop the onion and celery into 1 inch pieces.  Place all ingredients except salt and pepper into the jar of a blender.  Process until smooth.  Taste, and correct seasoning with salt, pepper, and lime juice.  Transfer to a bowl, and let sit at least 1 hour.
2.  To make the chiles rellenos, preheat the broiler to high, and position a rack as close to it as possible.  Place the poblanos on a rimmed baking sheet, and broil until charred and well blackened.  Turn each poblano as necessary to blacken evenly.  Remove from oven, and place peppers in a plastic or paper bag, sealing it tightly.  Let rest 10 to 15 minutes.  Turn the oven to 375º F, and position a rack in the middle of the oven.
3.  Meanwhile, combine the black-eyed peas with the crumbled cheese.  Season to taste with salt and pepper if necessary.  Set aside.
4.  For this step, wear rubber gloves, unless you'd rather not touch your face for two days.  Remove the peppers from the bag, and gently peel off the blackened skin, which should come off easily.  Make a single slice lengthwise into each pepper (if the pepper has split open, use that side).
Using kitchen scissors, carefully cut away the seeds and membranes.  You may need to make a short crossways cut close to the stem in order to fully access the seeds.
Remove and discard as many seeds as possible, using your hands.  Do not ever rinse peppers after roasting, as that washes away much of the smoky flavor that has developed.
5.  Fill each pepper with as much of the black-eyed peas as it will allow, taking care to not overfill and rupture the pepper.  Close the pepper with toothpicks, if desired, and place again on the rimmed baking sheet.  Wash your hands thoroughly if you've touched the peppers (particularly the insides) with your bare hands.
6.  Bake the filled peppers at 375º F for 15 to 20 minutes, or until warmed through, and cheese is melty.
7.  Meanwhile, make the polenta.  Bring the chicken stock to a boil in a medium saucepan.  Add the salt.  Slowly add the polenta, whisking as you pour it in order to prevent lumps.  Add the bay leaf.  Reduce the heat to medium-low, and simmer until tender, whisking occasionally.  This will take between 15 to 40 minutes, depending on the coarseness of the grain used.  Remove the bay leaf.
8.  To serve, spread the polenta on a plate.  Top with a warm chile relleno, and garnish with tomatillo sauce.  A cold beer on the side doesn't hurt things one bit.