One of the grandest things about living in Chicago is the park system.  Aside from the beautifully-tended landscapes all up and down the shore of Lake Michigan, there are constantly free events for the public to enjoy.  During the Summer, you can find something to do every day of the week.  Free movies?  Free concerts?  Free dance performances?  Free exercise classes?  Check, check, check, and check.
The crown jewel of these venues is Millennium Park, in the heart of downtown.  There, the Pritzker Pavilion, with its exuberantly swooping facade, hosts a daily (sometimes twice a day) concert for lovers of all types of music, from Classical to Hip-Hop and everything in between.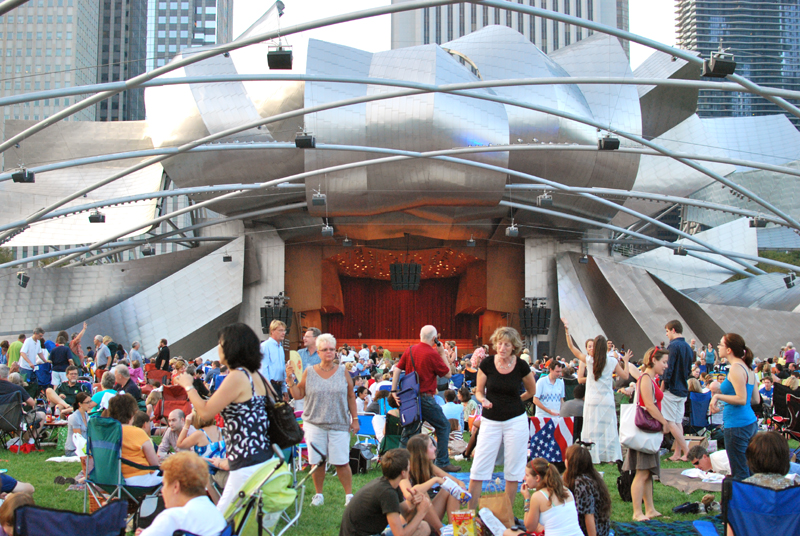 Though there is proper seating near the stage, I've never used it.  Further back is a gorgeous lawn under a loose and arching grid that suspends speakers overhead, giving pitch-perfect sound no matter how far away from the stage you have to sit.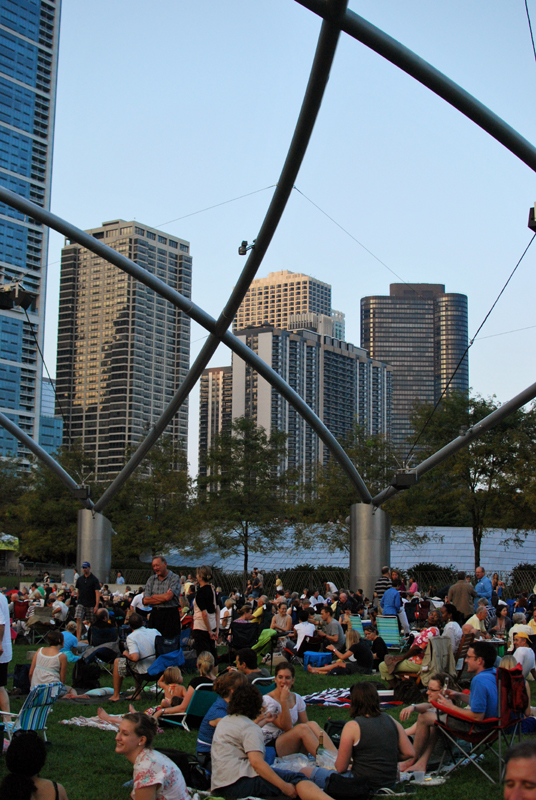 Bring a blanket, bring a crowd, and bring a picnic.  (Did I mention you can bring food and wine?  Well, mostly you can.)  Sit and enjoy one of our breathtaking Chicago Summer nights, looking up at the surrounding skyscrapers.  Watch the sun set.  See the lights flick on and then off in the offices within.  Be grateful you're not in one.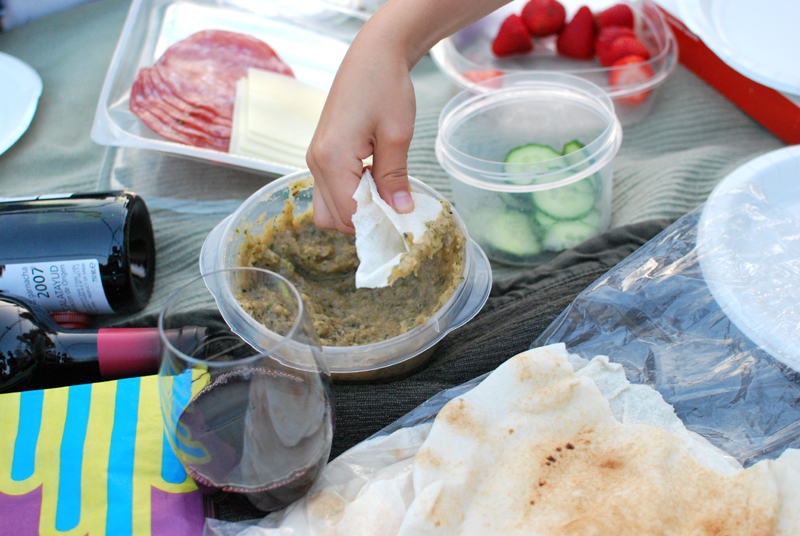 Recently, a few friends and I decided to get together for an evening of music and food at the Pritzker, as we often do when the weather agrees.  And, faced with the glut of cheap eggplant at the store, I decided it was the perfect opportunity to try out a recipe from one of my best-loved new cookbooks (new to me, anyway), Susan Spicer's Crescent City Cooking.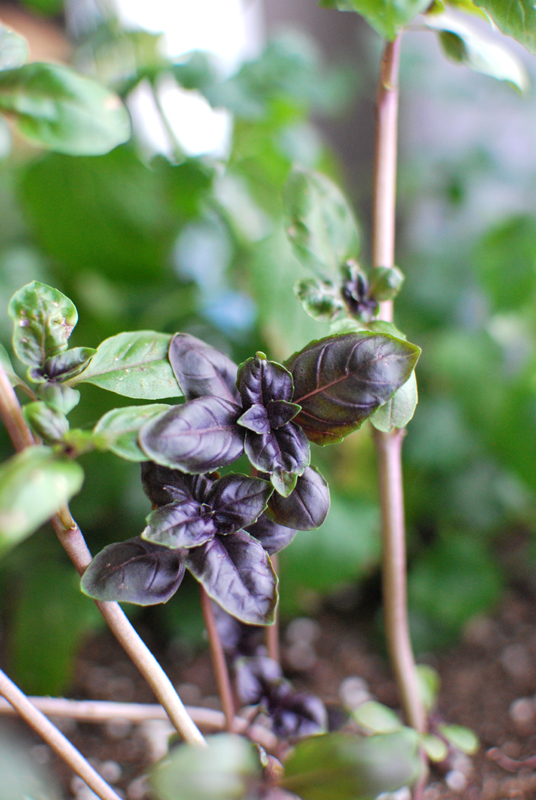 Chef Spicer is the mastermind behind my Mom's favorite restaurant, Bayona; and in a food capital like New Orleans, that's saying something.  Like the food at her restaurant, the cookbook is filled with uncomplicated and carefully-tuned recipes that make the absolute most of each ingredient.  Nothing is fussy, but everything is good enough to serve to honored guests.  I can't stop cooking out of it.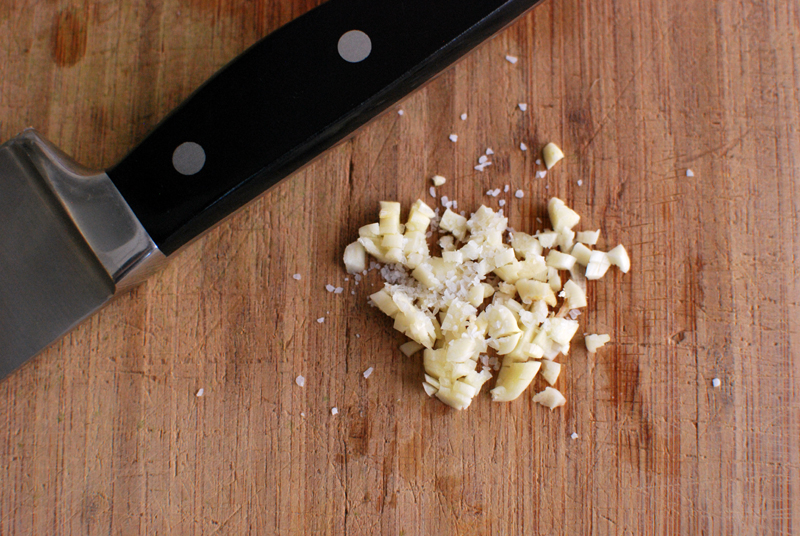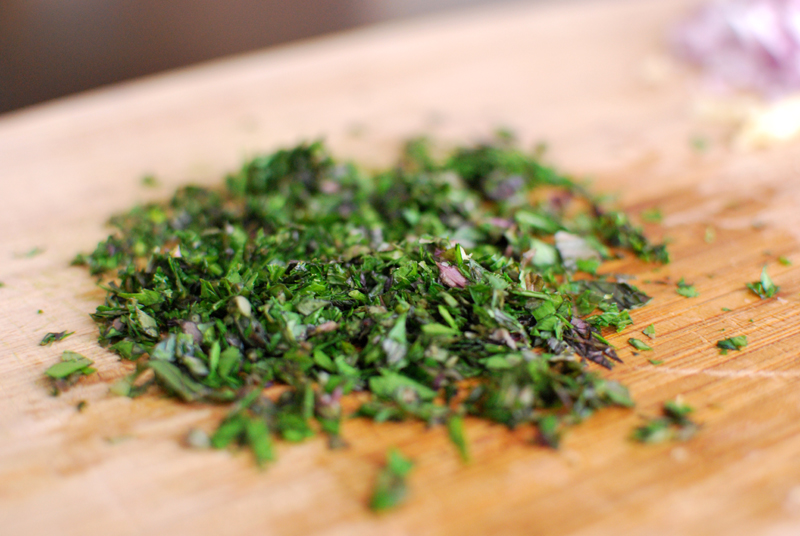 The recipe for Eggplant Caviar caught my eye immediately, mainly because of the accompanying photo of a charred, burnt-paper-skinned eggplant, cut open to reveal a creamy and slumping interior.  I didn't really care what else it involved, I wanted to scoop up that eggplant and eat it with a spoon.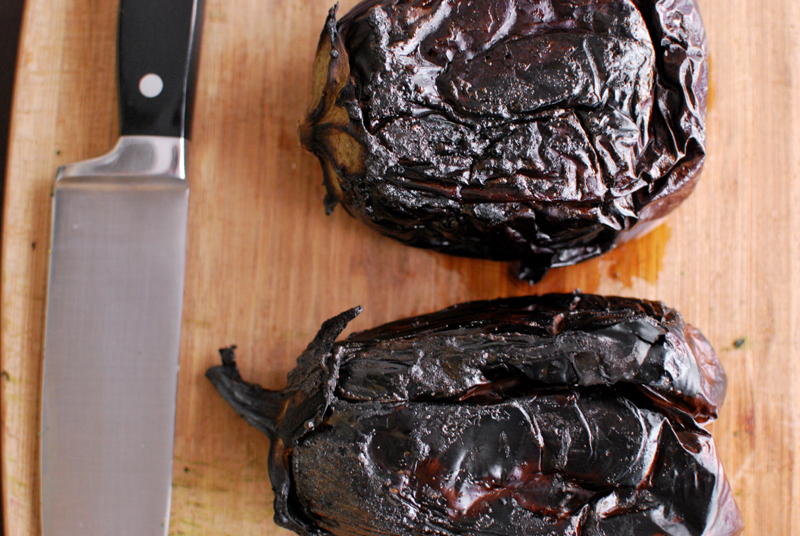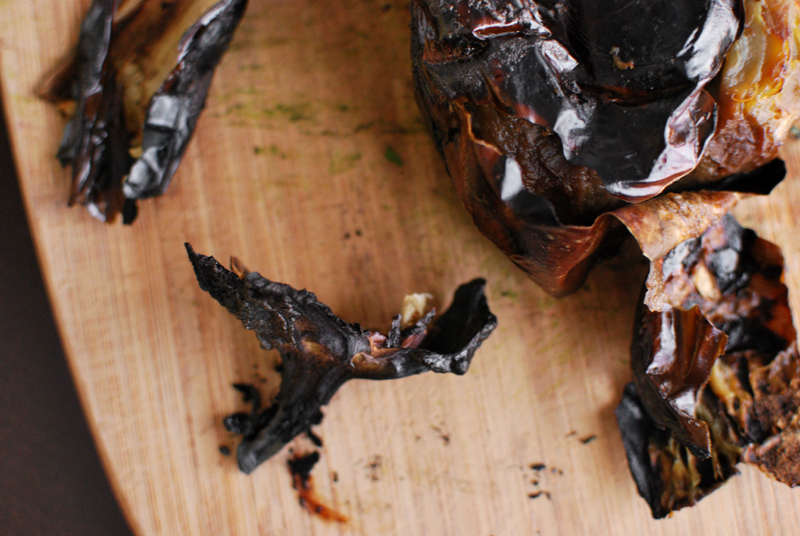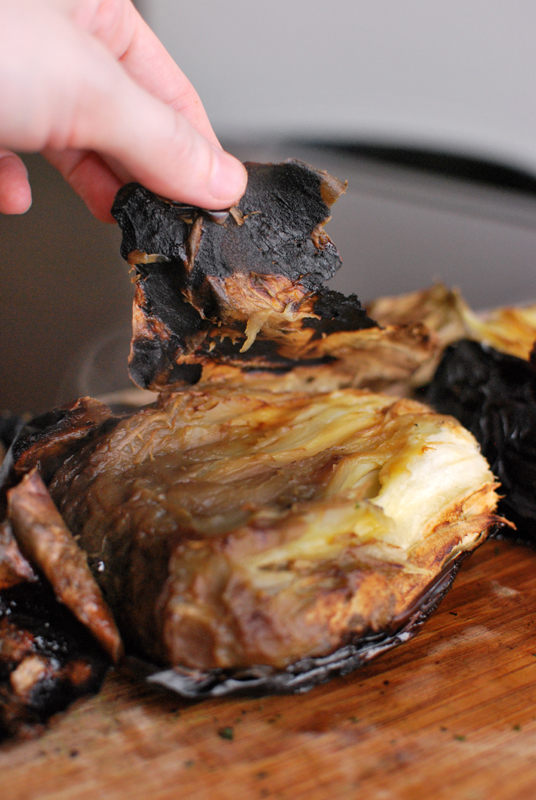 I discovered that the method detailed in the recipe (chop everything by hand) left the dip with bits of red onion that were too large and too abundant for my tastes; they overwhelmed everything else.  Beautiful, yes, but if you are sans food processor, I suggest reducing the amount of onion by up to half.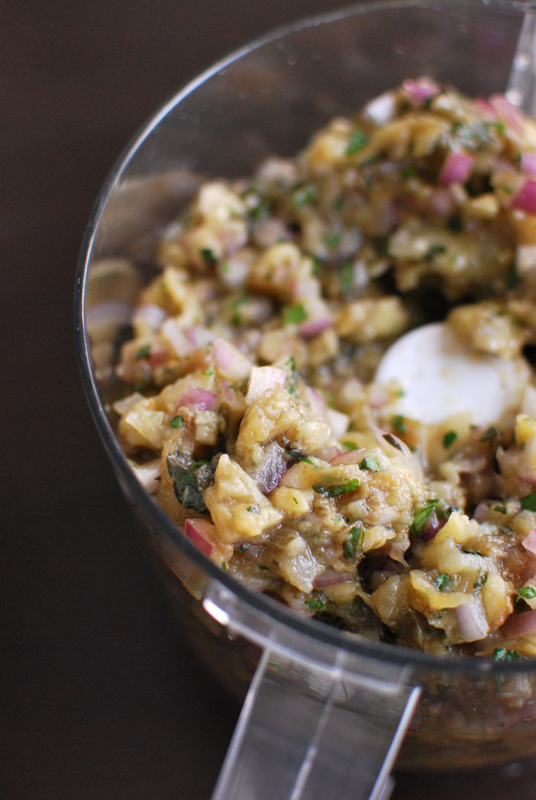 A quick spin in the food processor to tame the pungency, though, and it was perfect.
Well, nearly perfect.  I do love a smoky eggplant flavor, but I love it even more with some heat to brighten it.  I happened to have some pickled Aurora chilies in the fridge from a previous farmers market experiment, and two of them were just the thing to add the capsaicin I craved.  (I've written the recipe to use a more available chili, since I assume no one out there has pickled Aurora chilies sitting around.  If you do, I'm coming over for dinner.)
This is probably one of those recipes that benefits from an overnight rest in the refrigerator, giving the flavors a chance to become acquainted and meld together.  I'm sure it would become positively transcendental.  But I'll probably never know for sure, since it disappeared completely at the picnic, and I can't actually imagine having it around for more than a few hours and keeping my hands off the stuff.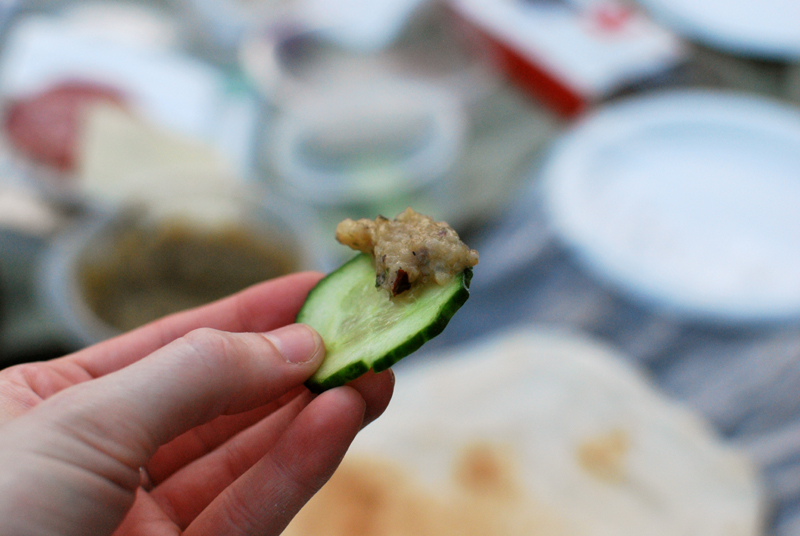 As the sun went down behind the city, the changing light transformed the park.  The stage turned into a luminous jewel box, all crimson and gold.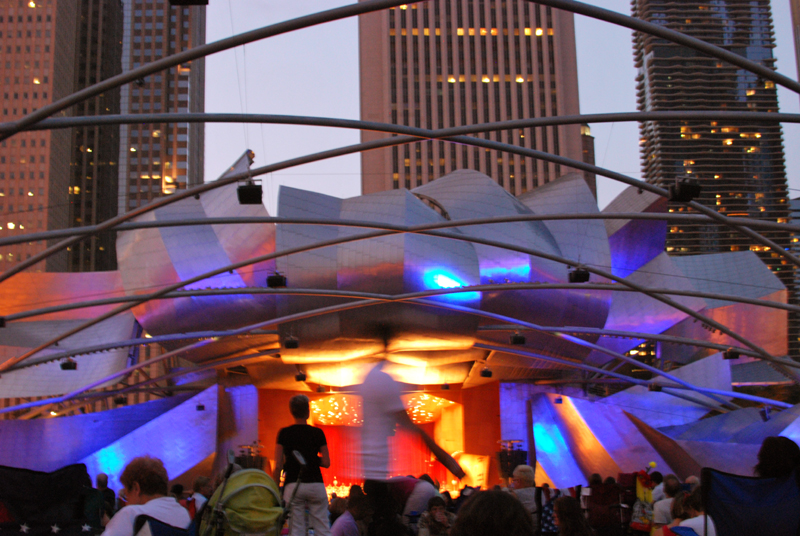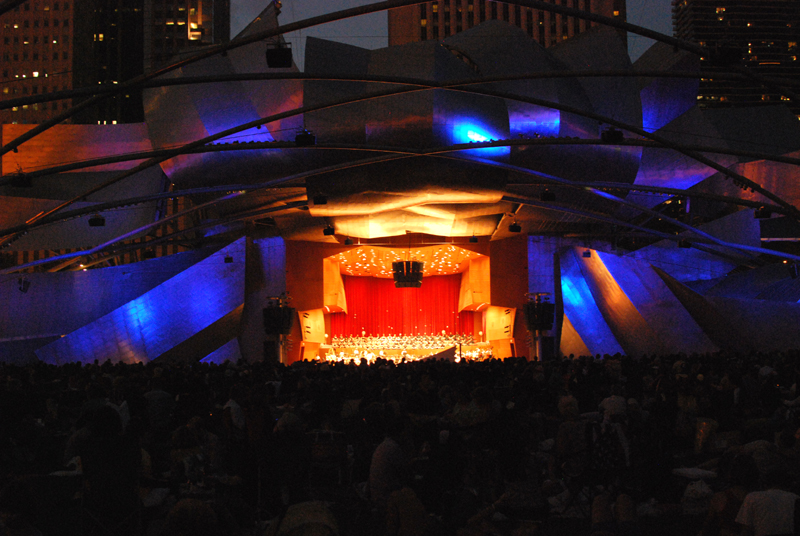 Behind us, the new Modern Wing of the Art Institute hung glowing above the trees.
We finished off the wine and the eggplant and the strawberries and the bread, and we hung around long after the music stopped thrumming from the speakers above.  The moon came out, and the sky dissolved into that perfect, rich indigo.  And we left, and we were grateful.  Let's do it again next week.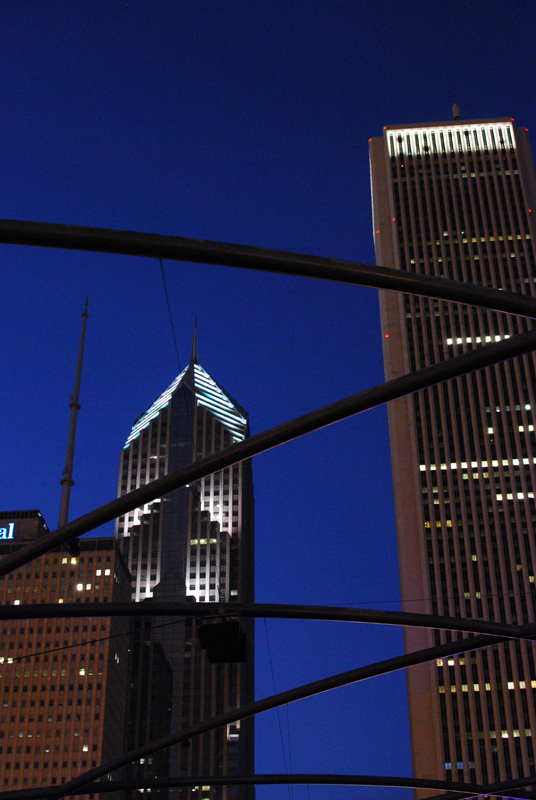 Spicy Eggplant Caviar
Adapted from Crescent City Cooking, by Susan Spicer
Makes about 2 cups
Be sure to not skip the first step, pricking the eggplant with a fork.  If you don't do this, your eggplant will explode in the oven, and you will have bigger problems than a lack of eggplant caviar.  And don't be afraid of getting the eggplant too close to the broiler; you want to really char it.  I put mine about 4 inches away from the heat, and the flesh began to slump long before the skin blackened properly.
1 1/2 to 2 pounds eggplant (2 small or 1 large)
1 cup red onion (about 1/2 medium onion, less if chopping by hand)
2 cloves garlic
2 tablespoons chopped fresh basil
1 tablespoon chopped fresh parsley
1 small chili pepper (such as Serrano)
2 to 3 tablespoons olive oil (to taste)
1 tablespoon lemon juice (from 1/2 lemon)
1/4 teaspoon smoked pimentón (Spanish smoked paprika), or cayenne pepper (to taste)
Salt and black pepper (to taste)
1.  Turn the broiler to high, and let preheat for 5 to 10 minutes.  Pierce the eggplant a few times with a fork.  Broil on a rimmed baking sheet very close to the heat until the skin is charred and black, turning about every 5 minutes, cooking 15 to 20 minutes total.  The flesh should feel very soft, and the juices that run out will turn syrupy and thick.  Let cool.
2.  Meanwhile, prepare the other ingredients.  If using a food processor, roughly chop the onion, garlic, basil, parsley, and chili pepper, and place in the bowl of the processor.  If making by hand, chop everything as finely as possible, and place in a large bowl.  Add 2 tablespoons olive oil, and lemon juice.
3.  When the eggplant is cool enough to handle, peel the skin away from the flesh.  Cut the eggplant in half, and remove any seeds that are large and easily visible (some seeds are small and not easily distinguishable from the flesh; these will not be so bitter and are okay to leave in).  Roughly chop the flesh, and add to the other prepared ingredients.  Purée in the food processor, or mix by hand.  Season to taste with pimentón, salt, and pepper, and add extra olive oil if desired.  Serve warm or at room temperature, with pita bread or toasted baguette slices.