Sometimes, despite my best intentions, little things in my life get put on extended hold.  Take, for example, the bag of buckeye centers that had been happily taking up space in my freezer for well over a month.
I had previously been merely aware of the existence of buckeyes, and knew of the delights inherent in dipping orbs of peanut butter, butter, and sugar into chocolate.  The knowledge, though, sat in the back of my mind alongside desserts like rice pudding and apple cobbler, comforting old favorites that are surely worth making and are certainly delicious, but that I've never actually gotten around to making in my own kitchen.
But after The Kitchn featured buckeyes in early December, I decided they'd be the ideal treat to pack up into darling little tins, tied with brightly-colored ribbons, and hand out as favors at the glimmering holiday party I'd be throwing.  There would have been music and snacks, and potentially streamers.
This party, of course, never happened.  Between finishing up A Bread A Day, the stress of being laid off, driving halfway across the country for Christmas, and everyone I know leaving town at different times, it just wasn't meant to be.  So the buckeye centers languished, shaped and frozen, baleful globes eyeballing me as I tossed them aside in search of frozen bread or frozen onions.
And finally, as I knew it would, the food hangover that is January (and most of February) finally lifted, and I felt that it was safe to allow a few indulgences back into the kitchen.  Out came the buckeyes, and out came the dipping chocolate, and I now have a freezer full of buckeyes.  Eyeballing me.
Dipping things into chocolate sounds reasonably easy; and it is, if you know one or two small tricks.  One: use a coating chocolate, unless you really enjoy tempering your Callebaut.  Me, I have better things to do, so I use a kind of chocolate that specifically says it's for coating.  It melts smoothly and easily, and will set firmly without having to worry about the chocolate going out of temper.  If it starts to set up while you're working, you just heat and melt it again.  Easy!
Yes, there are a few extra multi-syllabic ingredients, which I usually try to avoid; but unless you want to dilute your nicest chocolate with paraffin, or spend hours getting the temper just right (repeatedly), I suggest a quality coating chocolate.  Try it if possible; if it doesn't taste good to you out of the bag, it won't taste good on your dessert.  In a pinch, Ghirardelli chips work reasonably well (and can be mixed in to improve the flavor of a lesser coating chocolate), but other brands of chocolate chips don't melt smoothly.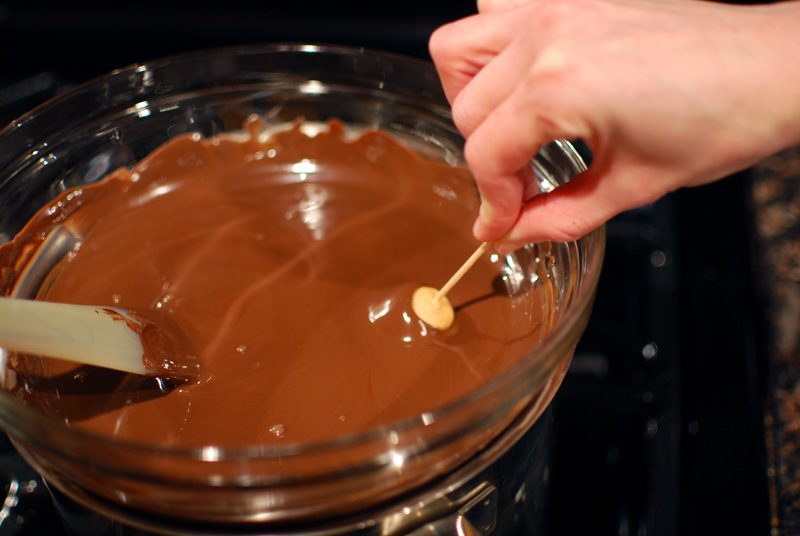 The second tip for chocolate dipping is all about technique.  The idea is to have a thin shell of chocolate around the center, not an inch-thick coating to have to gnaw through.  To get an appropriately thin coating, dip the center into the melted chocolate, then kinda bounce it up and down rapidly in the chocolate, slowly drawing the center out of the chocolate as you bounce it.  A sort of capillary or suction effect happens when you do this, and any excess chocolate will stay in the bowl, and not clinging to your center.  Very little chocolate should drip off the bottom.
It takes just a little practice, but when you get it right, you'll look like a professional chocolatier.  You can tell you've got it down pat when your buckeyes don't have "feet": that little pool of excess chocolate that forms around the bottom when you've got too much coating.  A little "foot" is inevitable and okay, as it prevents them rolling around; but if it looks like they're sitting on a small plate made of chocolate, there's a little too much coating.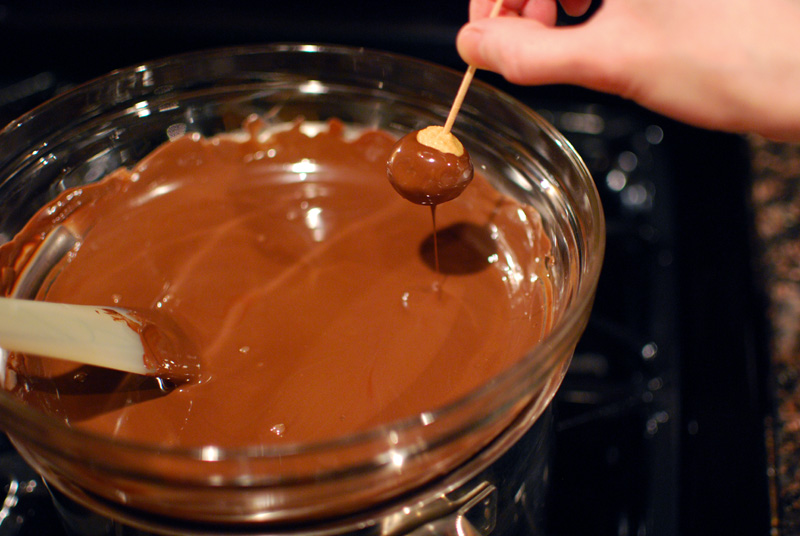 One last tip for chocolate dipping: always melt more chocolate than you think you'll need.  Trust me, it isn't fun to try to dip centers into a tiny puddle of chocolate left in the bottom of the bowl.  Use a bit of depth, and your life will be much easier.
As a bonus, the extra melted chocolate can be used to make a simple secondary treat: chocolate krispies.  Add some Rice Krispies (how much cereal depends on how much leftover chocolate you have), and stir to coat.  You can either shape it into individual candies by dropping, or by spreading it out on wax paper into a flat sheet, and breaking or cutting into pieces.  It may not sound sophisticated, but I promise everyone will go absolutely nuts over them.  I like to flavor these by stirring a little peppermint oil (not extract!, it will make your chocolate seize up) into the chocolate before adding the cereal.  These are just as good with corn flakes, or any other crisp and mild-flavored cereal.
Buckeyes
Makes about 10 dozen 3/4-inch buckeyes
Ingredients:
1/2 cup (1 stick) unsalted butter, well softened
2 cups (about 16 ounces) smooth peanut butter (not organic or natural)
1 teaspoon vanilla extract
1 (16 ounce) box powdered sugar
3 cups puffed rice cereal, such as Rice Krispies (optional)
1 pound coating chocolate
Directions:
1.  In the bowl of a stand mixer, beat together the butter, peanut butter, and vanilla until smooth.  Add the powdered sugar gradually, beating on low until incorporated.  The mixture will be stiff.  Add the cereal, and blend thoroughly to incorporate.  Cover the bowl, and refrigerate for at least 1 hour.
2.  Roll the chilled mixture into small balls (using about 1 heaped teaspoon per ball), and place on a rimmed cookie sheet in a single layer.  Freeze the balls until hardened, at least 1 hour.  If not dipping immediately, transfer to a plastic zip-top bag and keep frozen.
3.  Melt the chocolate in a double boiler, or in the microwave, stirring occasionally to help melt.  Remove half of the centers from the freezer, and place a toothpick in each one.  Dip each ball into the chocolate, leaving a bit on top uncoated to give it the traditional buckeye look.  Quickly bounce the center up and down in the chocolate to remove any excess coating, and transfer to a wax-paper lined baking sheet to set either at room temperature or in the refrigerator.  Repeat with remaining centers.  When set, store in a wax-paper lined airtight container for a few days at room temperature, or for up to a few months in the freezer.
Notes:
1.   I prefer Skippy brand peanut butter for baking, but whatever brand you use, make sure it isn't the kind (organic or natural) that separates at room temperature.
2.  I make my buckeyes relatively small; if you prefer larger ones, use about 1 tablespoon of the filling mixture for each one.
3.  The rice cereal is optional in the filling.  To me, "crunchy" is the noblest texture, and I like it nearly everywhere.  Besides, it gives you an excuse to have the cereal on hand to make chocolate krispies with the leftover melted chocolate.
4.  In step 3, I advise only dipping half of the centers at a time to keep them as hard as possible.  If the centers soften too much, the toothpicks will easily fall out, meaning that you will lose many centers into the morass of melted chocolate.  If that starts to happen, re-freeze the centers until hard enough to continue.