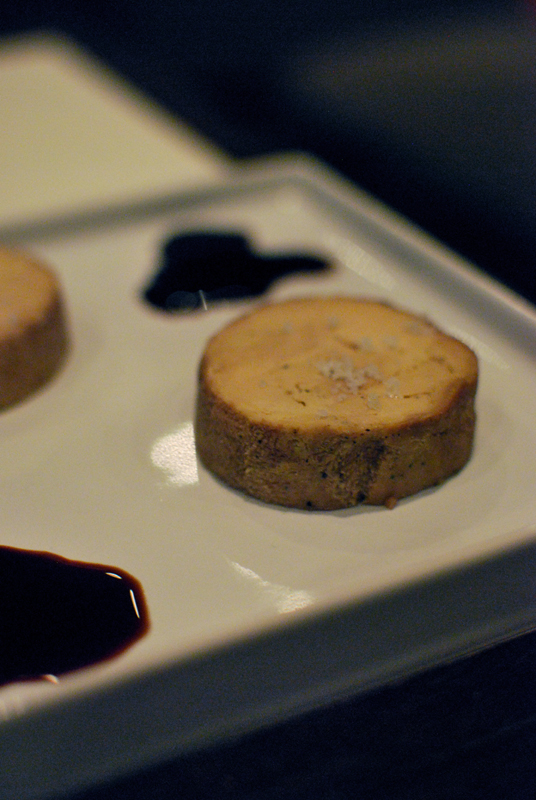 Real talk.
Until about a month ago, my experience in the kitchen has had a gap.  Not a huge gap, or one that had ever come up until earlier this year.  Most of my clients would never know, but I was exposed.  And I'm not one to let a chance for self-improvement slip away.
I'd never actually prepared foie gras before.  I'd had no exposure to it whatsoever, aside from on the end of a fork.  Turns out Baking and Pastry students don't get much training in offal.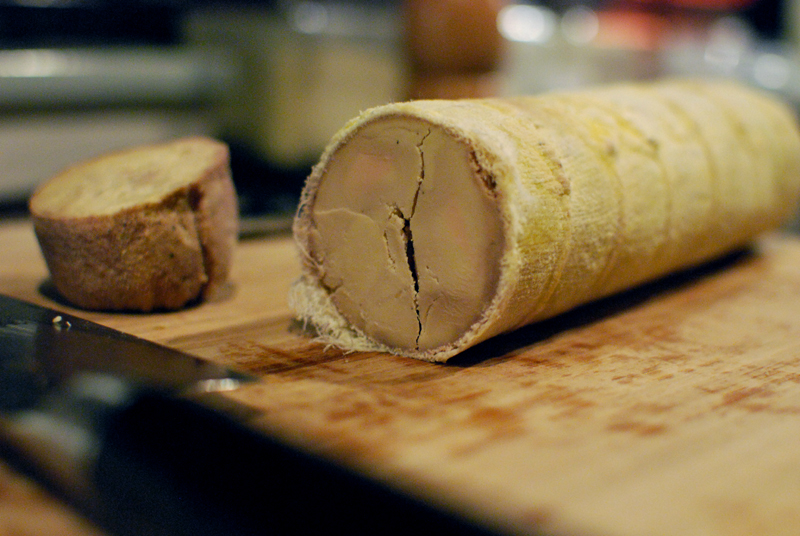 Clearly, my career demanded an attempt.  So the next time I was at the restaurant supply store, I picked up one of the football-sized livers.  I got the smallest one, and it was still a pound and a half.
After seeing Michael Ruhlman's expert and extremely-detailed method, I decided to make my first attempt a foie gras au torchon.  This translates to "fat liver inna towel".  Mmmm.
Once you devein the liver — which is somehow easier and harder than it sounds — it's just soak, wrap, poach, wrap, hang, slice, nom.  Easy peasy.  No searing, no smoke, no "oh my god I just burned and/or melted fifty dollars worth of foie gras".
Which is nice.
I served this very simply, with just a sprinkle of fleur de sel, and tiny pools of balsamic vinegar.  Bread, of course.  Halfway through eating it, I remembered the Boat Street Pickled Figs in the fridge, and oh my god you should always serve foie gras with figs.  That, or the Mango Butter from Trader Joe's.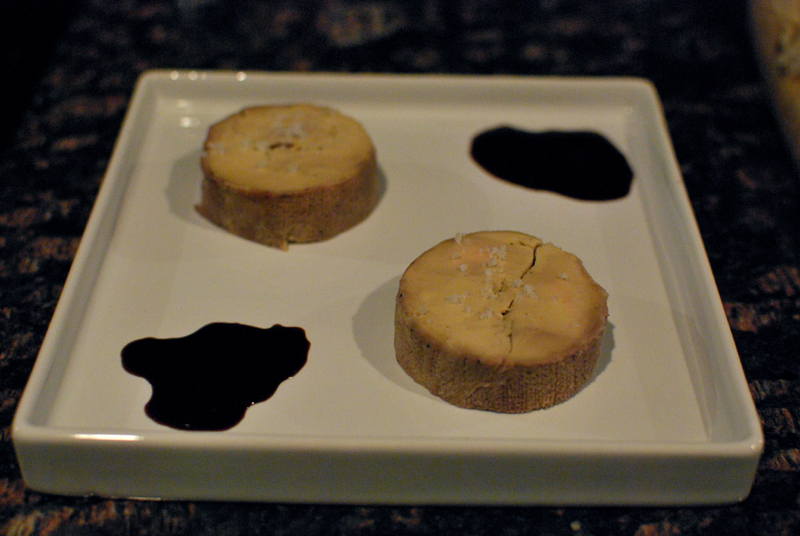 Oh, and yes I know one is supposed to trim away the dark edges and make things all perfectly round and pristine.  But let's be honest, I was going to eat the scraps anyway.  I figured I'd do it with class, instead of licking them off the round cutter.
Seriously, if you feel confident in a kitchen, you can do this with no problem. Yes, it's harder than making toast. Yes, it's expensive. Yes, it takes several days. But you will be rewarded with so much freakin' foie gras au torchon you might have to give it away.
FYI: I made this at what ended up being a very busy time. So my foie ended up marinating in the fridge for 5 to 6 days before I ever got around to poaching it. It was still lovely.
Ingredients
https://onehundredeggs.com/foie-gras-au-torchon-actually-not-that-hard/