You will please forgive my tardiness with this post; this last week or so, I've been blindsided by a messy and slightly incapacitating pile of anxiety, the likes of which I haven't seen in ages.  So while I continue to sticky-tape my brain back together, here is a recipe that I've been unproductively mulling over for days.
I originally saw a recipe for warm butternut squash and chickpea salad on Orangette – or was it Smitten Kitchen? – and was hooked.  Canned chickpeas are a secret pantry weapon of mine, and I love every opportunity to use them in new ways.  But recently, I had all the ingredients to make this knockout dish, with one exception: the chickpeas.
Argh.
Luckily, though, I happened to have a bag of homemade orecchiette in the freezer, leftovers from a previous day's kitchen adventure.  Making one's own pasta is one of those things that seems quite fussy on the surface, but ends up being worth every second and mote of effort spent.  Whether that's because it actually tastes better than store-bought, or whether the pride of such an accomplishment is the best seasoning of all, is anyone's guess.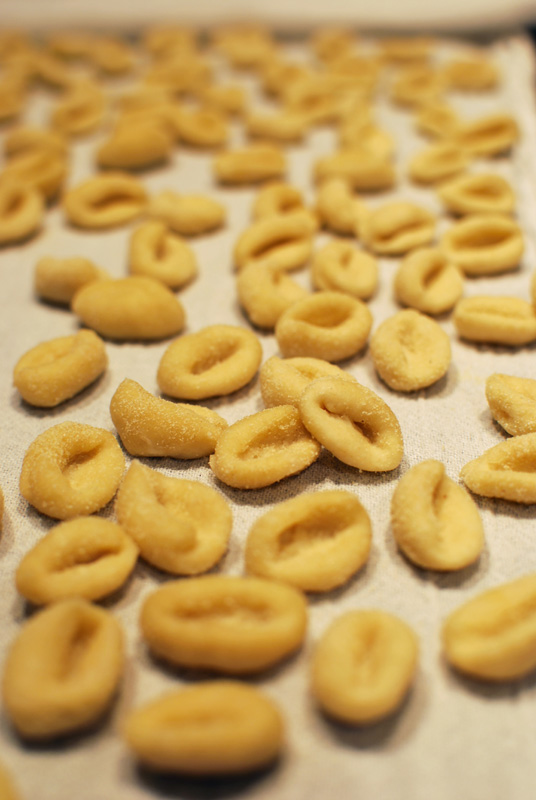 The best thing about making orecchiette is that you get all the benefits of homemade pasta without having to invest in a pasta roller, which homemade fettucini or linguini would require.  Shaped with only your hands, these "little ears" (the literal translation of the name) are as individual as their creator.  They can be plump and thick, akin to dumplings, or they can be thin and almost shell-shaped, with a more traditional "pasta" texture.  However you prefer to make them, or however they happen to turn out in your hands, the results are equally good.
My hands are on the smaller side, so my orecchiette end up being a bit thick, which makes them a perfect substitute for the starchy chickpeas in the aforementioned recipe.  The mild flavor of the pasta might be a little less earthy than the chickpeas, but that allows the tahini sauce to really shine in all its well-balanced glory.  The red onions taste a little more pungent, the cilantro a little more vibrant, and the roasted root vegetables a little more caramelized.
As delightful as the original recipe is, I think I've made a fitting variation.  The original is sophisticated enough to serve to company, but simple enough to make on a weeknight; this variation is glamorous enough to make a weeknight dinner feel like a special occasion dinner.  The orecchiette does take a bit of time to make, but it goes quickly if you can get many hands involved.  And with such satisfaction as comes with making one's own pasta from scratch, who wouldn't want to join in?
Orecchiette With Roasted Root Vegetables and Tahini
Adapted from Casa Moro, via Orangette
Makes 4 to 6 servings
The beauty of this recipe is its versatility.  You could use any winter squash or root vegetable you like, from sweet potato to delicata squash to sugar pumpkin, and everything in between.  I used an even mixture of butternut squash, turnips, and rutabagas.  While the vegetables roast, mix up the sauce and cook the pasta; they should all be done around the same time.  It's best served at once, but leftovers will reheat nicely with a splash of chicken broth, water, beer, or any other liquid.
2 to 2 1/2 pounds mixed root vegetables (such as butternut squash or turnips), peeled, seeded as needed, and cut into 1 inch pieces
1/2 teaspoon ground allspice
2 tablespoons olive oil
3 cloves garlic, very finely minced
1/4 cup fresh lemon juice
1/4 cup well-stirred tahini
3 tablespoons water
3 tablespoons olive oil (plus additional to taste)
1 1/2 pounds fresh orecchiette (recipe below), or 1 pound dried purchased orecchiette
1/2 cup red onion, finely chopped
1/2 cup coarsely chopped cilantro leaves
Salt and pepper to taste
1.  Preheat the oven to 425º F.
2.  In a roasting pan, toss the root vegetables with the allspice, olive oil, and a good pinch or two of salt and black pepper, until evenly coated.  Spread in a single layer, and bake for 15 to 25 minutes, or until soft and browned. Remove from the oven and cool slightly.
3.  While the root vegetables roast, bring a large stock pot of water to a boil for the orecchiette.  Meanwhile, make the tahini sauce. In a bowl, whisk together the minced garlic, lemon juice, and tahini, until blended.  Add the water and olive oil, whisk until smooth, and taste for seasoning.  The sauce should have plenty of nutty tahini flavor, but also a little kick of lemon.  If bitter, add additional olive oil until balanced, thinning with additional water if needed.  Season with salt and pepper to taste.  Let stand while preparing the remaining ingredients, to let the flavors marry.
4.  Liberally salt the water (which should be boiling by now), and add the orecchiette.  Cook until just al dente, about 5 minutes for fresh or 7 minutes for dried, or until done.  Reserve 1/2 cup of the pasta water.  Drain orecchiette and return to pot.  Add the tahini sauce and toss.
5.  Chop the red onion and cilantro.  Add to the orecchiette, along with the roasted root vegetables.  Toss until combined.  Serve warm, or at room temperature.
Orecchiette
Adapted from Gourmet Magazine
Makes about 1 1/2 pounds
This recipe produces (in my hands) plump, almost dumpling-like orecchiette.  For a thinner pasta, cut the ropes of dough into smaller pieces, or shape them with hands equipped with bigger thumbs than mine.
11 1/2 ounces (about 2 cups) semolina, plus extra for dusting
9 ounces (about 2 cups) unbleached all-purpose flour
1/2 teaspoon kosher salt
1 cup water, at warm room temperature
1.  In a large bowl, whisk together the semolina, flour, and salt.  Add the water.  Mix together with a fork or spatula until a rough dough forms.  Add additional water or semolina by spoonfuls as needed to correct the consistency.
2.  Turn dough out onto a work surface.  Knead until smooth and elastic, about 8 minutes, discarding any hard lumps that may have formed.  Cover tightly with plastic wrap, and let rest at room temperature for at least 30 minutes.
3.  Divide the dough into 8 even pieces.  Cover or wrap each piece with plastic wrap.  Line a large rimmed baking sheet with a dry kitchen towel (not terry cloth) and dust lightly with a little extra semolina.  Remove plastic wrap from 1 piece of dough.  With lightly floured hands, roll into a rope about 3 to 4 feet long and 1/2 inch thick.  Cut crossways into 1/2-inch pieces, with a knife or bench scraper, separating pieces as cut so they are no longer touching.  Lightly toss cut pieces with a little semolina.
4.  Put each cut piece of dough, one cut side down, in palm of hand and form a depression by pressing thumb of other hand into dough and twisting slightly.
Arrange orecchiette on the lined tray so they don't touch.  Repeat with remaining 7 pieces of dough in same manner.  Orecchiette may sit at room temperature for up to a couple of hours, loosely covered with plastic wrap or a kitchen towel, or may be made up to 2 days ahead and chilled on towel-lined trays, covered with plastic wrap.  Orecchiette will also freeze well, in a freezer zip-top bag; thaw at room temperature before using in a recipe.