I know it's old hat by now, but I wanted to share the menu I prepared for a recent World Cup party in honor of the US game against Algeria.  (I might've shown you the US versus Slovenia menu, but I forgot my camera that night.)
I'm relatively new to the cuisine of Northern Africa, but the more I learn, the more I love about it.  So many spices!  (And I do love me some spices.)  Lamb!  Flatbreads!  Mint tea!  Couscous!  Honey and almonds!  So when I heard the US was playing Algeria, I got very excited.  It was a struggle to keep the number of Algerian dishes to a manageable level.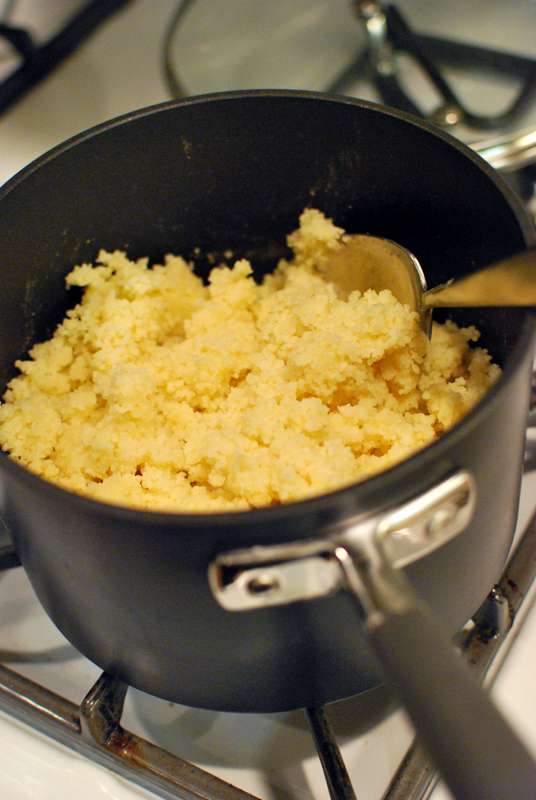 On the American food team, there was a giant Cobb salad (recipe here), as well as some gussied-up mocha Rice Krispies treats for dessert.  Representing Algeria were chakhchouka served with couscous and flatbread, stuffed dates, and mint tea.
Of course, we had orange wedges for halftime.  It may be the World Cup, but it's still soccer.
Chakhchouka is typically a lamb and chickpea stew, served over torn bits of thin semolina flatbread called rougag, and is eaten with the hands; I took a few liberties with the idea, not wanting the decidedly American crowd to have to stray from the familiar fork or spoon.  My chakhchouka was a chicken and chickpea stew, with at least 15 different spices, served over couscous, with a thick wheat-flour flatbread known as khubz alongside.  Perhaps not precisely authentic chakhchouka, but it was close enough.
One hit of the evening was the Deglet Noor dates, stuffed with a fragrant mixture of finely-chopped nuts, brown sugar, honey, spices, and rose water.  The homely things couldn't have been simpler to put together, but the sticky things charmed everyone with their exotic complexity.  A genius move from one guest paired a piece of bacon from the Cobb salad with a stuffed date; the smoky salt of the pork with the chewy sweet dates made me suddenly wish I had wrapped each one in proscuitto and baked until crisp and lightly caramelized.  Next time.
I couldn't resist serving Rice Krispies treats for dessert, those most American of American sweets.  But, being the person I am, I also couldn't resist using a markedly posh recipe for them.  (We're all familiar with the standard Rice Krispies treat, yes?)  Here, cocoa is mixed into the cereal-marshmallow mixture, and the bars are sandwiched and drizzled with a mocha ganache.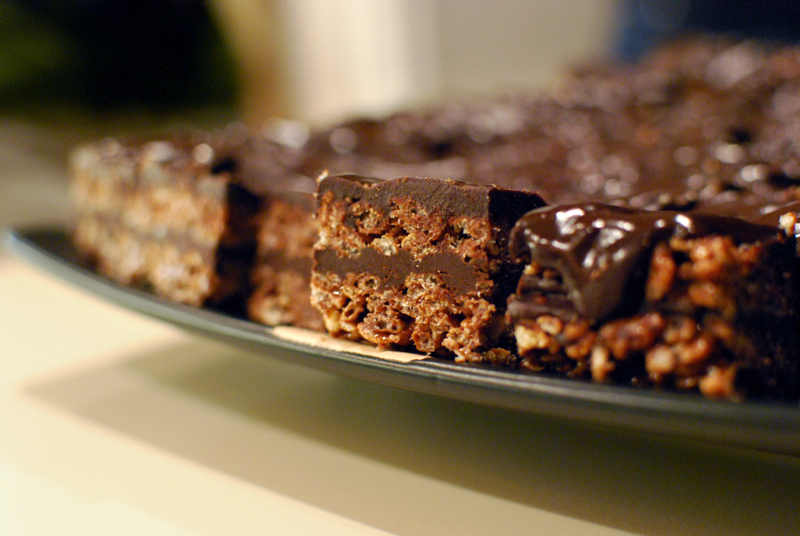 The recipe headnotes mention a "tiny jolt of coffee flavor".  This is wrong.  Not that it's a bad thing, however.  Normally, a mocha ganache has a mere hint of coffee, just enough to deepen the flavor of the chocolate.  This ganache didn't hint, it bellowed.  "COFFEE!"  Perhaps the instant coffee I used was a bit strong, but I added the full 1 tablespoon as directed.  I personally thought it was perfect, especially with the relatively bland sweetness of the cereal part of the dessert.  Proceed at your own discretion.  (A side note: I doubled the amount of marshmallow-cereal mixture, and still had ganache left over.)
Unfortunately, this is the end of the US-themed World Cup menus; but that doesn't mean there won't be another World Cup party in the near future.  Stay tuned for more international food battles!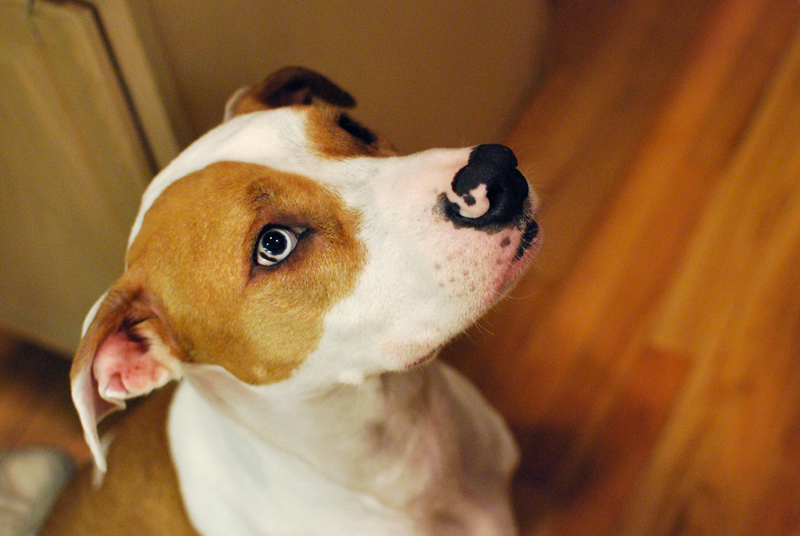 Chakhchouka (Chicken and Chickpea Stew)
Adapted from RecipeZaar and VitamineDZ
Serves 6 to 8
The main seasoning ingredient in this stew is ras el hanout, a seasoning blend ubiquitous in North African cooking.  Like its Indian counterpart, garam masala, ras el hanout is not a specific recipe, but a mixture that depends on the whim of the chef or spice house owner.  I mixed my own, but there are pre-mixed versions available.  A good starter recipe is found here; feel free to experiment with the blend to fit your tastes.
2 tablespoons olive oil
3 chicken breasts halves, patted dry
2 medium onions, chopped
1 to 2 tablespoons ras el hanout, to taste
1 tablespoon sweet paprika
1 teaspoon cayenne pepper
1/2 teaspoon black pepper
1 bay leaf
2 tablespoons tomato paste
5 cloves garlic, chopped roughly
2 carrots, peeled and chopped
2 zucchini, chopped
5 new potatoes (about 1/2 pound), chopped
1 (16 ounce) can chickpeas, rinsed
2 to 3 quarts chicken or vegetable stock, or water
2 tablespoons dried mint
1 tablespoon balsamic vinegar
Salt and black pepper, as needed
Cooked couscous, to serve
1.  In a large stock pot, heat the olive oil over medium-high heat.  Sprinkle the chicken breasts on both sides with salt and black pepper.  Add the chicken (skin-side down, if applicable), and cook until lightly browned, about 5 minutes.  Turn the breasts over, and brown the other side, 4 to 5 minutes.  Remove to a plate, and let cool slightly.  When cool enough to handle, chop meat into 1 inch pieces (discarding skin and bone, if applicable).
2.  Add the onions to the pan, and stir to coat with the oil.  Let cook until the onions soften and turn translucent, about 10 minutes.  Add the ras el hanout, paprika, cayenne, black pepper, and bay leaf.  Cook, stirring, until fragrant, about 2 minutes.  Add the tomato paste and garlic, and stir to coat.  Season lightly with salt, about 1/2 teaspoon.
3.  Add the carrots, zucchini, potatoes, chickpeas, and chopped chicken.  Add enough stock or water to cover.  Bring to a boil over high heat, then reduce heat to medium or medium-low to maintain a simmer.  Liquid level should never drop below the top of the solids; add additional liquid as needed.
4.  Simmer for 1 hour, or until vegetables are cooked to desired softness.  Taste, and correct seasoning with salt and pepper.  Remove from heat, and stir in dried mint and balsamic vinegar.  Serve in bowls over cooked couscous.
Stuffed Dates
Inspired by Food By Country
Makes 30
Feel free to experiment with the nut and spice mixtures in this recipe.  The filling is appropriately sweet, but the amount of brown sugar may be reduced if you prefer.  For a special treat, try wrapping these in proscuitto or bacon and baking until the meat crisps.  Serve those either warm or at room temperature.
3/4 cup almonds
1/2 cup walnuts (or pecans, macadamias, cashews, pistchios, or a mixture)
2 tablespoons brown sugar
2 to 4 tablespoons honey
2 teaspoons ground cinnamon
1/4 teaspoon ground nutmeg
1/4 teaspoon ground cloves
1/4 teaspoon ground allspice
1 three-fingered pinch salt
1 to 2 tablespoons rosewater (or orange flower water), as needed
30 dried Deglet Noor dates, pitted
1.  If using raw nuts, toast by spreading in a single layer on a rimmed baking sheet.  Bake at 350º F for 5 to 9 minutes, or until lightly golden and fragrant, stirring halfway through.  Let cool slightly.
2.  In a food processor, pulse the nuts until chopped finely.  Place in a medium bowl.  Add the sugar, 2 tablespoons honey, cinnamon, nutmeg, cloves, allspice, and salt.  Stir until well combined.  Add 1 tablespoon rosewater, and stir to blend.
3.  Squeeze a little of the mixture together.  If it does not hold together, add additional honey or rosewater as desired until it clumps.
4.  Stuff the pitted dates with teaspoons of the nut mixture.  Dates may be served immediately, or stuffed up to two days ahead and stored in an airtight container at room temperature.