When I was young, my mom used to decorate our front door and our dining room table for each season and important holiday.  Down from the sweltering attic came boxes full of trappings: the box of pastel Easter eggs and bunnies, and the two papier-mâché baskets shaped like chickens (blue for me, pink for my sister); the spooky Halloween box with cheesecloth ghosts and tiny black kitten finger puppets; the purple, green, and gold box for Mardi Gras with a million plastic king cake babies and only the shiniest of beads, caught in the previous year's parades.
But one of my favorite boxes contained a decidedly unusual decoration: the miniature Churchill Downs racetrack.  There were miniature horses and jockeys, and a few little ceramic ducks to swim in the infield pond.  What pony-obsessed little girl wouldn't love it?  This singular tabletop decoration was for a holiday that no one else I knew celebrated, the Kentucky Derby.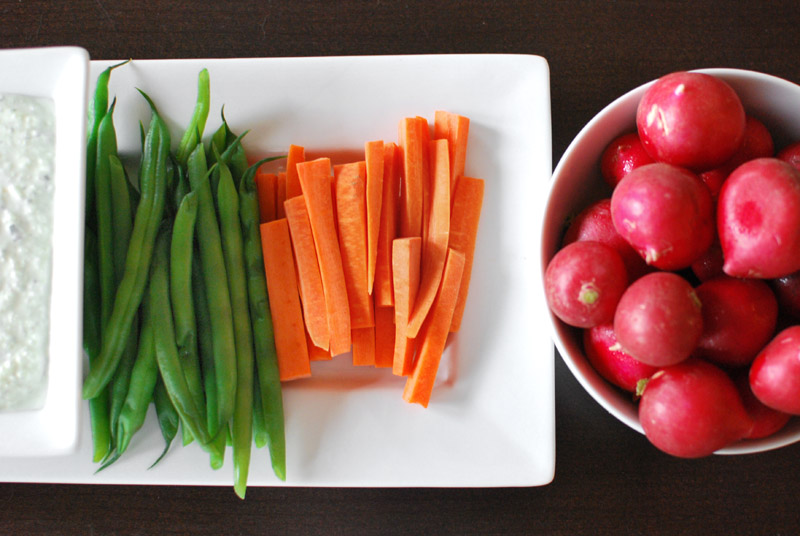 Though I was born and raised in New Orleans, my parents are both originally from near Louisville.  As I would come to fully realize years later, when I myself lived in Louisville, the Kentucky Derby is far more than a two-minute race on the first Saturday in May.  The best equivalent I can give is that Derby is for Louisville what Mardi Gras is for New Orleans.  It's far more than one party, one day, one event.  It's a season.
The party kicks off two weeks in advance, with the largest fireworks show in North America, Thunder Over Louisville.  Attended usually by around three-quarters of a million people, it's the sign for Louisvillians to start polishing their mint julep cups and finish selecting the perfect hat, whether or not the race itself is actually attended.
Despite having lived in Louisville for a few years, I have never actually been to the Kentucky Derby itself.  You see, I worked in the service industry; for us, Derby was a series of forced-smile 14 hour days spent in constant frenetic motion, punctuated only by the mandatory after-work Bourbon and then falling into the deepest sleep imaginable.
These days, living in Chicago, I am determined to enjoy Derby in a way I was denied during my time in Louisville.  My party starts about an hour before post time, so that all my guests can settle into a drink or two before the excitement of the race, which is over in a flash.  Pre-race hors d'oeuvres whet appetites for the more substantial food served after the horses run, and individually-sized Bourbon pecan chocolate pies wait for those with a taste for something sweet (recipe here).
Though I don't have a miniature tabletop racetrack, I do have a hat or two in my closet,  and I can lay out a spread of classic Kentuckian foods.  And I can mix a mean mint julep.  I think my mom would approve.
***********
MENU
Pre-Race Hors d'Oeuvres
Crudités with Benedictine Dip
Camembert with Jezebel Sauce and Sliced Baguette
Deviled Eggs
Entrée
Braised Beef Shoulder with Henry Bain Sauce
Biscuits
Celery Root Rémoulade
Dessert
Strawberries with Rebecca Sauce
Bourbon Pecan Chocolate Pies
Mint Juleps
Iced Mint Tea
***********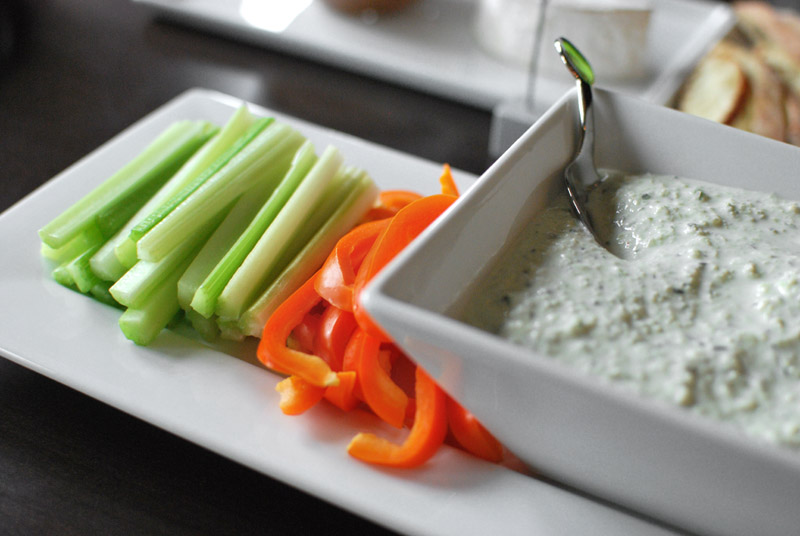 Benedictine Dip
Adapted heavily from Jennie Benedictine's original recipe
Makes about 3 cups
Benedictine is a cream cheese based spread, typically used in finger sandwiches (white bread with crusts cut off, please).  Here, I've re-imagined it as a slightly softer dip for crudités.  Usually a few drops of green food coloring are added to Benedictine, but I never saw the point.  Serve with whatever vegetables strike your fancy; I used carrots, celery, bell peppers, blanched green beans, and radishes.
8 ounces (1 box) cream cheese, well-softened at room temperature
1/4 cup sour cream
1 large cucumber (seeded, if desired)
1 small yellow onion
1 teaspoon kosher salt, or to taste
1 large pinch cayenne pepper
1.  In a bowl, beat the softened cream cheese until smooth (either by hand or with an electric mixer).  Beat in the sour cream.
2.  If you have a food processor, roughly chop the cucumber and onion, add to the processor, and pulse until chopped finely.  Add, juice and all, into the bowl of cream cheese.  (Otherwise, grate the cucumber and onion directly into the bowl of cream cheese.)
3.  Stir until combined, and add salt and cayenne pepper to taste.  Benedictine will keep for several days in the refrigerator.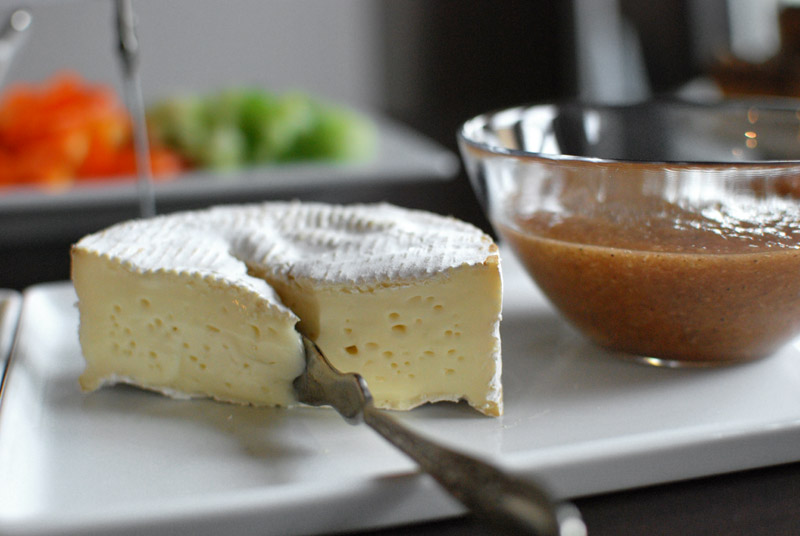 Jezebel Sauce
Adapted from Proof on Main, Louisville
Makes 2 to 3 cups
Jezebel Sauce is an appropriately-named sauce, sweet with fruit and spicy with horseradish.  This is no shrinking violet here; this brash sauce will make you sit up and salute.  I love the combination with a soft, good cheese, spread on a slice of baguette; but it's just as at home on a bit of grilled chicken or meat.  At the estimable Proof on Main in Louisville, it's served on their locally-raised bison burger, where it also pairs beautifully with the side of hand-cut fries.
3/4 cup pear jam or preserves
3/4 cup apricot jam or preserves
1/2 cup prepared horseradish
1 teaspoon kosher salt
1/2 teaspoon freshly-ground black pepper
1/2 teaspoon ground coriander
1/2 teaspoon ground cinnamon
1/2 teaspoon ground mustard
1/2 scant teaspoon ground nutmeg
1/8 teaspoon ground cloves
1.  Combine all ingredients in a bowl; mix until smooth.  If the jam or preserves have whole chunks of fruit, you may want to purée the sauce in a food processor, or simply chop the fruit by hand.  Jezebel sauce will keep for several weeks in the refrigerator.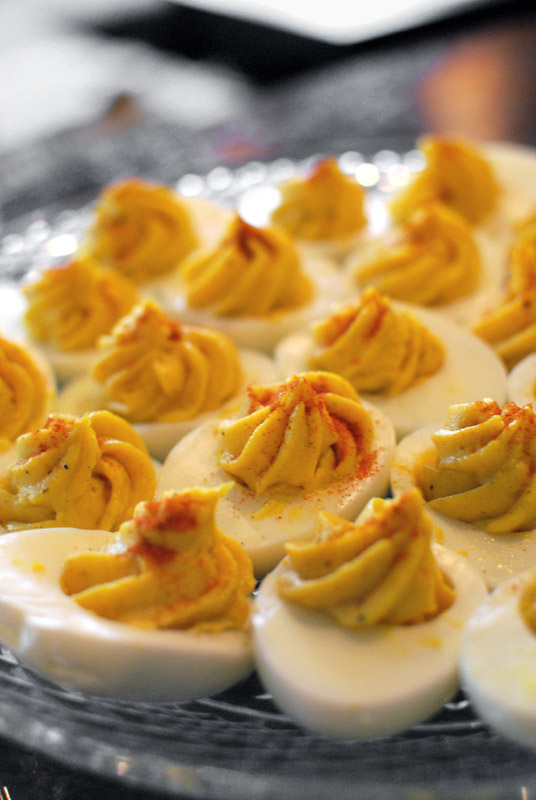 Deviled Eggs
Makes 30, which will never be enough
This is one of those recipes that is endlessly adaptable to however your personal tastes run, or whatever you happen to have in your pantry.  Throw in a little of this, and a little of that, until the filling tastes right to you.  This filling is a little spicy, but not overly so, and has a fantastically creamy texture; these eggs were gone almost immediately after serving.  I specify the use of older eggs, as they will peel far easier than will fresh eggs.  If you use large eggs, increase the cooking time to about 10 minutes.
15 medium eggs (the older the better)
1/4 cup mayonnaise, plus extra as needed
1/4 cup dijon mustard
1 tablespoon prepared horseradish
2 teaspoons Pickapeppa sauce, or to taste
1 teaspoon sherry vinegar
2 teaspoons ground mustard
1/2 teaspoon curry powder
1 teaspoon kosher salt, or to taste
1/2 teaspoon freshly-ground black pepper
Paprika, for garnish
1.  Place the eggs in a saucepan, and cover with cold water by 1 inch.  Bring to a boil, and immediately remove from heat.  Cover pan, and let sit for 8 minutes.  Meanwhile, prepare a bowl of ice water.  After 8 minutes (or 10 minutes if using large eggs), drain and transfer eggs to the ice bath to stop cooking.  Let sit for 10 minutes, or until cool.  Cooked eggs may be refrigerated at this point for up to several days.
2.  Knock eggs against a flat surface until the shell is cracked all over.  Peel, running under cool water to help wash away errant bits of shell that may stick.  Set eggs aside to dry.
3.  Cut eggs in half lengthwise, and gently remove yolks, taking care not to damage the whites.  Place yolks in a bowl, and mash with a fork.  Add remaining ingredients (except paprika), and combine with fork until thoroughly mixed.  The mixture should not be too stiff, but not runny, just firm enough to hold soft peaks.  Add additional mayonnaise by spoonfuls to thin, if required, and correct seasoning as needed.
4.  Either spoon or pipe filling back into the whites, and dust with paprika to garnish.  Serve immediately, or refrigerate for up to 4 hours (cover dish with a large upside-down bowl to preserve the look of the pretty filling).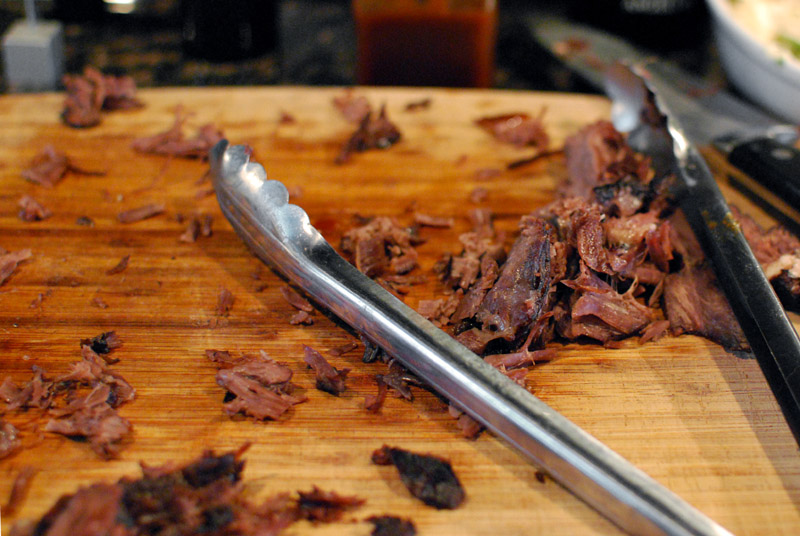 Braised Beef Shoulder
Adapted from The Zuni Café Cookbook, by Judy Rodgers
Makes 6 to 8 servings
A beef roast might not seem like a very traditional Derby entrée, especially when you consider the famous Hot Brown sandwich which was invented in Louisville, but smart hostesses in Kentucky know far better than to chain themselves to the kitchen with such a fussy and time-consuming dish.  Most will serve either a simple beef roast with Henry Bain sauce, or a sliced ham with biscuits.  I've combined the two, pairing a beef shoulder with Henry Bain sauce and biscuits.  David Lebovitz's celery root remoulade is not a traditional side dish, but there's enough mayonnaise in it to make any Southern lady proud.
1 beef shoulder chuck roast (preferably an eye roast), about 4 pounds
1 tablespoon kosher salt, approximately
1 bottle full-flavored red wine (such as Syrah, Cabernet Sauvignon, or Zinfandel)
1 tablespoon olive oil
1 carrot, peeled and cut into 2 inch pieces
1 yellow onion, peeled and cut into 8 wedges
3 stalks celery, cut into 2 inch pieces
1 large baking potato, cut into 2 inch pieces
8 to 10 cloves garlic, separated and unpeeled
2 to 3 bay leaves
2 to 3 sprigs fresh thyme
Black peppercorns, lightly crushed
1 to 2 cups beef or chicken stock, warmed
Henry Bain sauce for serving, recipe follows
1.  At least 24 hours and up to 3 days in advance (the earlier, the better), sprinkle the roast with about 1 tablespoon kosher salt, and rub to evenly coat.  Be sure to get salt into any crevices in the meat.  Place in a non-reactive bowl, cover with plastic wrap, and refrigerate until ready to roast.
2. In a saucepan over medium-high heat, reduce the bottle of wine to 1/2 cup, 20 to 25 minutes.  Wine reduction can be refrigerated for several days.
3.  When ready to cook the roast, remove meat from the refrigerator and let it sit in the bowl at room temperature for 1 to 2 hours.
4.  Preheat the broiler.  Meanwhile, trim roast of excess fat, and tie with kitchen twine to hold its shape as it cooks.  Place roast on a rimmed baking sheet, rub with olive oil, and broil 5 inches away from the broiler until just golden brown, a few minutes on each side.  Do not let burn.  Set roast aside, and preheat oven to 325º F.  Meanwhile, prepare the vegetables.
5.  Transfer browned meat to a large roasting dish, along with any accumulated juices on the baking sheet, and surround with the carrot, onion, celery, potato, garlic, bay leaves, thyme, and peppercorns.  Add all the wine reduction and enough stock to come 1 inch up the side of the meat.  Cover tightly with aluminum foil, shiny side in to avoid reflecting heat, and transfer to oven.
6.  Roast covered for 2 hours.  Quickly remove from oven, and turn meat over.  Re-cover pan, and continue roasting for 1 1/2 to 2 hours.  (When in doubt as to doneness, turn oven off, and leave dish in oven for 30 minutes.)
7.  Remove meat from the pan, place on a rimmed baking sheet to catch any juices, and let stand for at least 20 minutes, and up to 45 minutes.  The meat should readily fall apart when cutting is attempted, though you should try to slice the roast across the grain as much as possible.  Serve with Henry Bain sauce and biscuits.  (Save roasting jus and vegetables for yourself to make les restes for breakfast [or dinner] the next day.)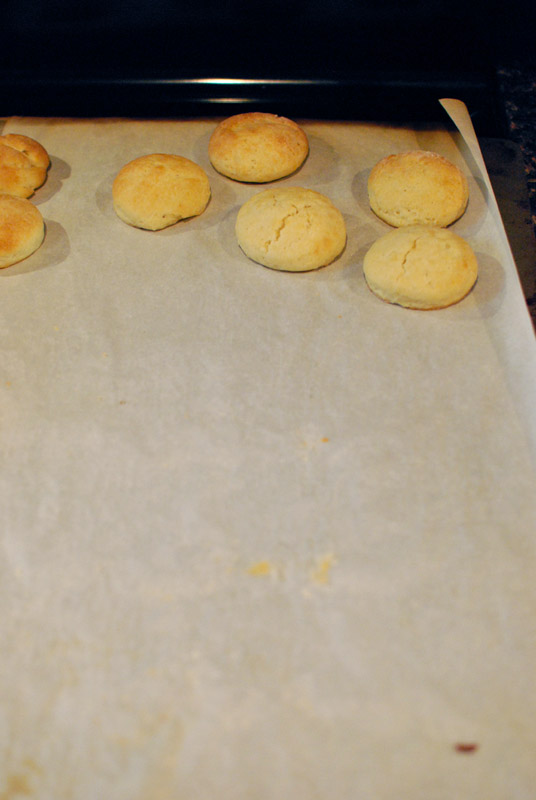 Henry Bain Sauce
Adapted from Henry Bain's original recipe
Makes more than you'll ever need
1 (8 ounce) jar Major Grey's chutney
6 ounces (about 3/4 cup) ketchup
6 ounces (about 3/4 cup) chili sauce
1 (5 ounce) bottle A-1 steak sauce
1 (5 ounce) bottle Worcestershire sauce
2 tablespoons Pickapeppa sauce
2 tablespoons mild hot pepper sauce (such as Crystal brand; not Tabasco)
1.  Combine all ingredients in a blender or food processor, and purée until smooth.  Henry Bain sauce will keep for several weeks in the refrigerator.
Rebecca Sauce
Inspired by the Courier-Journal
Makes about 2 cups
Rebecca sauce is typically served with, and pairs gorgeously, with strawberries, which usually come into season around Derby time.  This accounts for its ubiquity at Derby parties across Louisville.
1 1/2 cups thick Greek-style plain yogurt
1/2 cup sour cream
2 tablespoons brown sugar
1 1/2 tablespoons Bourbon
1 1/2 teaspoons vanilla extract
1.  Combine all ingredients until smooth.  Rebecca sauce will keep in the refrigerator for up to 2 days.  If liquid pools on the surface, either blot off with a paper towel, or stir back into the sauce.  Serve with strawberries, or other fresh berries.
Mint Juleps for a Crowd
This is less of a recipe and more of a drink station for guests to help themselves.  Set out as many bottles of Bourbon as you have or can procure, a bottle of mint simple syrup, a shot glass or jigger, swizzle sticks or spoons, fresh mint sprigs in a glass of water, ice, and plenty of glasses.  Print out the directions, place in a spill-resistant picture frame, and let everyone play mixologist.  True, this isn't a classic mint julep, as there is no muddling, but it's much faster, and no one will get green flecks of crushed mint in their teeth.  Southerners always were known for their hospitality.
To make mint simple syrup:
1/2 cup granulated sugar
1/2 cup water
1 large bunch mint, leaves picked from stems and crushed slightly
1.  In a small saucepan, combine sugar and water.  Bring to a boil over high heat, stirring just until all sugar is dissolved.  Remove from heat, add mint leaves, cover, and let steep at least 1 hour or up to 8 hours.  Strain mint leaves out, and use syrup as directed.
To make 1 mint julep:
1 jigger Bourbon
1/4 jigger mint simple syrup
3 to 4 large ice cubes, or enough crushed ice to fill a short glass
Fresh mint sprig for garnish
1.  In a glass, combine Bourbon with simple syrup.  Add ice, and stir well to dilute drink slightly and chill.  Add a sprig of mint to garnish.