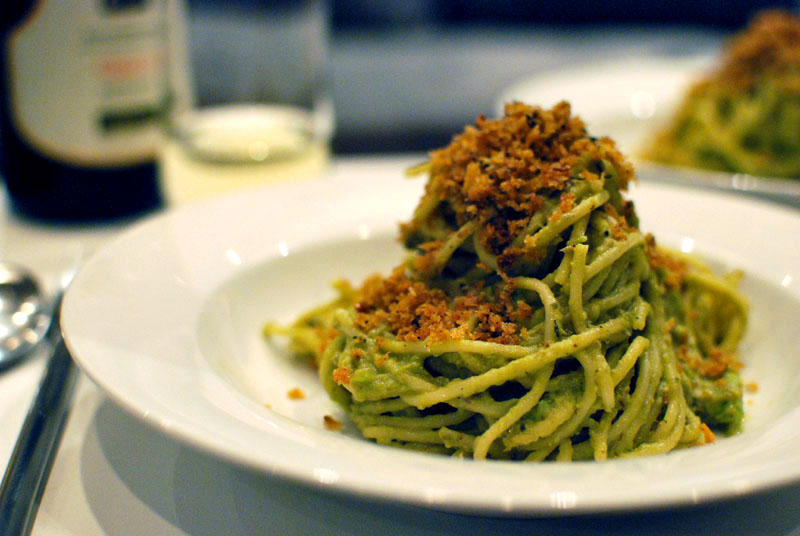 On the first Saturday of May each year, I throw a Kentucky Derby party.  It might just be my second favorite holiday, a close second to Christmas, which has significant charms (the tree! eggnog! sparkly lights!).  Derby does have its significant charms as well (hats! Bourbon! ponies!).
Every Derby, I make a ridiculous hat, I have more Bourbon on hand than is humanly possible to consume (one assumes, anyway), I make sure the television is showing the race, and I like to serve deviled eggs.  It just seems fitting.
Once in a great while, though, one makes too many deviled eggs.  Hard to believe, but it does happen.
In such a case, one eats leftover deviled eggs for a day or two until there are no more hard-boiled egg whites left.  (You do keep the prepared yolks and whites separate, and pipe your deviled eggs as needed throughout the party, yes?  Which means that you don't have to refrigerate precariously toothpicked and plastic-wrapped platters of eggs, and your set-out platters of eggs never get all dried out and nasty-looking, yes?  Good.  We're all on the same page here.)
So let's say that you've got about half a cup of deviled egg yolk action sitting in your fridge.  And you're all out of hard-boiled whites.  What now?
Oh, honey child.
You make this, is what now.  It's so good you won't even know what to do with yourself.
This was one of those dishes that gave me a moment of terror while making it.  You know the moment: despite your most educated judgement, it's the moment when you are deeply uncertain whether things are going to turn out completely awesome or completely horrible.
It's a smashed-up avocado, mixed with spicy egg yolk, and briefly sautéed garlic and sardines (for umami and your sustainable Omega-3s).  Thin the whole deal with pasta water and lemon juice, and toss it with your long, skinny pasta of choice.  To seal the deal, top everything with a brave handful of smoked paprika bread crumbs.  Because deviled egg requires paprika on top.
Can you tell that it was completely awesome?  Do I even have to say it?
This is best served with a bowl of arugula drizzled with olive oil, and a glass of white wine made solely of grapes from Southeast-facing vineyards in the Beneventano appellation.  Or, you know, whatever you've got on hand.
It's helpful to have everything ready to go before you start cooking (get yer mise en place!). Once that's done, it's basically: bang bang bang, dinner.
Okay, yes, I acknowledge that not everyone is going to have some leftover deviled egg yolk business sitting around. Or anyone, really. Since you probably don't, and you still want to make this recipe, you could just mix together two raw egg yolks, plus a tablespoon or two of mayonnaise, a spoonful of coarse mustard, and a heavy dose of sriracha (it needs more than you'd think). Smush or whisk in the avocado and sautéed garlic and sardines. When mixed with the hot pasta, it will thicken and cook slightly, carbonara-style.
If raw yolks aren't an option for you, just hard-boil a couple of eggs and eat the whites separately. It's all the work of deviled eggs, and none of the deviled eggs. But there is some incredible pasta instead.
Ingredients
8 ounces spaghetti, linguine, angel hair, or other long pasta
1 can sardines packed in olive oil (bones removed if you're squeamish about that), about 4 1/4 oz
1 large clove garlic, minced
1 avocado
1/2 cup deviled egg yolks (see headnote)
Juice of half a lemon, plus extra as needed
2-3 teaspoons olive oil (from the sardine can, if you like)
1 heavy pinch smoked paprika
1 heavy pinch dried thyme
1 pinch crushed red pepper flakes
1 large handful panko (or other coarse breadcrumbs)
Instructions
1. Bring a large pot of well-salted water to a rolling boil. Cook pasta until just al dente, according to package directions. When done, drain, reserving about 1 cup of the cooking water. Keep warm.
2. Meanwhile, heat a sauté pan over medium heat. Add the sardines with some of the oil they were packed in, and the garlic. Cook briefly, breaking up the sardine fillets a bit, until garlic is fragrant and not too brown. Remove from heat.
3. While sardines and garlic cook, halve, pit, and scoop out the avocado into a large bowl. Smash together with the deviled egg yolks. Add the cooked sardines and garlic, and stir in the juice of half a lemon. Taste, and season to your liking with salt and pepper. The sauce will be very thick; whisk in some of the reserved pasta water as needed to thin (you will not need all of it).
4. In the same pan the sardines were cooked in, heat 2-3 teaspoons of olive oil over medium heat. Add the smoked paprika, thyme, and red pepper flakes. Cook for about 30 seconds, or until fragrant, to bloom the spices. Toss in the breadcrumbs, and stir to coat with the oil. Cook until crunchy and well-browned, 1-2 minutes. Remove from heat.
5. Toss the warm cooked pasta with the avocado-egg sauce, drizzling in additional reserved pasta water as needed to thin the sauce. Serve immediately, topped with a liberal handful of the spiced breadcrumbs.
Notes
Did you catch that deviled egg recipe in the headnotes, more or less? Here it is, and it rocks: smash up your hard-boiled egg yolks with some mayonnaise (use a light hand at first, you can always add more later). Add half as much coarse, spicy mustard. Add about the same amount of sriracha (it will look like you're adding way too much, but you really aren't). Mix together, and add salt and black pepper to taste. If it's too thick to pipe, add more mayonnaise (or sriracha) by the spoonful until it's just right. If it's too spicy for you, get over it. They're called "deviled" for a reason.
https://onehundredeggs.com/deviled-avocado-pasta/