Man, who doesn't like a big ol' bowl of roasted Brussels sprouts?
If you don't, I suspect you haven't had them prepared correctly.  And while it's tempting to treat Brussels sprouts like any other vegetable when roasting, the usual "toss 'em in olive oil, add salt and pepper, roast at 400º F" business doesn't really work as well as it should.
Too often, the little guys are burnt black on the outside while the insides are still crunchy and nearly raw.  And of course, Cook's Illustrated has a simple solution to that problem: roast them covered, with a tiny splash of water, so they steam a little before getting uncovered and roasted until nicely browned.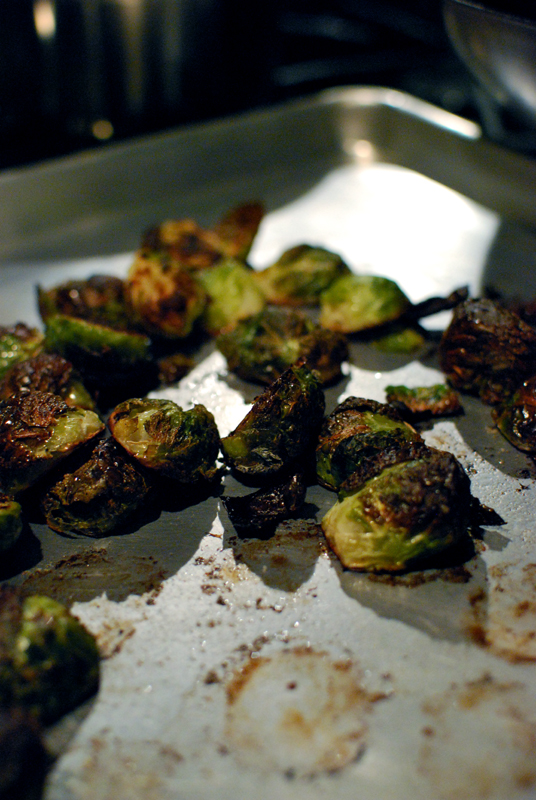 Tell you what, I love me some Brussels sprouts, and this is the best method I've ever used for roasting them.
But plain roasted Brussels sprouts — lovely as they are — can be a little boring.  I get bored easily.  Besides, I have a fridge to clean out.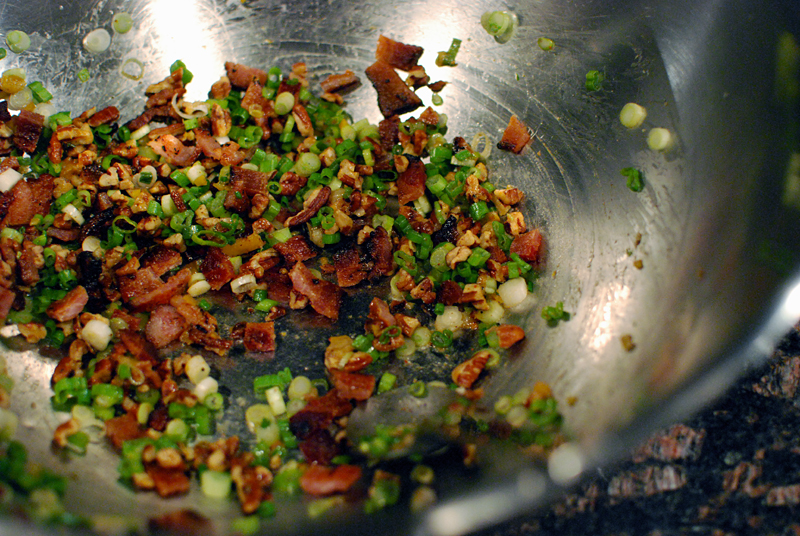 So I tossed my sprouts with some bacon, pecans, preserved lemon, scallions, and some phenomenal hot sauce that came with a recent order of Ethiopian take-out.  (I have no idea what it is, but I'm tempted to order from that place again just for the hot sauce.)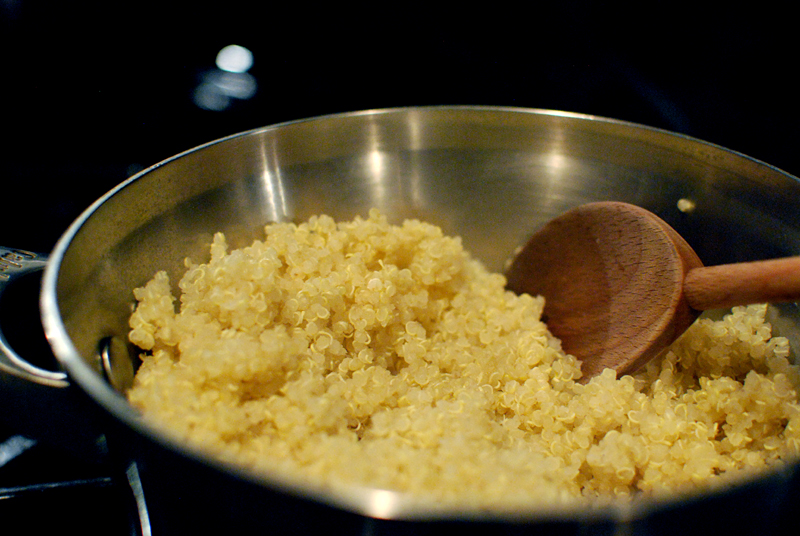 I was going to grate some pecorino romano over everything, but that would've meant washing the Microplane later.  That was one step too far.  Next time, maybe.  It didn't need it.
This is one of those dishes that's greater than the sum of its parts.  The ingredients all sound good together on paper, but on the plate, it's like daaaaang.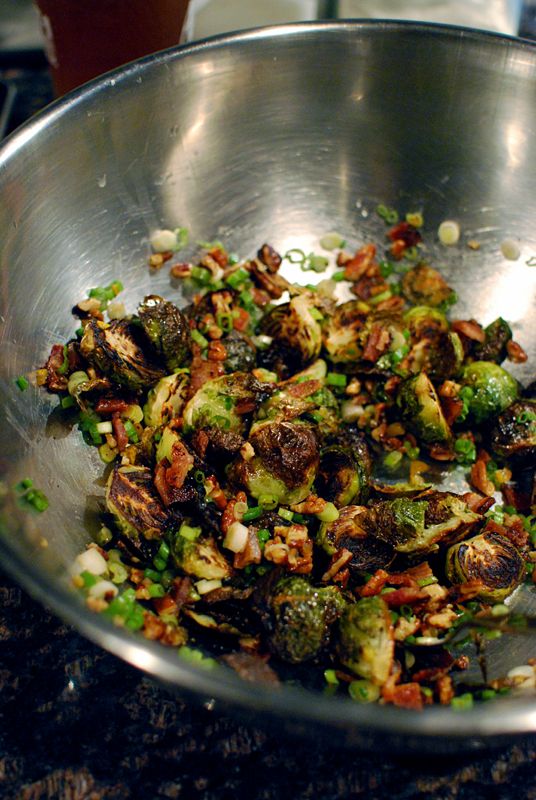 Daaaaang.
Brussels Sprouts with Bacon, Pecans, and Preserved Lemon
Adapted in part from Cook's Illustrated.
This dish is equally viable as a side or an entrée (served over quinoa or other starch of choice), and is awfully satisfying. Even better: it all comes together in the time it takes to heat the oven and roast the Brussels sprouts.
I happen to have an aging jar of preserved lemon in my fridge, which I love using with most any roasted vegetable. If you don't have such a jar, do not fear. It will be just as good without.
Ingredients
6 to 8 ounces Brussels sprouts, ends trimmed
A drizzle of olive oil, about 1 tablespoon
1/3 cup pecans, toasted and chopped
2 slices thick-cut bacon
4 scallions, sliced thinly
1 tablespoon preserved lemon (optional, but lovely), chopped finely
1 tablespoon fresh lemon juice
1 teaspoon hot sauce of choice, or to taste
Cooked quinoa, rice, couscous, or short pasta, to serve (optional)
Instructions
1. Preheat the oven to 500º F, and place a rack in the upper-middle position. (This is a perfect time to toast the pecans, while the oven heats. They'll need about 5-10 minutes in the warming oven. And if you need to make some quinoa or couscous or what-have-you, now's the time to start it.)
2. Slice the Brussels sprouts in half lengthwise (or into quarters if they're large). Toss on a rimmed baking sheet with a light drizzle of olive oil, a sprinkle of salt and black pepper, and 1 tablespoon water. Arrange the sprouts cut-side down, and cover the pan tightly with aluminum foil.
3. Roast for 10 minutes. Remove the aluminum foil, and continue roasting for 8 to 12 minutes more, or until knife-tender and browned.
4. Meanwhile, cook the bacon in a pan over medium heat until browned and crisp. Remove the bacon from the pan, chop, and set aside. Save the rendered fat, because it is delicious and it makes the best fried eggs.
5. In a large bowl, combine the pecans, scallions, preserved lemon, lemon juice, and hot sauce. Mix in the bacon, and a spoonful of bacon fat; set aside.
6. When the Brussels sprouts are done, toss them while still hot with the bacon and other ingredients in the bowl. Serve immediately as a side, or over quinoa (or what-have-you) as an entrée.
Want to cook some quinoa, but don't know how? It's your lucky day.
1 part quinoa (1/2 cup is more than enough for 2 servings)
2 parts water
Salt
Bay leaf (optional)
1. Rinse the quinoa in a fine mesh sieve. Yes, you really should do this.
2. Put rinsed quinoa in a pan over medium heat. Toast and stir frequently until you don't hear any more sizzling-type noises (this means the quinoa is dry and getting toasted).
3. Add the water slowly, because those quinoa like to jump when the water hits 'em, and they're a pain to clean off your stove later.
4. Add salt (1 scant teaspoon per cup of quinoa) and bay leaf, and bring to a boil.
5. Cover and reduce heat to low. Simmer for 12-15 minutes, or until all water is absorbed.
6. Remove from heat and let stand, covered, at least 5 minutes. Fluff with a fork before serving. Quinoa!
https://onehundredeggs.com/brussels-sprouts-with-bacon-pecans-and-preserved-lemon/