I don't typically travel a heck of a lot.  Most of the time, you'll find me within a five-mile radius of my kitchen.
But tomorrow (Thursday), I'm jetting off to my hometown, New Orleans.  First I'll be attending the International Food Blogger Conference (and if you're going too, I'd love to meet up with you!).  After that, I'll be helping my family through one surgery (which I'm trying to not worry about obsessively).  I'm going away for eleven days, which isn't very long, but it's long enough that I couldn't leave my sweetheart behind without some home-cooked food.
I have dug my own grave on this one, and absolutely crippled my boyfriend in the kitchen.  Not that he can't or won't cook, it's just that… well, we have an unspoken understanding that dinner is probably going to be better if, you know, the professional chef cooks it.  He does help.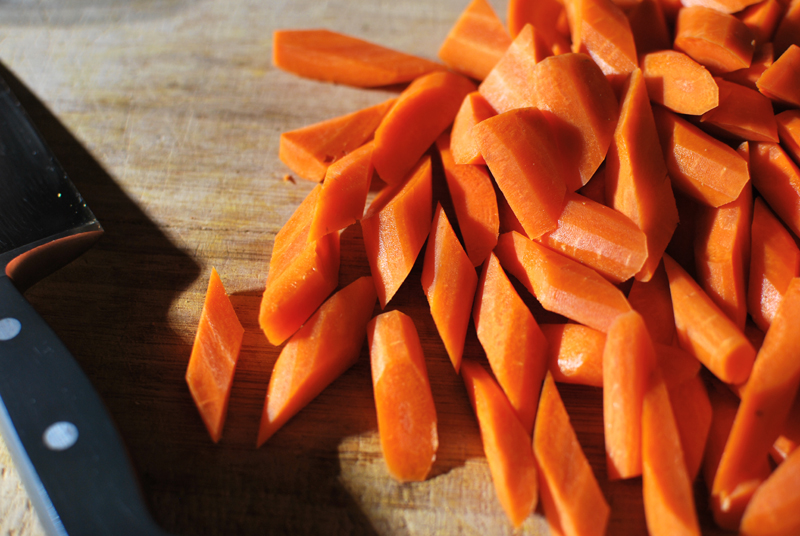 Also, I was only slightly afraid that he might subsist purely on cereal and take-out for eleven days if I hadn't made a little something nutritious to tuck in the fridge.
Okay, fine.  If I'm honest, this was all a fine excuse for a blog post.
Drawing inspiration from my latest favorite cookbook and chef, Plenty, by Yotam Ottolenghi, I made for him two grain-based and vegetable-heavy salads, one with carrots, quinoa, lime, and cilantro, the other with quinoa, red rice, pistachios, and dried apricots.  These two dishes are exactly the kind of thing I could eat quite happily for the rest of my life, day in, day out.
The one word that comes to mind when I think about Chef Ottolenghi's food is "generosity".  Often, there isn't just one type of grain, but two.  Or, occasionally, more.  (Shock!  Eyes widen!)  Flavors aren't delicate or precious, but bold and effluent.  Herbs, in particular, are used with a hand so heavy it borders on leaden.  It just feels downright generous to pile mounds of herbs onto big heaps of vegetables and grains, and mix it all up in your largest bowl, using your entire arm to stir.
This is the sort of thing that's been heavily influencing my cooking of late.  In-season vegetables, fresh herbs, whole grains, unrestrained flavors, always a hit of citrus.  This is also the sort of thing that is ridiculously good for you, which is great, because I could eat buckets of it.
I hope to see you at IFBC, but if I don't, maybe one of these salads will make your weekend a little more generous.  Even if you just make it for your blog.
Carrot and Quinoa Salad with Almonds, Lime, and Cilantro
Inspired by Richard Blais, via Food & Wine Magazine
Makes 6 to 8 servings
I neglected to note how many pounds of carrots I used, but I know there were 10 of them, and they were on the smaller side.  If you love carrots, use more.  If you don't, use less.  Either way, use your judgement.
3/4 cup whole almonds, toasted
1 cup quinoa
2 cups water
1 teaspoon kosher salt, plus additional as needed
10 medium-sized carrots
1 tablespoon olive oil, plus additional as needed
1 tablespoon minced or grated fresh ginger
1 clove garlic, minced or grated
Pinch of cinnamon
1/2 cup chicken stock
1 tablespoon unsalted butter
1/2 teaspoon Sriracha, or to taste
1 lime
1 bunch cilantro (yes, a whole bunch), chopped
1 can water chestnuts, drained and chopped
1 tablespoon furikake (optional; see this post for a recipe), or black sesame seeds
Salt and black pepper to taste
1.   To toast almonds, heat oven to 350º F.  Spread in an even layer on a sheet pan, and bake for 7 to 10 minutes, or until fragrant.  Chop roughly while still warm, and set aside.
2.  Meanwhile, rinse the quinoa in a fine mesh sieve until the water runs clear, swirling with fingers to help agitate the grains.  (This rinses off a natural coating that, when cooked, tastes bitter.)  Let drain a bit.
3.  Place the quinoa in a medium saucepan, over medium-high heat.  Stirring constantly to prevent burning, toast the quinoa until fragrant, and grains dry and separate, about 3 minutes.  You should not hear any sizzling when the water has fully evaporated.  Add the water and salt, and bring to a boil.  Cover, reduce heat to low, and simmer for 12 minutes.  Remove from heat.  Place a clean towel between pan and lid (to help absorb excess moisture), and let stand 5 to 10 minutes before fluffing with a fork.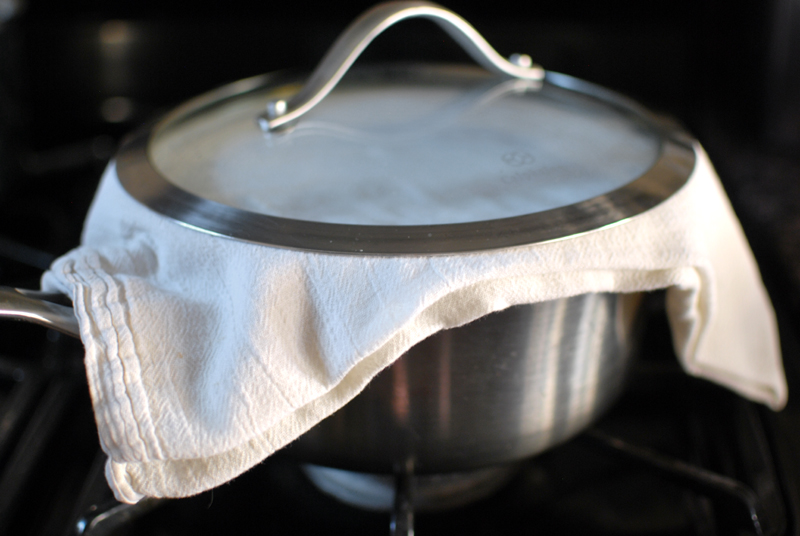 3.  While quinoa cooks, prepare the carrots.  Peel, halve lengthwise, and chop into roughly 1 inch lengths (on a bias if you want to be fancy).  Mince or grate the ginger and garlic.
4.  In a large skillet with a lid, heat the olive oil over medium heat.  Add the carrots, ginger, garlic, cinnamon, and a pinch of salt.  Toss to combine, and cook until fragrant, about 3 minutes.  Do not brown.  Add the chicken stock, and cover the pan.  Cook until the carrots are just tender, 3 to 5 more minutes.  Remove the lid, and let any remaining liquid reduce until thick.  Remove from the heat.  Stir in the butter and Sriracha.  Let cool briefly.
5.  Zest and juice the lime into a large bowl.  Add the carrots, and toss.  Mix in the cooked quinoa, toasted almonds, cilantro, water chestnuts, and furikake (if using).  Taste, and adjust seasoning as needed with salt, black pepper, and olive oil.  Serve warm, at room temperature, or cold.
Red Rice and Quinoa Salad with Orange and Pistachio
Yotam Ottolenghi
Makes 6 servings 
Recipe can be found here.  I changed (practically) nothing, aside from wilting the arugula slightly so it would keep longer, and mixing it in.  Don't be hesitant to use two grains in one salad; the variance in texture is delightful, and it's scarcely any more trouble.
Also, I took some pictures of the ingredients, and I'm darn well going to use them.