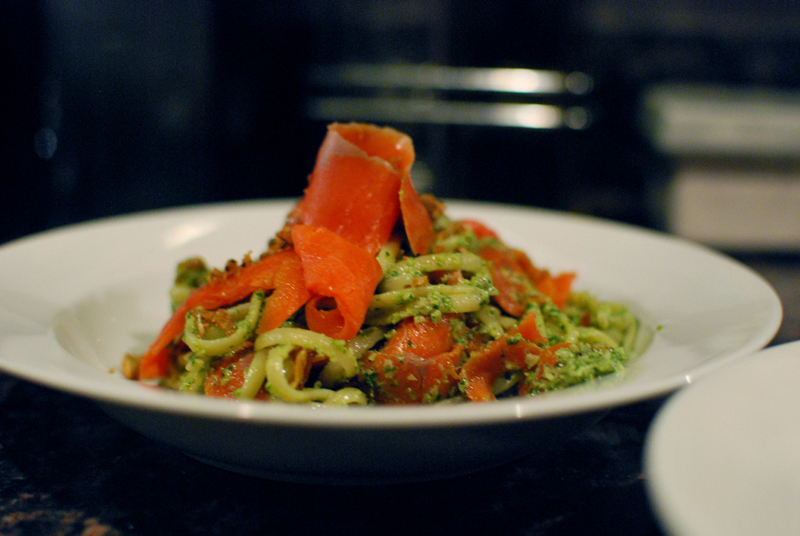 I'm deeply aware that the way I cook on a weeknight is a skosh more involved than the way most of America cooks.  One might even go so far as to call it convoluted.  Or even flat-out crazy.  Exhibit A.  Exhibit B.  Exhibit C.
But I figure that, given my job, it's justified.  It's all just necessary practice, right?
Sure it is.  Until I get busy, that is, and I need exactly what the rest of America needs: something resembling food, and fast.
Which is where this recipe comes in.  It's meant to be made in the time it takes to boil water and cook pasta.  And I think all but the very busiest of people has time for that on a weeknight.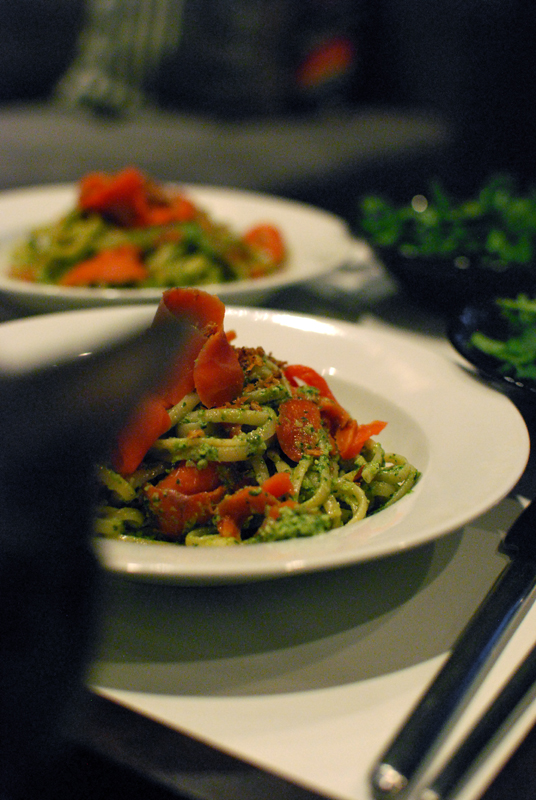 Having said that, this recipe does still live up to my standards of excellence.  All proof that fast food ain't always bad, and great food ain't always slow.
You're welcome.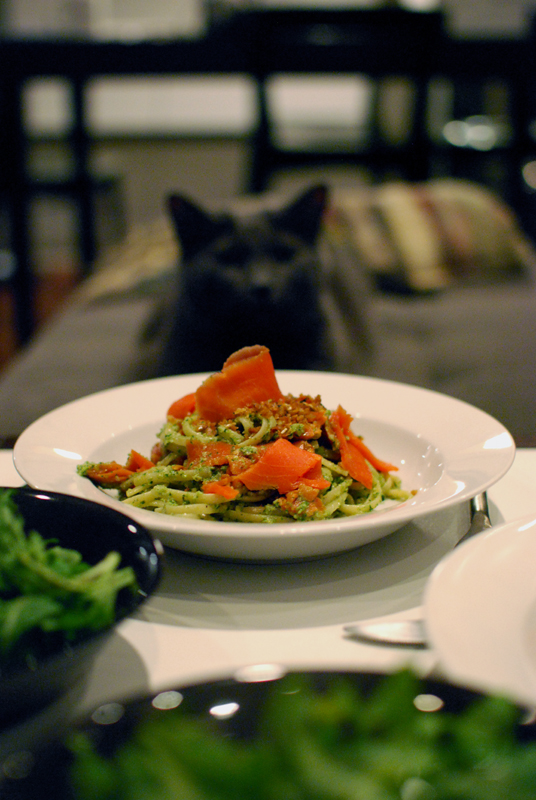 Pasta with Smoked Salmon and Pepita-Cilantro Pesto
Adapted in part from Bon Appétit Magazine
You can toast the pepitas if you feel like it. Or don't. Either way it'll be fine.
The panko on top is optional, but I love a little crunch on top of my pasta. If you have time, go for it. If not, no one will ever know.
Ingredients
1/2 pound linguine (or pasta of choice)
Half a large bunch of cilantro (about 1 cup packed)
1/2 cup pepitas
2 cloves garlic
Juice of 1/2 lime (about 2 tablespoons)
Extra-virgin olive oil, as needed
Salt and pepper, as needed
1/3 cup panko (optional)
8 ounces smoked salmon
Instructions
1. Bring a large pot of well-salted water to a boil. Gather all ingredients before starting to boil the pasta. Cook the pasta according to the package directions.
2. Meanwhile, roughly chop the cilantro and place in the bowl of a food processor with the pepitas, garlic, and lime juice. Purée, scraping the sides as needed, until well blended. With the motor running, drizzle in about 1/4 cup olive oil. Stop the motor, scrape the sides, and taste. Correct the seasoning as needed with salt, pepper, extra lime juice, and olive oil. Set aside.
3. Optional step: mix the panko with 1 to 2 tablespoons olive oil in a small pan, and sprinkle with a pinch of salt and a few grinds of pepper. Toss over medium-high heat until well-browned and crisp, 2 to 4 minutes. Set aside.
4. Cut the salmon into thin strips. Set aside.
5. When the pasta is cooked, reserve 1/4 cup pasta water, and drain. Return to the pot, and toss with the pesto. Thin with some of the reserved pasta water if needed to help coat the pasta. Mix in half the salmon.
6. Serve hot, garnished with the remaining salmon and the breadcrumbs divided evenly among the plates.
https://onehundredeggs.com/pasta-with-smoked-salmon-and-pepita-cilantro-pesto/