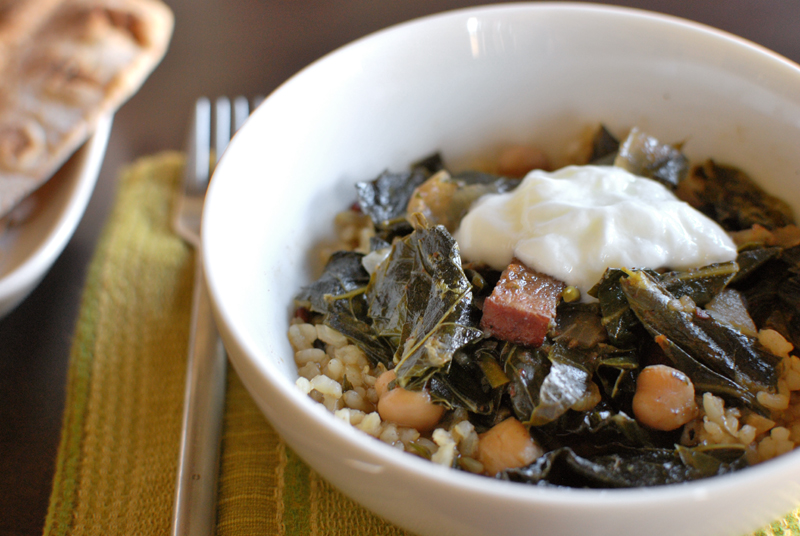 Since I've been neglecting you all lately, here's a special edition Five Minute Photo Shoot: one with a recipe!
I threw this dish together the other night when some friends came over for dinner.  I was just about to take off for a whirlwind trip to my hometown, New Orleans, and felt I should make room in my freezer for all the goodies I was planning to bring back.  A block of tasso (a highly spiced bit of cured ham used for seasoning in Cajun and Creole cooking) was begging to be used up, and I was craving some serious greenery; this is what resulted.
The flavorful tasso got sautéed with an onion and some crimini mushrooms, before adding in a can of chickpeas and about a million collard greens (which always cook down into oblivion).  A splash of chicken broth, a rind of Parmesan, and a bay leaf tied everything together, and made just the sort of thing I want to eat on these newly-chilly Fall nights.  For dinner, I served it alone with a wedge of Northern-style cornbread; it went over rice for lunch, with a dollop of yogurt on top and some whole-wheat flatbread on the side.
Greens with Tasso and Chickpeas
Makes 6 to 8 servings
I used collard greens here, but you can substitute mustard greens if you like.  Instead of the hard-to-find tasso (and in case you don't want to make your own), use any spicy, highly-flavored sausage you like, such as Spanish chorizo.  Add extra broth if you'd rather have a more soup-like dish.  Do not skip the Tabasco sauce; it makes the dish.  You could stir it into the pot as it cooks, but I much prefer the random and more potent spice it gives by adding it at the table.
1 tablespoon olive oil
1 large onion, chopped
12 to 16 ounces tasso, cubed
8 ounces crimini mushrooms, quartered
1 can (15 ounces) chickpeas, drained and rinsed
1 bay leaf
1 sprig thyme
1/4 teaspoon freshly-grated nutmeg
3 pounds collard greens, thoroughly washed, ribs removed, and chopped
2 cups chicken broth
1 rind from a used wedge of Parmesan
3 scallions, chopped
1/3 cup parsley leaves, roughly chopped
1 to 2 tablespoons fresh lemon juice
Salt and black pepper, as needed
Toasted pine nuts, optional garnish
Tabasco sauce, not optional garnish
1.  In a large stock pot, heat the olive oil over medium heat.  Add the chopped onion, and sauté until translucent, 5 to 10 minutes.  Add the tasso, and cook until tasso browns, about 5 minutes.  Add the mushrooms, cooking until they release their liquid, about 5 minutes.  Add the chickpeas, bay leaf, thyme, and nutmeg.  Stir and cook until fragrant, about 5 minutes more.
2.  Meanwhile, prepare the collard greens, which will take longer than you think.  As you chop them, add them to the pot.  Stir to avoid burning.  When all greens have been added, add broth and Parmesan rind.  Cover loosely, reduce heat to medium-low, and let simmer about 15 minutes, stirring occasionally.
3.  Remove pot from heat.  Remove bay leaf (and Parmesan rind, if inedible).  Stir in chopped scallions and parsley leaves.  Add lemon juice, salt, and freshly-ground black pepper to taste.  Serve immediately in bowls, or over rice, with toasted pine nuts (optional) and Tabasco (not optional).