Part of the reason I never cook beans is because I lack foresight.  I never think about soaking them overnight, partly because I never want beans hard enough.  Overnight pizza crust, I can do; but then, I kinda love bread.
Also, you're somewhat tied to the kitchen when you have a pot of beans on.  Sure, you can do other things around the house, but you really can't leave.  What if they need more water?  When will they be done (and you know they always take longer than expected)?
So why the hell did I decide to bring home a pound of dried chickpeas the other day, instead of just buying a can or two?  *shrug*
I left them sitting on my counter to remind me to cook the stupid things, instead of shoving them into the pantry and promptly forgetting about them.  So with a tiny mountain of chickpeas eyeballing me balefully, Google and I got on that stick.  And I was reminded of a trick I've recently heard.  It's two words, and it will change your bean-cookin' life:
Baking soda.
Oh yes.  One teaspoon of baking soda will not only soften one pound of beans to perfection — no hard, gritty centers here — but it also eliminates the need to soak overnight.  And they cook faster than usual.  I'm dead serious.
I don't remember exactly where I first heard about this trick, but let's just say it was Harold McGee.  Him, or Cook's Illustrated; it's got to be one of them, right?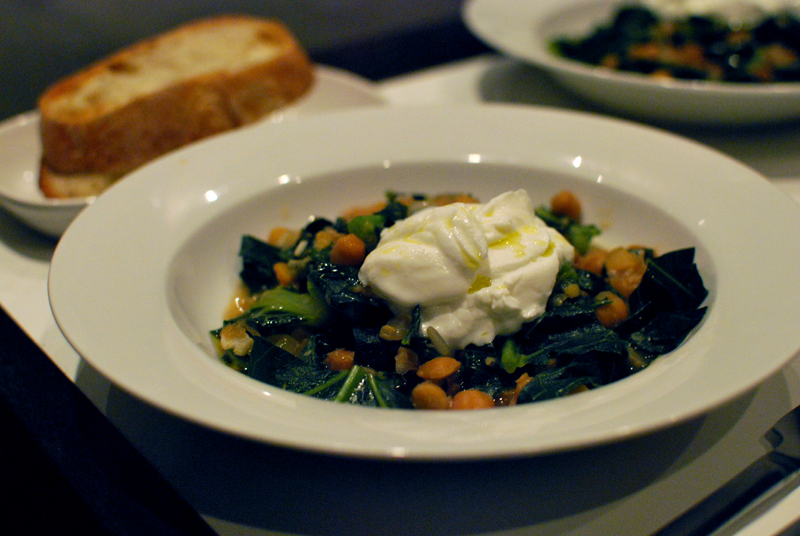 It's the perfect lazy-man's method.  I didn't even bother rinsing the chickpeas.  I literally just dumped it all together in a pot.  And for extra flavor, I tied up some leeks and pork bones in a sachet (to make removal super-easy) so that it made its own quick stock while it simmered away.
When things are too simple and easy like this, I tend to assume that it's not going to taste good.  And I was never happier to be wrong.
Because man cannot live on chickpeas alone, I paired some with mustard greens, onion, and garlic.  On top is a little fromage blanc, which looks a bit like a poached egg.  (That would also be amazing.)  Nothing fancy, but it was very, very good.
I might have to start cooking beans more often.
Chickpeas and Mustard Greens
Forget everything you've ever heard about cooking beans. Add salt at the beginning. Don't soak overnight. Just use a little baking soda. Perfect.
My chickpeas were well done at the 2 hour mark, even a little softer than I'd intended. Depending on how old yours are, you might need to let them cook longer. I like leeks in the sachet, but if you'd rather, a quartered onion will do just as well.
I specify mustard greens, but clearly you can use whatever greens you prefer. I used mustard greens so that I didn't have to remove the ribs, because my god is that a pain sometimes.
Ingredients
For the Chickpeas:

1 pound dried chickpeas
2 teaspoons kosher salt
1 teaspoon baking powder
1 pound bones (chicken, pig, or cow)
2 big leeks, washed well, cut into 3 or 4 pieces
4 bay leaves
1 large sprig thyme

For the Greens:

2 tablespoons olive oil
1 onion, diced
5 cloves garlic, minced
2 to 3 cups cooked chickpeas, plus cooking liquid
1 bunch mustard greens, cut crossways into 1-inch ribbons
Salt and pepper to taste
Instructions
For the Chickpeas:
1. Put the chickpeas in a large Dutch oven. Add enough water to cover by about 3 inches, and add the salt and baking powder. Bring to a boil over high heat (covering the pot will make the process go faster).
2. Meanwhile, tie the bones, leeks, bay leaves, and thyme up in a piece of cheesecloth so that you have a nice little sachet. Put the sachet in the pot with the chickpeas.
3. When the pot comes to a boil, reduce the temperature to low or medium-low, to maintain a simmer. Cover the pot and cook for 2 to 3 hours, or until chickpeas are soft. Remove sachet (so easy!), and enjoy a wealth of chickpeas. (They will freeze beautifully.)
For the Greens:
1. Heat the olive oil over medium heat in a Dutch oven. Stir in the onion, sprinkle with salt, and cook until just translucent, about 10 minutes.
2. Add the garlic and cook about 1 minute, or until fragrant.
3. Stir in the chickpeas and cooking liquid, and pile the mustard greens on top. Cover the pan, and reduce the heat to medium-low. Cook, stirring occasionally, until greens are tender, at least 15 minutes.
4. Taste, and correct the seasoning as needed with salt and pepper. Serve with a lovely drizzle of olive oil for good measure.
https://onehundredeggs.com/how-i-learned-to-stop-worrying-and-love-cooking-chickpeas/