Did everyone get their fill of Halloween candy?
Oh, good.
And now for something a little virtuous on All Saints' Day, to help bring you down from the sugar high: radishes sautéed with brown butter and a spot of anchovy, tossed with kimchi, radish tops, and brown rice.  Top it all off with a luscious fried egg, because hey hey, even saints need a little luxury.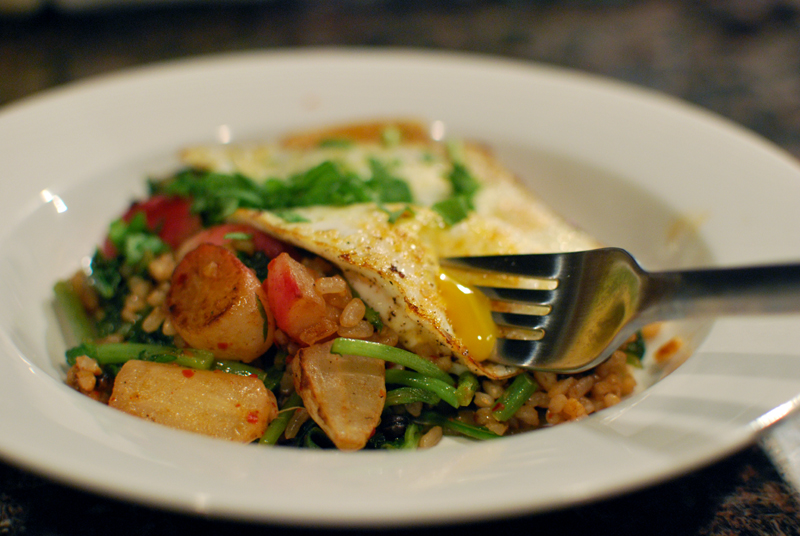 Chopping the radishes into irregular chunks makes for a more visually interesting dish, gives variance in texture, and makes the work go faster. Feel free to be more precise if you're having the Queen over for dinner.
This recipe calls for cooked brown rice, something I usually have in the fridge. My favorite method for cooking brown rice is from Alton Brown, and results in perfect brown rice. Every. Single. Time. You're welcome.
Ingredients
1 tablespoon butter
1 bunch radishes with green tops, washed well
2 anchovy fillets
1/3 cup kimchi (chopped if necessary)
1 1/2 cups cooked brown rice (preferably day-old and cold)
Juice of 1/2 lemon, or to taste
Soy sauce, to taste
Salt and black pepper, to taste
Butter or oil to fry eggs in (optional)
1 egg per person (optional)
Instructions
1. In a large sauté pan, heat the butter over medium-low heat until it browns and smells nutty. Meanwhile, trim the greens from the radishes and set aside. Roughly chop the radishes into irregular pieces, removing the root "tails" in the process.
2. When the butter has browned, turn the heat to medium-high and add the anchovy, mashing with a spatula or wooden spoon to break up the fillets. Throw in the radishes. Toss to coat with the butter, and season with a pinch of salt. Let cook until softened and just beginning to brown.
3. Add the kimchi, and let cook briefly, about 1 minute. Toss in the rice, and cook until it's as done as you prefer it (anywhere from just warm to crunchy and brown). Add the radish tops (no need to chop or dry them off), and toss or stir until wilted. Taste, and add lemon juice, a dash of soy sauce, salt, and pepper. Taste again and correct seasoning as you like. Remove to plates or a bowl, and keep warm.
4. Add a bit of butter or oil to the pan, and set over medium-high heat. Crack eggs into the pan and fry to desired doneness (runny yolks are highly recommended). Top the radishes and rice with the eggs, and serve at once. Beer, though not required, is really, really nice with this one.
https://onehundredeggs.com/radish-kimchi-rice/